BK Racing owner credits J.D. Gibbs with discovering Matt DiBenedetto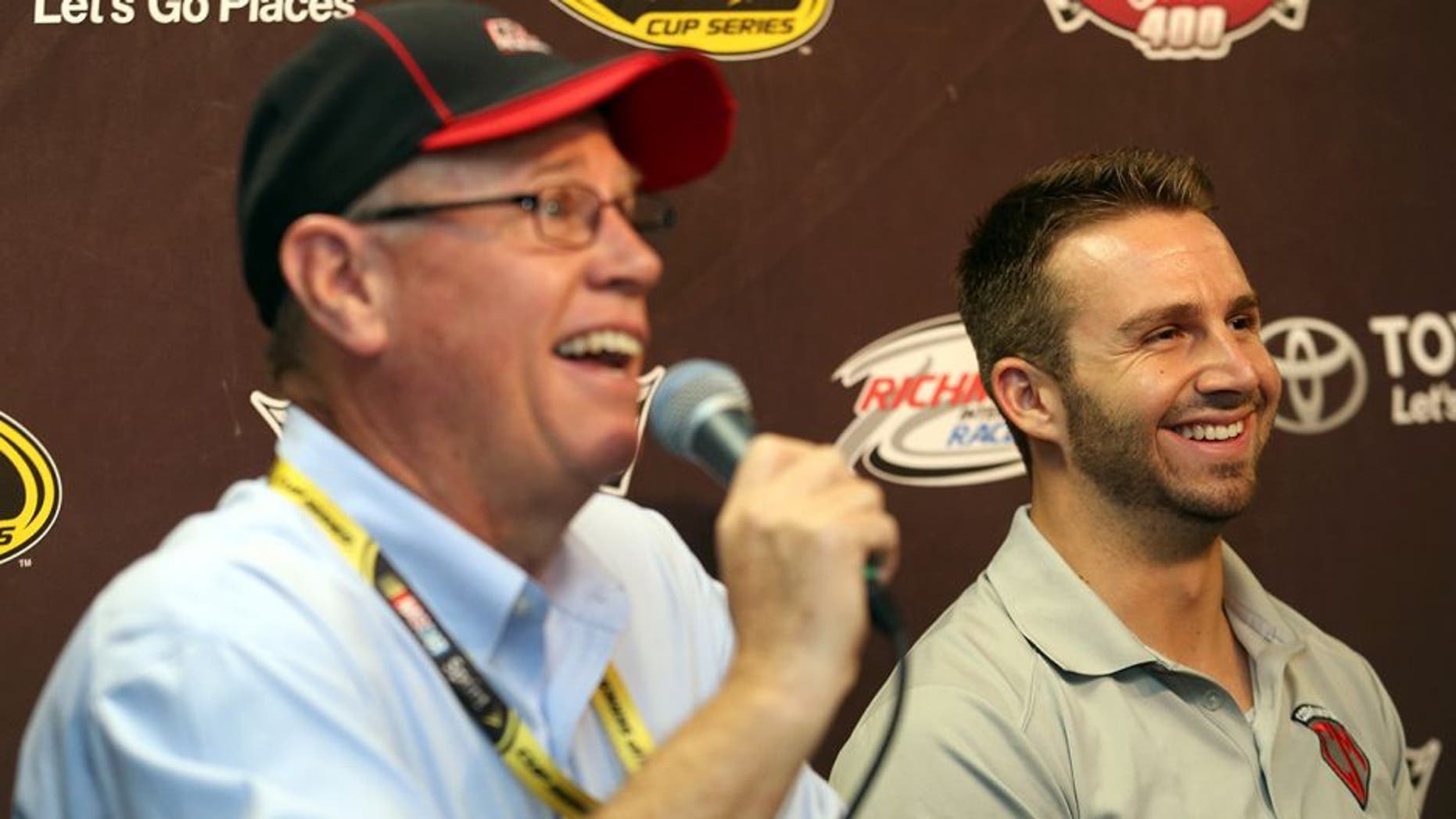 Ron Devine, the majority owner at BK Racing, remembers when it was first recommended to him that his race team hire Matt DiBenedetto as its driver in the NASCAR Sprint Cup Series.
"The first person who mentioned Matt DiBenedetto to me was J.D. Gibbs and he said, 'Ron, this guy is special.' I have a lot of respect for the Gibbs organization -- Joe (Gibbs) and myself have been friends for many, many years -- so I said, 'Let's take a look at him.' " Devine told the media Friday at Richmond International Raceway.
Devine is glad he did.
DiBenedetto is coming off a career-best sixth-place finish in last Sunday's Sprint Cup race at Bristol Motor Speedway. That also represented the best finish of any driver in any car ever fielded by BK Racing, which was formed by Devine and two others, Wayne Press and Mike Wheeler, in 2012.
(Anthony Marlowe joined the ownership group in 2014 when Swan Racing sold its assets to the organization).
Devine said on Friday that he was impressed with DiBenedetto the first time he saw him. But he is quick to add that much of the credit for discovering DiBenedetto must go to J.D. Gibbs, the son of Joe and president of Joe Gibbs Racing who currently is battling some serious health issues.
"We looked at (DiBenedetto's) test and then we started just examining him and J.D. was the first one who said, 'Hey, we really like this young man and we think he's something special and you should get him,' " Devine said. "For that, we thank you J.D. Gibbs and we wish you all the best with all that you're going through. That organization and us both being Toyota, we have a great relationship anyway, but he is just a great friend and he was very kind to send him our way."
DiBenedetto, who is only 24 and in his second season as a full-time driver in Sprint Cup, said he has become close friends with Devine and others in the BK Racing organization. So he's thankful that J.D. Gibbs spoke up for him, too.
DiBenedetto said he was most happy about last Sunday's run because of what it meant to everyone else in the organization.
"I think that's what I was most excited about," said DiBenedetto, who teared up when he was interviewed immediately after the race by FOX Sports. "Not for myself, but for my team because we're like a family and Ron and I are like family.
"We have a really close group here at BK Racing and our whole team works together so well. They work so hard, they put in countless hours during the week and do whatever is necessary for me to be behind the wheel of a racecar, which is a privilege. I was excited for those guys. Then when I go into the race shop this week and see them telling stories about the weekend and they're all smiling, that meant a lot. And also them coming up to me saying, 'Man, I was crying,too, don't worry.' "
Now they all hope to build on it this weekend in the Toyota Owners 400 at Richmond International Raceway. DiBenedetto ran in both Richmond races a year go with little success, starting and finishing 37th in the spring and starting 33rd but finishing 36th in the fall.
With Sprint Cup qualifying rained out at the track on Friday for this Sunday's race, DiBenedetto will roll off the starting grid 36th based on his best lap time in Friday's lone, rain-shortened practice.
But he still thinks he can build on the fine finish in Bristol.
"It was a really fun weekend and it meant a lot to the team and it's good momentum," DiBenedetto said. "If we can continue to take advantage of those good days when we have a good handling car and we hit it right then we're going to have a good season."
Devine noted that the members of DiBenedetto's No. 83 Toyota team were eager to return to work at the shop on Monday after the strong run at Bristol.
"It does lift the whole organization," Devine said. "At 6 o'clock Monday morning, that parking lot was full. Those guys were excited to come back to work."
Of DiBenedetto, Devine added: "We were excited to put him in a racecar and we kind of took a chance on him, but he deserves it and I think he showed it last week. Think about it, we've been out here for five years and that's our best finish. So it was real emotional."
Loyalty does have its limits, though. Noting that he got so emotional following last week's finish that he actually kissed his driver on pit road, Devine said that won't happen if DiBenedetto finishes sixth again.
"I'm not going to kiss him anymore, I can tell you that," Devine said. "I'm done doing that until he does something else."