Bears OLB Leonard Floyd says it took him two months to recover from 2016 concussions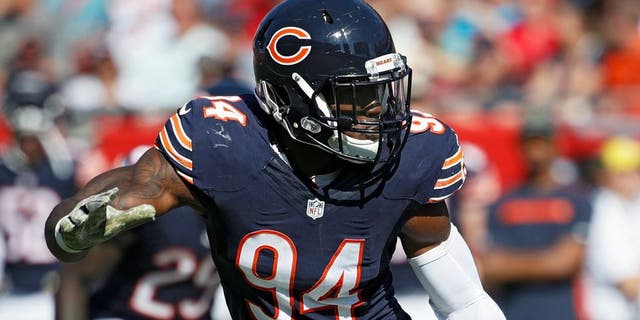 NEWYou can now listen to Fox News articles!
Leonard Floyd quietly had a great season for the Chicago Bears last season. He was second among all rookies with seven sacks, reaching that total in just 12 games. The four games he missed were due to a concussion. Actually, two concussions two serious and scary concussions.
The first occurred in November against the Giants when he had to be carted off the field. A month later, he returned on Christmas Eve against the Redskins, only to suffer his second concussion of the season.
Floyd discussed his frightening head injuries this week at minicamp, saying it took him a long timeto get over them.
It took me two months to really feel like I was back to myself, he said, via the Chicago Sun-Times. I was just at the house, relaxing, getting my mind back together. After those two months I felt back.
Bill Kostroun/AP
While Floyd most likely experienced the usual symptoms of a concussion headaches, dizziness, confusion the scariest part was the fact that he wasnt thinking as he normally would:
You just dont feel normal, you know its this thinking part, like you dont think the same. I wasnt thinking like I normally would think and then Id be staring off in space sometimes instead of paying attention.
Floyd has high expectations entering 2017 now that hes once again healthy, and double-digit sacks is a realistic goal. Hes one of the up-and-coming pass rushers in the NFL and will certainly help shape the Bears season.