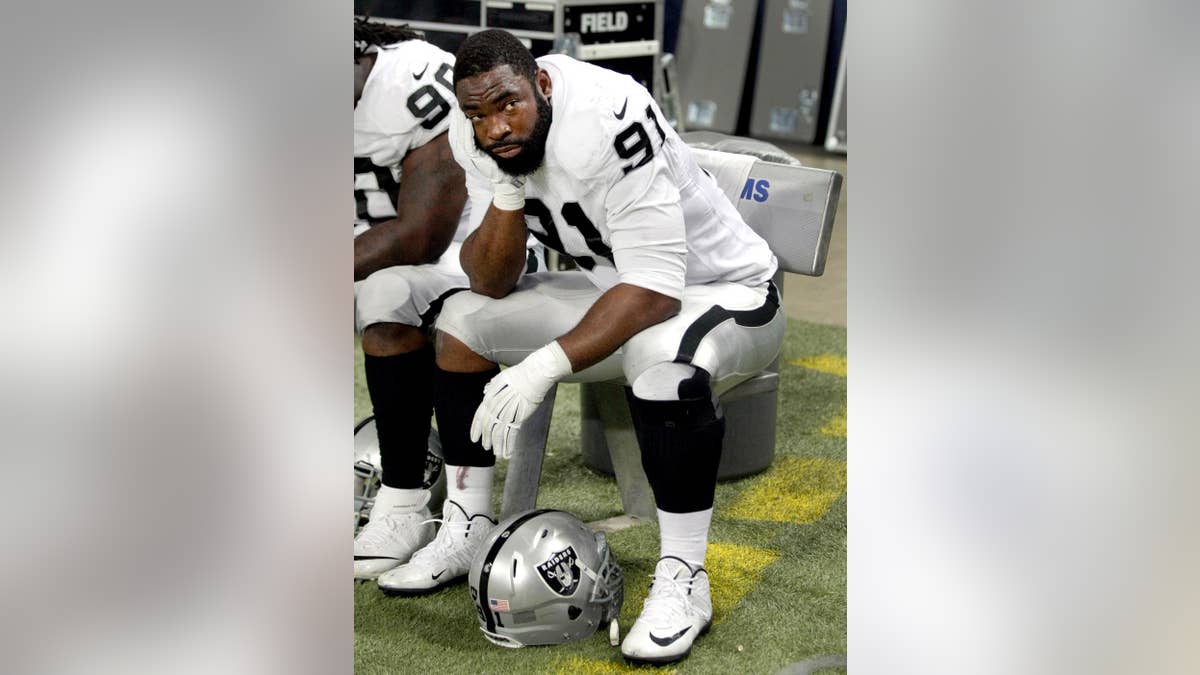 OAKLAND, Calif. – The San Francisco 49ers and Oakland Raiders aren't exactly soaring into the once-every-four-years Battle of the Bay.
One team had its owner publicly apologize for the team's latest performance, the general manager's daughter call for the firing of the offensive coordinator and faces weekly reports about the head coach's possible departure after the season.
And that's just the San Francisco 49ers (7-5), who still have hopes of returning to the playoffs after making it to three straight NFC title games
The Raiders (1-11) are in much worse shape, coming off the franchise's most lopsided loss in more than a half-century, 52-0 to the St. Louis Rams. Oakland has already fired coach Dennis Allen, is assured of missing the playoffs for the 12th straight season and faces an uncertain future with no lease next season at the Coliseum and a possible move to Los Angeles or San Antonio on the horizon.
With all that swirling around, the two teams will be happy to focus on football Sunday in Oakland when both teams expect the local bragging rights will lead to a physical game.
"It brings the best out of you," Raiders defensive end Justin Tuck said. "I think that's what this team needs. Someone that is going to bring the best out of us because, obviously Sunday wasn't our best."
The loss in St. Louis was the most lopsided for the Raiders since they fell 55-0 to Houston in the 1961 opener.
As painful as it was, it paled in comparison to what the Niners went through in a 19-3 Thanksgiving night loss at home to rival Seattle.
That loss left San Francisco's playoff hopes in peril as the 49ers trail three teams in the race for the two NFC wild-card spots. That was just the beginning.
CEO Jed York tweeted an apology for what he deemed an unacceptable performance, adding to the speculation that coach Jim Harbaugh won't be back next season.
General manager Trent Baalke's daughter, Cassie, posted on her now-defunct Twitter account that offensive coordinator Greg Roman should "take a hike." Trent Baalke apologized for his daughter's actions.
"It's something that we don't pay attention to at all," receiver Anquan Boldin said. "Honestly, whether it's true or not, we can't control what people are saying or all that outside noise. Our job is to come in here and do our job well and that's to come in and play and prepare each week, so that's what we do."
Here are some things to watch when the 49ers visit the Raiders:
INFREQUENT RIVALS: Despite their close proximity, the 49ers and Raiders have only played 12 times in their history with each team winning six. This will be just the second game between the teams played in Oakland since 1979. The Niners beat the Raiders 23-20 in overtime in 2002 in the last meeting at the Coliseum.
COACHING CIRCLE: Harbaugh got his first full-time coaching job with the Raiders in 2002 as an offensive assistant under Bill Callahan. Harbaugh spent two years in Oakland before taking the head coaching job at the University of San Diego. Harbaugh has frequently credited late Raiders owner Al Davis for his development as a coach.
"He had a profound, positive effect and outcome on my entire life, both professionally and with my family as well," Harbaugh said.
RED ZONE: The Raiders come into the game as the NFL's most efficient team in the red zone, while the 49ers are the least efficient at turning those trips into touchdowns. Perhaps even more telling is the fact that the Niners and Raiders both have 14 touchdowns on those red zone trips. The difference is San Francisco has gotten there twice as often, with 36 trips to the 18 for Oakland.
RUNNING ROTATION: Latavius Murray has shown in a few flashes what he can bring to Oakland's running game. He had four carries for 43 yards against San Diego on Nov. 16 and then ran four times for 112 yards and two TDs four days later against Kansas City. He left that game with a concussion and missed last week's loss as well. But Murray is expected back on Sunday and could take carries away from Darren McFadden, who has needed 62 carries to gain as many yards (155) as Murray has on his past eight runs.
WHERE'S VERNON: The 49ers have scored just three touchdowns the past 3 1/2 games as the offense has stagnated. A big reason for the struggles has been a lack of production from tight end Vernon Davis. Davis has just 23 catches for 210 yards and has not caught a TD pass since the season opener. Davis was tied for third in the league last year with 13 touchdown catches and was second to Calvin Johnson with 44 TD catches the previous five seasons.
___
AP Sports Writer Janie McCauley contributed to this report
___
Online:
AP NFL website: www.pro32.ap.org and www.twitter.com/AP_NFL