Another new QB, uncertainty with Packers' offensive line for Sunday's game against Giants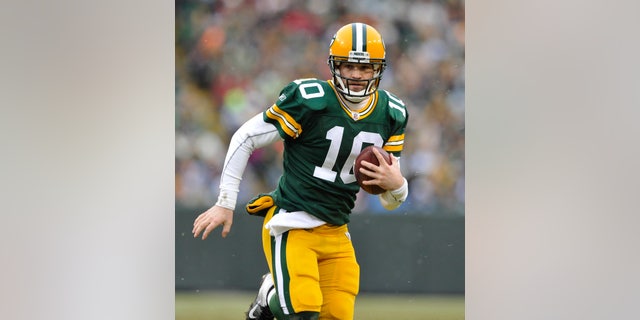 GREEN BAY, Wis. – For the first time since the strike-interrupted season in 1987, the Green Bay Packers are getting ready to work on their third starting quarterback in three straight games.
The Packers also might have a reshuffled offensive line protecting first-time NFL starter Scott Tolzien against the New York Giants on Sunday.
Injuries forced Green Bay to not only turn to Tolzien as the latest replacement for Aaron Rodgers, but also resulted in significant changes on the line.
At the end of Sunday's 27-13 loss to Philadelphia, the Packers had different players at three of the five line positions from how they started the game.
But the outlook for the matchup with the Giants is somewhat encouraging as Green Bay (5-4) looks to end a two-game losing streak.
"We'll be fine," center Evan Dietrich-Smith said Friday. "It's a lot of cross-training (with the linemen). We've all been playing different spots for a long time. Everybody's kind of got to step up and switch around, but it's nothing new."
Right tackle Don Barclay didn't practice this week after injuring his knee against the Eagles and is questionable for Sunday.
Dietrich-Smith, who also left the last game with a knee injury, was held out of practice Friday but is probable.
Coach Mike McCarthy indicated the day off for Dietrich-Smith was planned after he practiced on a limited basis the previous two days.
"Just his workload yesterday, we felt it was best to shut him down today," McCarthy said. "I feel confident about what he's been able to accomplish on Wednesday and Thursday, but it was in his best interest not to practice today."
Dietrich-Smith appreciated the extra time to stay off his feet in his recovery from the injury that knocked him out in the second quarter against the Eagles.
If Dietrich-Smith has a say, he will be in the starting lineup against the Giants.
"The plan all week has been try to get to Sunday, get healed up for Sunday," Dietrich-Smith said. "I didn't do much this week, but mentally I've been on it. I've been feeling better every day, so I have a good feeling I'll be out there."
And despite not practicing much this week, Dietrich-Smith is confident he and Tolzien will be in sync as the Packers transition to yet another starting quarterback with Rodgers (broken collarbone) listed as out for a second straight game.
"I've been taking reps and stuff like that," Dietrich-Smith said. "It's just that everybody else kind of had to fill in for me this week. But we've been taking reps. It's not like I haven't done anything with the guy (Tolzien). I've been working with him all week."
Tozien, a third-year pro who was promoted from Green Bay's practice squad last week, took over at quarterback in the last game after Seneca Wallace injured his groin in the Packers' first series.
As the game went on, Tolzien had to run the offense amid a series of changes on the offensive line.
Right guard T.J. Lang moved to center after Dietrich-Smith left, Barclay slid inside to right guard, and Marshall Newhouse went in at right tackle.
After Barclay limped off while blocking on a Packers field goal early in the fourth quarter, undrafted rookie Lane Taylor — the only remaining lineman on the bench — had to go in at right guard.
"It's never ideal when anyone gets an injury, obviously," offensive line coach James Campen said this week.
"You'd obviously prefer to stay with the same guys. It's shuffling, but they just move and slide over and bump over and progress on."
McCarthy said he would "have no problem playing Don" even after Barclay didn't have any practice time this week.
"Don is getting better," McCarthy said. "We'll see if he'll be available. We've got Marshall ready to play, he took the reps this week, but Don will be close."
NOTES: McCarthy confirmed reports that TE Jermichael Finley had spinal fusion surgery this week in Pittsburgh. "I'm looking forward to hearing from Jermichael, seeing him," McCarthy said. "My understanding is, through our medical staff, that it was a successful surgery." Finley sustained a season-ending bruised spinal cord in the Packers' win over Cleveland on Oct. 20. The playing future for Finley, a sixth-year pro who will be a free agent after this season, is uncertain. ... McCarthy said no timetable is in place for how soon Rodgers could return to the field. ... CB Sam Shields (hamstring) didn't practice Friday but is probable for Sunday's game. Also probable are linebackers Clay Matthews (thumb) and Mike Neal (abdomen) and defensive linemen Ryan Pickett (knee) and Johnny Jolly (groin). LB Nick Perry (foot/ankle), who didn't practice this week, is doubtful.
___
AP NFL website: www.pro32.ap.org