After Loss to Giants, Tony Romo Makes No Excuses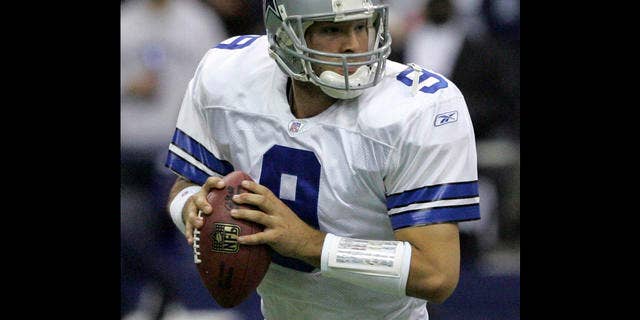 EAST RUTHERFORD, N.J. -- Throughout his seven-year career with the Dallas Cowboys, Tony Romo has shared the blame and been the cause of many losses and meltdowns in a must-win situations.
While many today will continue to ponder whether or not Romo will be the one to lead the Cowboys to a Super Bowl, they should probably start looking elsewhere when pointing their fingers after Sunday
night's 31-14 loss to the New York Giants.
Ironically, Romo returned to the same field where he and the Cowboys collapsed on opening night against the New York Jets in the fourth quarter back on Sept. 11. By halftime last night, they looked lost on that field as they were down 21-0.
Playing with an injured right hand that he hurt last week against the Philadelphia Eagles, Romo completed 29 of 37 passes for 289 yards but the offensive line made it worse for him, as he was sacked six times.
He was sacked on the Cowboys' second, third and fourth series of the game. They simply could not contain the Giants pass rush.
"You don't make excuses," Romo said. "You're in this position. You either win or go home. You have to give them credit. They need to do what needed to be done and we didn't."
It's an area Jerry Jones will have to address as well as a defense that gave up some big plays, like the two touchdown runs by Ahmad Bradshaw, who easily made it to the end zone after missed tackles.
Their secondary had a tough time that resulted in a few big plays made by Victor Cruz throughout the night, the first of what should have been a five-yard catch that ended up in a 74-yard touchdown dash, out-running the Cowboys defense and later the 44-yard catch in which he beat the defender for positioning that led to a Giants field goal and extended the lead to 24-14 with 5:45 to play.
Maybe while Jones is at it he can hire someone to call the offensive plays, relieve some of the pressure off Garrett, who decided to go for it on fourth and one with 13:56 to play in the game.
Romo was about a foot short of the first down. You take the three points and let the defense back out there, especially the way they bounced back and rallied in the second half of the game.
"The call comes in from the sideline but I agreed with the call," Romo said. "Obviously we have liked to have gotten it. It's easy to second guess now."
Romo said he took a pain-killing shot that numbed a part of his hand before the game so that he could take snaps under center. But he did not use his bruised hand as the reason why they will not host the Atlanta Falcons next Sunday in Dallas.
As happened to other Dallas quarterbacks who preceded him and never won the Big One, people will pile the loss on his shoulders -- and he accepts it.
He should have been aware that he was well past the line of scrimmage when he avoided getting sacked and found Dez Bryant a 17-yard gain but it was eventually called back for the penalty. Perhaps he could have down better on the team's last two drives, the last in which he fumbled after getting sacked.
"I always feel like whenever we lose a football game I always look back to a play or two or something that I felt I could have changed the outcome," Romo said.
Afterward, Jones was still committed to the quarterback that many have wanted out in the past, either cut or traded.
Instead he will have the offseason to pick and choose where they will need help.
Cowboys tight end Jason Whitten would not want to see anyone but Romo out there, given the year he had in which he had 31 touchdown passes, 10 interceptions and 4,184 passing yards along with a passer rating of 105.2 -- the best he's ever had.
"That guy's a winner," Whitten said. "He really is. I wouldn't want to trade that guy for anybody out there. He makes a lot happen for our football team and ultimately we came up short but he gives you ever chance to win."
Adry Torres, who has covered MLB, NFL, NBA and NCAA basketball games and related events, is a regular contributor to Fox News Latino. He can be reached at elpiloto137@gmail.com or follow him on Twitter: @adrytorresnyc.
Follow us on twitter.com/foxnewslatino
Like us at facebook.com/foxnewslatino