Aaron Judge's cheering section at Yankee Stadium is as remarkable as he is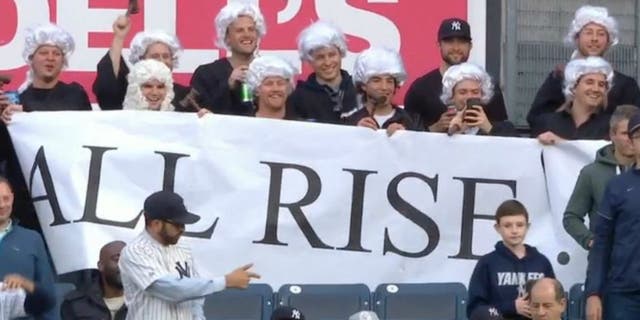 Aaron Judge already is a larger-than-life presence in the Yankees batting order in his rookie season, and now he has the fan section to prove it.
Judge, who is 6-foot-7 and 280 pounds, was greeted by a group of fans dressed as judges complete with those creepy white wigs during Thursdays game against the Astros at Yankee Stadium.
According to the New York Daily News, the fans are childhood friends one even is a Red Sox fan who came up with the idea in a group text.
I was watching a game and was like, You know what. Aaron Judge. I dont see any judges in the stadium. Lets do it. Rally the troops, and they made it happen, Nick Greenwood, one of Judges judges, told the newspaper.
Alas, Judge went 0-for-3 with a strikeout in Thursdays 3-2 loss to the Astros, but he still leads the AL in homers (13), runs (28) and OPS (1.146).