Archaeologists have discovered a stunning sphinx statue at an ancient temple in southern Egypt.
The sandstone statue was discovered during a project to reduce groundwater at Kom Ombo temple in Aswan.
The statue likely dates back to the Ptolemaic period, between 305 B.C. and 30 B.C., according to Dr. Mostafa Waziri, general secretary of Egypt's Supreme Council of Antiquities.
In a Facebook post, Waziri explained that the statue was found in the southeastern side of the temple, where two sandstone reliefs of King Ptolemy V were discovered two months ago.
AMAZING EGYPTIAN DISCOVERY: VILLAGE THAT PREDATES PHARAOHS, PYRAMIDS UNCOVERED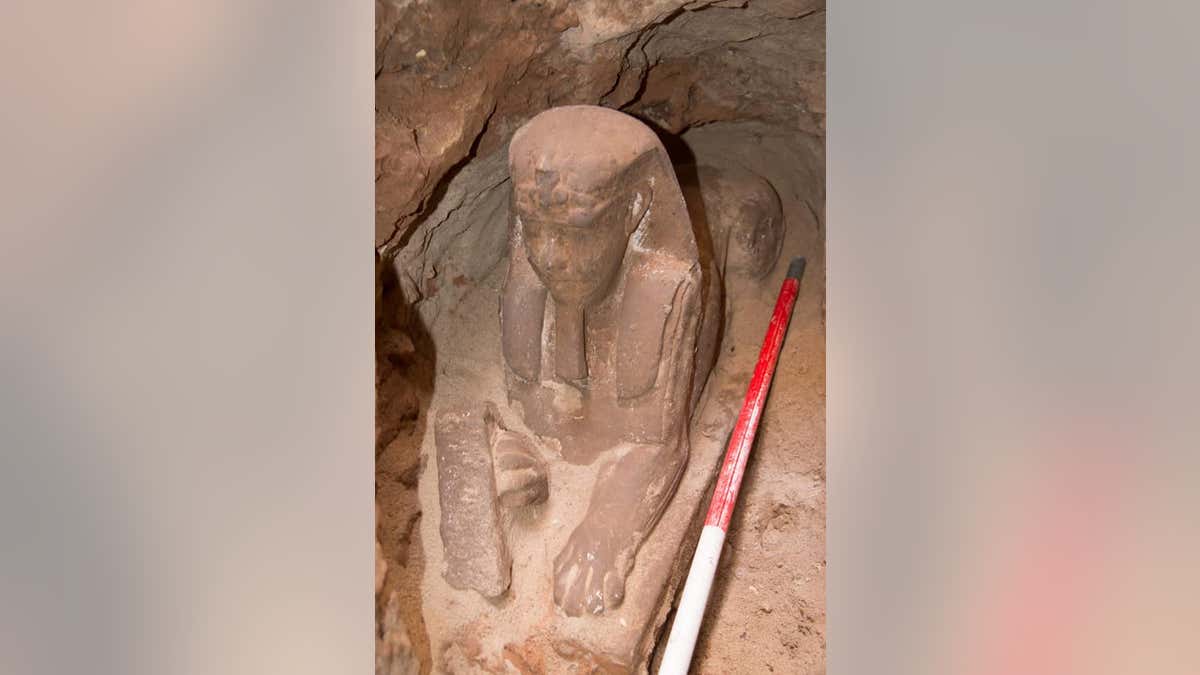 Sphinx statues, which have a lion's body and a human head, typically depict a king and are often found guarding the entrances to ancient Egyptian temples.
General Director of Aswan Antiquities Abdel Moneim Saeed said that more research will be done on the newly discovered sphinx.
The sphinx is the latest fascinating ancient find in Egypt. Another sphinx was recently uncovered during roadwork in the city of Luxor, 112 miles north of Aswan.
MYSTERIOUS GIANT SARCOPHAGUS DISCOVERED IN EGYPT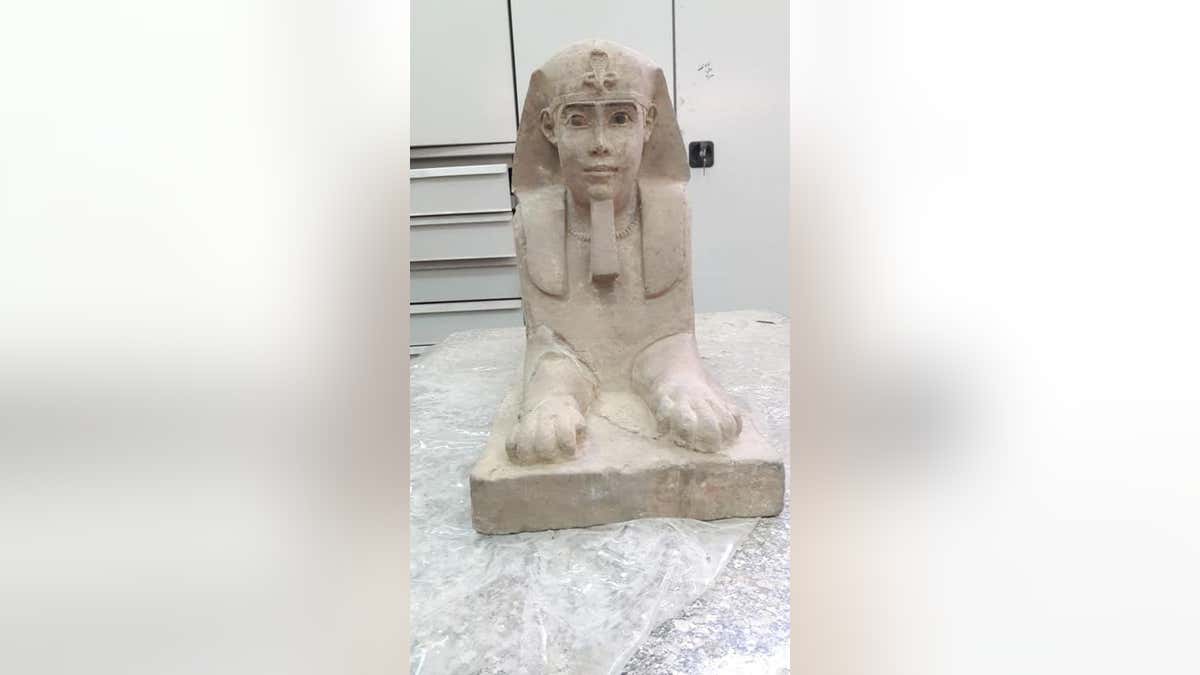 While the famous Great Sphinx of Giza on the outskirts of Cairo is the best known, there are a number of smaller sphinx statues in Luxor.
In another project, archaeologists recently unlocked the secrets of a mysterious ancient 'cursed' black granite sarcophagus.
The massive coffin, which was excavated in the city of Alexandria, was found to contain three skeletons and gold sheets with the remains. The tomb also dates back to the Ptolemaic era.
'WORLD'S OLDEST CHEESE' DISCOVERED IN ANCIENT EGYPTIAN TOMB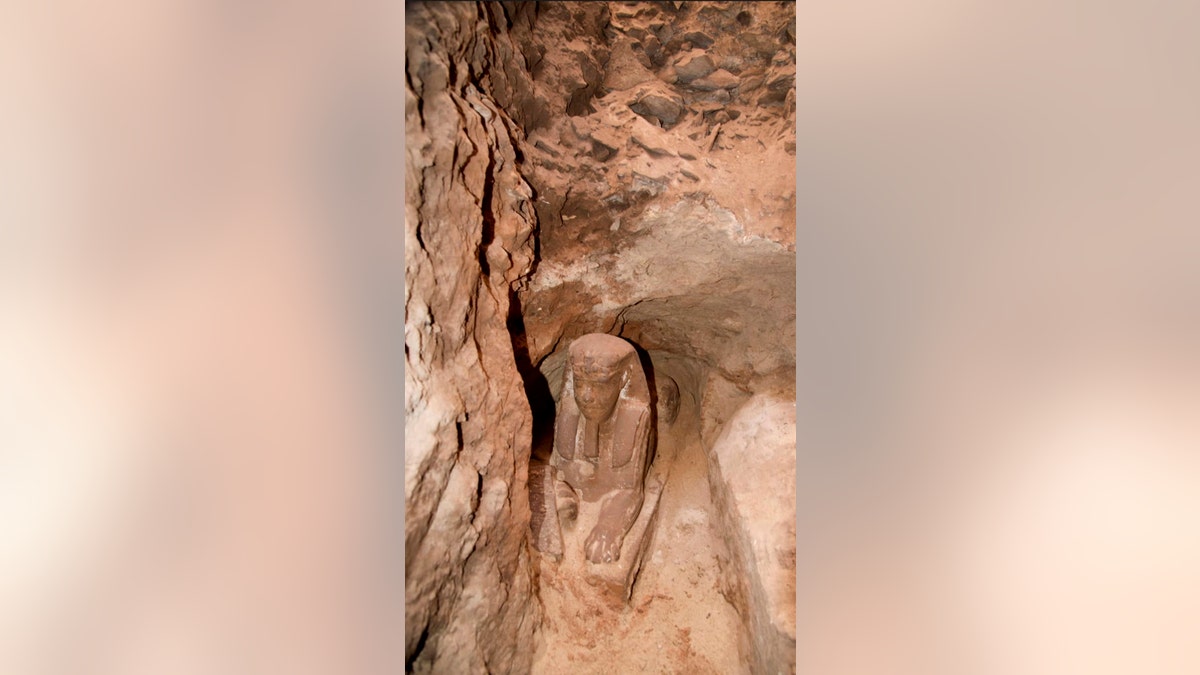 Experts also recently found the oldest solid cheese in the tomb of Ptahmes, mayor of the ancient city of Memphis.
A mummy buried in southern Egypt more than 5,000 years ago, has also revealed its grisly secrets, shedding new light on prehistoric embalming practices.
In another project, experts unearthed a 2,200-year-old gold coin depicting the ancient King Ptolemy III, an ancestor of the famed Cleopatra.
MYSTERIOUS ANCIENT ARTWORK DEPICTING FEMALE PHARAOH FOUND BY ACCIDENT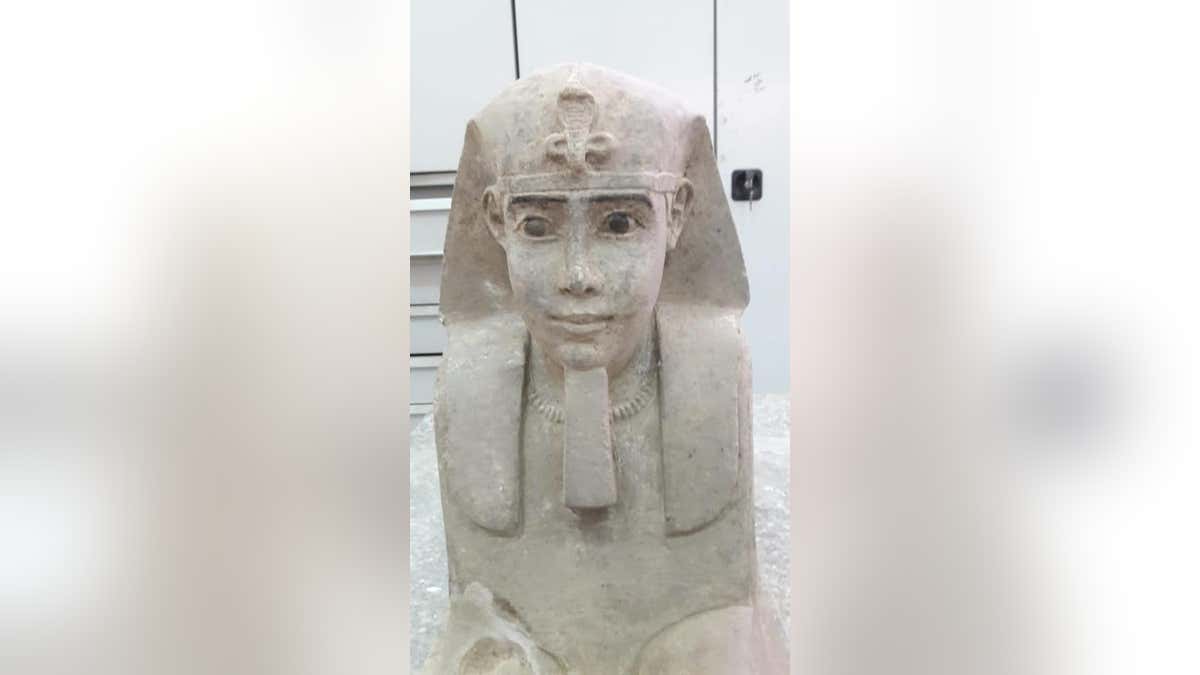 Experts in southern Egypt recently discovered an extremely rare marble head depicting the Roman Emperor Marcus Aurelius.
In Australia, archaeologists found the tattered remains of an ancient priestess in a 2,500-year-old Egyptian coffin that was long thought to be empty.
On the other side of the world, a rare ancient artifact depicting the famous female pharaoh Hatshepsut surfaced in the U.K. Stunning new research also claims that King Tutankhamun may have been a boy soldier, challenging the theory he was a weak and sickly youth before his mysterious death at around 18 years of age.
MUMMY WEARING GOLD-GILDED FACE MASK DISCOVERED AT ANCIENT EGYPT BURIAL GROUND
Experts in the U.K. also found the world's oldest figurative tattoos on two ancient Egyptian mummies recently, one of which is the oldest tattooed female ever discovered.
Other recent finds include an ancient cemetery in Egypt with more than 40 mummies and a necklace containing a "message from the afterlife." An ancient statue of a Nubian king with an inscription written in Egyptian hieroglyphics was also found at a Nile River temple in Sudan.
Scientists also believe that they may have found the secret of the Great Pyramid's near-perfect alignment. Experts are also confident that they have solved the long-standing mystery of the "screaming mummy."
In February, archaeologists announced the discovery of a 4,400-year-old tomb near the pyramids. Late last year, archaeologists also revealed that they had uncovered the graves of four children at an ancient site in Egypt.
The Associated Press contributed to this article.
Follow James Rogers on Twitter @jamesjrogers