Stunning NASA image shows the power of tropical cyclone Kate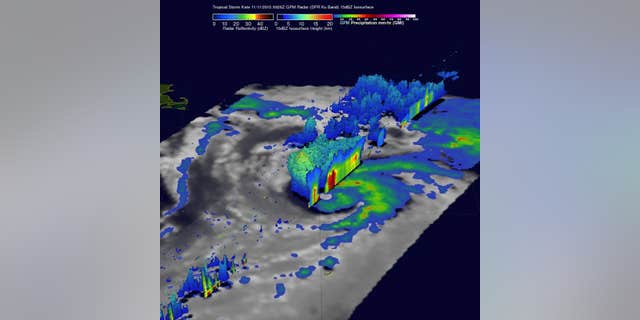 NEWYou can now listen to Fox News articles!
NASA has illustrated the power of Kate, the twelfth named tropical cyclone of the 2015 Atlantic hurricane season, in this stunning image.
Formed near the southeastern Bahamas on Sunday, Kate re-curved toward the northeast and moved harmlessly over the open waters of the Atlantic. Kate's intensity peaked on Nov. 11, 2015 with winds of about 74 mph - making it a category one hurricane on the Saffir-Simpson Hurricane.
Related: Kate weakens to tropical storm in Atlantic
This image was the result of the GPM (Global Precipitation Measurement) core observatory satellite flying above Kate on Nov. 11, capturing data. Kate's maximum sustained winds were estimated at about 69 mph at that time, which made it a strong tropical storm. GPM's Dual-Frequency Precipitation Radar was able to slice through Kate's western side and found that intense storms were dropping rain at a rate of over 3.1 inches per hour. A 3-D cross section by GPM's Radar (DPR Ku Band) through Kate's weak eye showed intense storms swirling around the northern side of the tropical cyclone.
Related: NOAA releases forecast for 2015 hurricane season
GPM is managed by both NASA and the Japan Aerospace Exploration Agency.