Southwest Orders 208 Boeing 737s Valued at $19B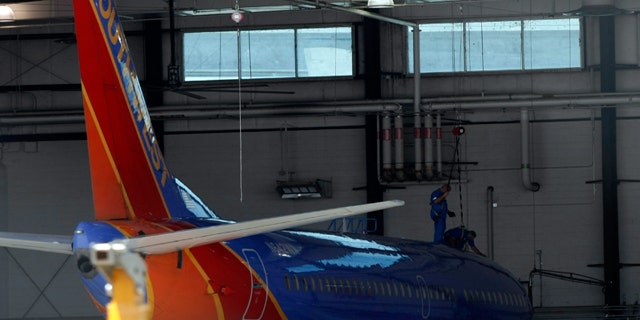 NEWYou can now listen to Fox News articles!
DALLAS – Southwest Airlines is placing a huge order for a redesigned and more fuel-efficient version of Boeing Co.'s most popular plane, the 737.
It's the biggest firm order in Boeing's history by number of planes -- 208 -- and by list-price value, at nearly $19 billion. Last month Boeing announced a deal with Indonesia's Lion Air for 230 planes worth $21.7 billion, but that agreement hasn't been finished.
Tuesday's order should help Southwest address its biggest challenge -- high fuel prices -- when the planes start arriving in 2017. Southwest is on pace to spend $5.6 billion this year on fuel, its largest expense and one that is growing twice as fast as revenue.
Southwest committed to buy 150 of the yet-to-be-built 737 Max and will become the first carrier to get one. Boeing says the new plane will have about 10 percent better mileage than the most economical single-aisle jetliner in the skies today. Southwest will also buy 58 current 737 jets, adding to the 142 it already has on order.
Southwest is Boeing's best customer for the 737; it has more than 550 of them and uses no other plane, although its AirTran Airways subsidiary also flies the smaller Boeing 717. Southwest CEO Gary Kelly had left the door ajar to buy planes from Boeing's European nemesis, Airbus, if Boeing couldn't produce a more efficient 737 by the end of the decade.
So it was with a combination of jubilation and relief that the head of Boeing's commercial airplanes division, Jim Albaugh, traveled to Dallas to appear with Kelly at a press conference to announce the order on Tuesday.
"This a thrilling day for us," Albaugh said. "It truly is Christmas come early for the Boeing Co."
The companies declined to say how much Southwest would pay per plane, but it will be less than the list price. Southwest chief operating officer Mike Van de Ven said, "It's a lot like buying a car -- you get to negotiate a discount."
Van de Ven said Southwest would spend an average of $1.2 billion a year from 2012 through 2022 on the new planes, which would top $13 billion.
Michael Derchin, an analyst with CRT Capital Group, said Southwest generates enough cash that, together with its cash on hand of $1 billion, can pay for the aircraft while maintaining its investment-grade credit rating.
"They needed to do this," Derchin said. "Their labor costs are on the high side because they're prosperous, so when you look at how they can reduce unit costs further, you have to look at more fuel-efficient aircraft."
Southwest officials said the new planes will replace older ones and they won't expand the fleet, at least not anytime soon.
Boeing shares fell 1 cent to $70.89 in afternoon trading after climbing as high as $72.65 earlier in the day. Southwest Airlines Co. shares lost 27 cents at $8.16.
Boeing has been building the short- and medium-range 737 since the late 1960s and has sold about 7,000 of them, making it the company's most popular plane ever. Workers at Boeing's assembly line in Renton, Wash., make about one every day, but the company plans to boost production by roughly one-third in 2014 to meet new orders.
Boeing's Albaugh said his company now has orders or commitments for 948 of the 737 Max planes, and the number could rise to 1,400 or 1,500 by the end of next year.
The 737 Max is Boeing's answer to the Airbus 320neo, another plane with new engines designed to boost mileage, which is due out in late 2015.
The Southwest announcement is the latest in a string of good news for Chicago-based Boeing.
Just a few miles from Southwest headquarters, American Airlines announced in July that it will order 200 planes from Boeing, including 100 of the Max model, although the carrier said it would buy even more planes -- 260 -- from Airbus. Since then however, American and its parent, AMR Corp., filed for bankruptcy protection, meaning that the decision whether to go ahead with the ambitious order could be left to a bankruptcy court judge.
Then came last month's announcement about Lion Air, which also took options for 150 more planes that could -- if the airline goes through with the full order -- boost the final list price of the deal to $35 billion.
Also last month, Middle East carrier Emirates ordered $18 billion worth of long-range Boeing 777s.
In October, Boeing's newest plane, the long-delayed 787, finally began carrying passengers. The jet is made of carbon fiber composite materials that make it lighter than a plane made from aluminum. Airlines have ordered nearly 800 of the 787s. Boeing also delivered a new version of the iconic 747 jumbo jet.