Russian Rocket Blasts Off for Space Station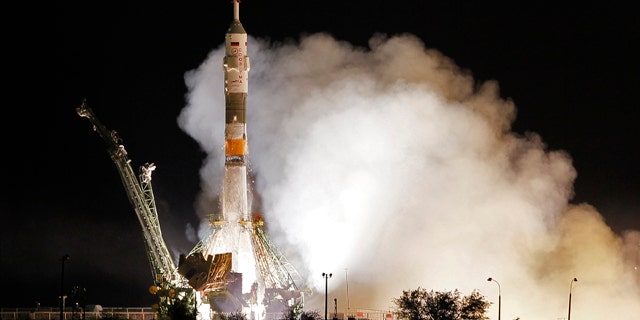 NEWYou can now listen to Fox News articles!
A Russian Soyuz spacecraft blasted off from Russia on the latest mission to the International Space Station.
From an ink-black launchpad at the Baikonour Cosmodrome in Kazakhstan, a Russian-built Soyuz spacecraft took off, traveling at speeds of up to 13,500 miles per hour. It carried NASA astronaut Mike Fossum, Russian cosmonaut Sergei Volkov, and Satoshi Furukawa of the Japan Aerospace Exploration Agency (JAXA), rocket into orbit. They launched at 4:12 p.m. EDT (2012 GMT).
The three crewmates left the desolate but balmy Kazakh Steppe early Wednesday, less than a week after the successful completion of NASA's second-to-last space shuttle mission. The shuttle Endeavour landed at Kennedy Space Center in Florida on June 1 to end the orbiter's final flight before being retired.
"Congratulations, guys, from the bottom of my heart," mission control radioed up to the crew.
Fossum, Volkov and Furukawa are set to begin their long-term stints aboard the space station -- continuing the uninterrupted presence of humans on the station since Nov. 2, 2000 -- where they will make up the remainder of the station's Expedition 28 crew. The spaceflyers will join NASA astronaut Ron Garan and Russian cosmonauts Alexander Samokutyaev and Andrey Borisenko, who have been living and working at the space station since early April.
The new crewmembers are scheduled to arrive at the space station on Thursday at 5:22 p.m. EDT (2122 GMT).
They flew aboard a Russian-built Soyuz TMA-02M spacecraft, the second version of Russia's upgraded digital Soyuz capsule, which has also been modified to fix computer console display glitches that popped up during the design's first flight.
As part of their stay at the orbiting laboratory, the crewmembers will conduct a variety of experiments in a number of fields, including physical sciences, human life sciences and Earth observation, according to NASA officials.
NASA astronaut Mike Fossum will blog about his experiences aboard the station, the space agency said.
The astronauts will also witness something special: the final mission of the U.S. shuttle progam, with NASA retiring the 30-year program after Atlantis flies to ISS on July 8.
During Endeavour's STS-134 mission, the visiting shuttle astronauts performed four spacewalks and completed the last major stage of construction for the station's U.S. segment. This will allow NASA and its international partners to focus on the science and research capabilities that the station has to offer, NASA officials have said.
"Now we're moving out of that phase as this construction assembly's complete, and more into the science phase that it was really built to do, so it's exciting as we're bringing online all of these, the payloads, the different equipment to begin moving it forward with that research capability," Fossum said in a preflight interview.
Space.com contributed to this report.