Man-eating tiger who is believed to have killed 13 people is shot dead in India after major hunt
A tigress in India who is suspected of having killed at least 13 people over two years was shot and killed in India after a hunt Friday night, officials said.
The tigress, who was believed to be six years old, was also known as T-1. Rangers were called to a place near Borati village after residents spotted the man-eating tiger, the BBC reported. The plan was to shoot the tiger with a tranquilizer by a patrol team but the tigress charged. The tigress was killed by a single shot.
Residents who lived in the area were said to be overjoyed after learning of the tiger's death, The New York Times reported. However, wildlife activists did not feel the same.
"This is a coldblooded murder," Jerryl Banait, an advocate for animal rights, said.
'KILLER' TIGER HUNT: TRACKERS USE CALVIN KLEIN SCENT IN DESPERATE ATTEMPT TO CATCH BIG CAT
A massive search operation involving dozens of police and forestry officials was launched to find T-1 or "Avni" and kill her. Officials even used Calvin Klein cologne in an attempt to lure the big cat.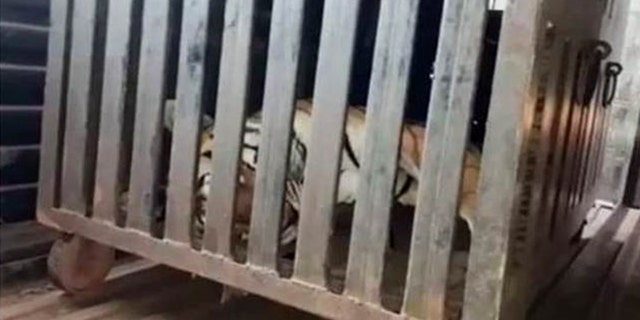 The perfume contains a pheromone called civetone that can attract big cats, according to experts. Initially sourced from the scent glands of the civet, a small cat-like mammal, civetone is now typically manufactured synthetically.
Miguel Ordeñana, a wildlife biologist and community science manager at the Natural History Museum of Los Angeles told Fox News that the scent can prove an effective lure for carnivores such as tigers. "It's a musky smell that really makes them think about another competitor in the ecosystem or a potential mate," he said. "For territorial carnivores, it's something that they really take notice of."
BLIND, SICK ELEPHANTS COMFORTED BY PIANIST AT THAILAND SANCTUARY
Calvin Klein's cologne Obsession was reportedly used successfully to lure a tiger in the southern Indian state of Tamil Nadu.
The BBC reported that T-1 and her two cubs killed three people in Pandharkawada, located in the Yavatmal district in India. The tigress killed another 10 people since 2016, leaving residents fearing for their lives. Officials were able to determine a tiger killed the people by using DNA tests and discovering tiger saliva in the victims' wounds.
An autopsy will be performed on the tigress.
Fox News' James Rogers contributed to this report.