No Duh! The Most Obvious Scientific Discoveries of 2009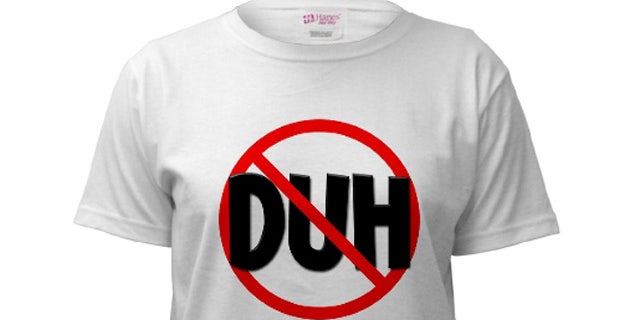 In science, it's not enough to think it's so. Research must prove, with statistically significant and reproducible results, that what we suspect to be the case is actually true.
But some studies really take the cake in the no-duh department. Here are some findings from this year that should come as no surprise.
High Heels Lead to Foot Pain
Yes, ladies, hiking in stilettos takes its toll. A study in the October issue of the journal Arthritis Care & Research found that nearly 64 percent of older women who reported foot pain regularly wore high heels, pumps or sandals at some point in their lives.
"We found an increased risk of hind-foot pain among women who wore shoes, such as high heels or pumps, that lack support and sound structure," said study team member Alyssa B. Dufour, a graduate student at the Institute for Aging Research of Hebrew SeniorLife.
Men Much More Interested Than Women in Casual Sex
A survey of 860 college students discovered — brace yourself — that men are more likely than women to report having had casual sex, and they express a greater desire for it than do women. The findings were published this year in the journal Human Nature.
The study also confirmed that women are choosier than men when selecting partners for hookups:
"While men are not entirely insensitive to their requestor's attractiveness, women have higher standards and are more likely to engage in casual sex with an exceptionally attractive man than with a less attractive man," the study's authors wrote in the paper.
Children Are Affected When a Parent Suffers From Depression
This sad truth stands to reason: Life is hard for kids whose parents are depressed. "Children take on an extremely heavy responsibility by monitoring and keeping an eye on the depressed parent," said study author Britt Hedman Ahlström of the Sahlgrenska Academy at the University of Gothenburg, Sweden.
Ahlström found that a parent's depression increases a child's sense of responsibility and feelings of loneliness. She recommends that health services support the whole family, and not just the person who is ill. ...Good advice, and hopefully not news to the mental health community.
Coed Dorms Fuel Sex and Drinking
Confirming every parent's fears about college life — and many students' hopes — scientists found that university students in coed housing are 2.5 times more likely to binge drink every week than undergrads in single-sex dorms
Another whopper: Students in coed housing are also likely to have more sexual partners, and watch more pornography, than their peers.
The findings were detailed in the Journal of American College Health.
Sweets Taste Better When You're High
Anyone who's gorged on brownies after smoking pot won't be shocked to learn that endocannabinoids, the active ingredient in marijuana, alter your sense of taste.
Specifically, a new study found that "endocannabinoids both act in the brain to increase appetite and also modulate taste receptors on the tongue to increase the response to sweets," said lead researcher Yuzo Ninomiya of Kyushu University in Japan. The findings were published online in December in the journal Proceedings of the National Academy of Sciences.
The study found that behavioral, neural and cellular responses to sweet taste are enhanced by endocannabinoids — meaning that when people smoke weed, sugary foods taste better, and they want more of them.
G-Rated Children's Films Are Very Straight
Remember any pride-flag waving Disney princesses? Didn't think so.
Scientists found that kids' movies promote the idea of heterosexual love, while leaving out any mention of homosexual relationships.
An analysis of all G-rated movies released or rereleased between 1990 and 2005 that grossed more than $100 million in the United States found that the films "depict a rich and pervasive heterosexual landscape," the scientists wrote in a paper in the June issue of the journal Gender & Society.The research confirmed that showing straight, and only straight, romances to children teaches kids that heterosexual love is special and magical.
Since Disney just got around to featuring its first African-American princess this year, it's no shock that we may have to wait a while for a gay heroine.
Eating Lots of Red Meat and Processed Meat Is Bad for You
Sorry, but that double cheeseburger is still not your friend. Scientists found that eating lots of saturated-fat filled red meat, and highly processed and salted meats, is associated with a higher risk of death.
A study of more than 500,000 people found that individuals who consume more of these foods have an increased risk of death from all causes, and also specifically from cancer or heart disease, over a 10-year period, compared with people who eat less of those meats.
The findings were detailed in a paper in the March 23 issue of the journal Archives of Internal Medicine.
"For overall mortality, 11 percent of deaths in men and 16 percent of deaths in women could be prevented if people decreased their red meat consumption" to the amount consumed by the bottom one-fifth of subjects in the study, the researchers wrote.
Kids' TV Is Full of Ads for High-Fat and High-Sugar Foods
Also in the sad but not shocking category, scientists found that 70 percent of food commercials on children's networks touted fast-food restaurants, sugary food, chips, crackers, or sugar-added beverages.
In contrast, fruits, vegetables, and juices accounted for only 1.7 percent of the ads. Only one nutrition-related public service announcement was found for every 63 food ads. Compared with television for a general audience, children's networks in the study exposed young viewers to 76 percent more food commercials per hour than did other networks.
"Study after study has documented the adverse health effects of food advertising targeting children and adolescents," the researchers wrote in a paper in the November/December issue of the Journal of Nutrition Education and Behavior. "Health educators need to develop and evaluate comprehensive nutrition programs that augment nutritional education with media use reduction strategies to lessen exposure to ads."
Copyright © 2009 LiveScience.com. All Rights Reserved. This material may not be published, broadcast, rewritten or redistributed.