New Zealand Bids Farewell to Lost Emperor Penguin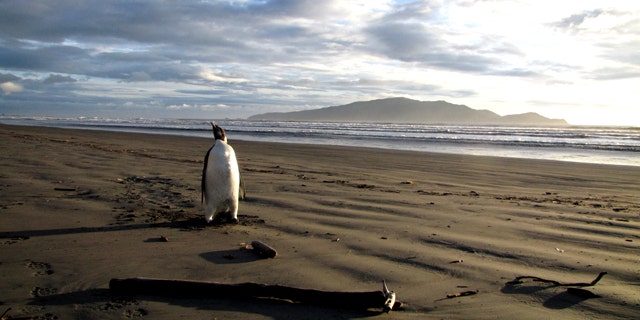 NEWYou can now listen to Fox News articles!
WELLINGTON, New Zealand – Fans turned out in their hundreds Sunday to farewell an emperor penguin which has gained international attention since being found on a New Zealand beach in June.
The penguin, dubbed Happy Feet, will Monday be loaded aboard the research ship the Tangaroa and spend about four days at sea before being released into the ocean near Campbell Island, a remote subantarctic island.
But first a farewell party was held at Wellington Zoo, with the public encouraged to dress in black and white, make a donation toward the cost of his care and watch his final health checks. Happy Feet will also be fitted with a GPS tracker so his fans can follow his movements once he is released.
Zoo vet Dr. Lisa Argilla, who has nursed the bird back to health, told the Sunday News that Happy Feet was ready to leave.
"He is ready and he's really stroppy [touchy]," she said. "His personality has changed. He's a lot more feisty, he doesn't like us holding him and manhandling him to give him medication. I think he is going to be pretty happy to see the back of us."
Happy Feet has been in the zoo's care since he was discovered on a North Island beach on June 20, more than 1,800 miles from his home in Antarctica.
He was gravely ill when found, which was thought to have been the result of him ingesting large quantities of sand and sticks that he may have mistaken for fish and snow.
Wellington Zoo spokeswoman Kate Baker told the New Zealand Press Association that all up, including the voyage to Antarctica, the penguin had cost about NZ$30,000 (US$25,000) to look after.