Man Vs. Elephant War Rages in Sri Lanka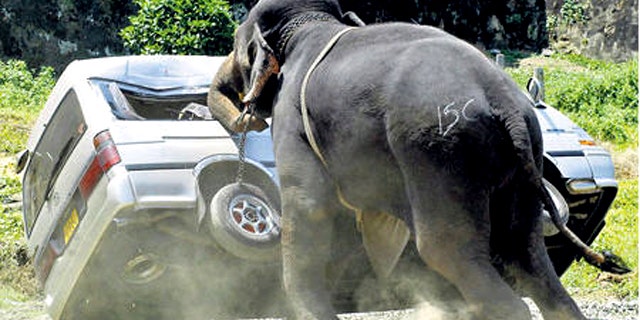 NEWYou can now listen to Fox News articles!
More than 200 elephants and 50 humans are killed each year in an escalating conflict between man and beast in Sri Lanka.
The cause of the conflict: Animals are going "berserk" as more and more of their land is taken over by humans and cattle eat their food.
Two elderly people were killed by elephants at the weekend. One 67-year-old man was attacked as he swept his front garden, leaving the elephant to destroy his house and two motorbikes outside a shop. A 75-year-old man was chased along the road and killed by an elephant after disturbing a herd on his bicycle.
At least 50 people and 228 elephants died last year.
The conflict has prompted a strike by all of the island's wildlife vets in protest at the government's failure to act. The increased use of fire crackers to scare the animals off is making them deaf while electric fencing turns them violent, vets say.
The wild elephant population has now shrunk from 12,000 to about 4,000 as humans take over land used by the animals as migratory corridors.
The country's 11 veterinary surgeons have gone on strike until Friday, their union said. Vijitha Perera, secretary of the union, said the Department of Wildlife's response to the conflict had been woeful. It included giving cartridges to residents to shoot the animals, he said.
He added that non-native trees, useless for feeding the beasts, were also being introduced.