Iceland Volcano Spews Less Ash, Eruption Goes On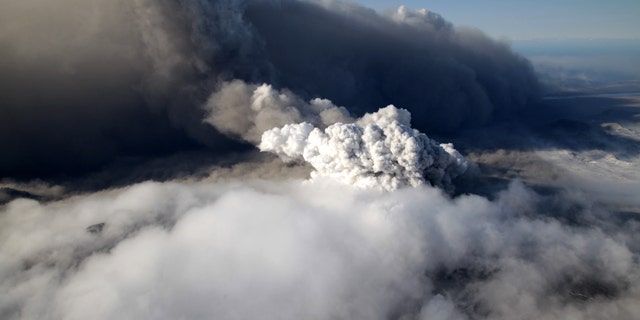 NEWYou can now listen to Fox News articles!
REYKJAVIK -- The Icelandic volcano which grounded air traffic over Europe is still erupting, but it is spewing less ash, the meteorological office and experts said on Wednesday.
Close monitoring of the neighboring and potentially more dangerous Katla volcano was also taking place, but there have been no signs it has re-awakened, they added.
One professor said he was puzzled why the tremors in the erupting volcano continued to be so strong when the ash was going down, meaning there could be processes inside the volcano scientists did not know about.
SLIDESHOW: Best Pictures of Iceland's Volcano
"There is ongoing activity in the volcano and we don't see any signs of it coming to an end. There is less ash production, it is probably the same as yesterday," met office official Gudrun Nina Petersen told a news conference.
"The plume is very low, so most of the ash is falling here and keeping itself under 20,000 feet," she said.
At the glacier, clouds of smoke still poured from the top of the volcano, though at much lower levels than previously. The dense clouds were also drifting down the snow capped mountain.
The volcano under the Eyjafjallajokull glacier, about 75 miles southeast of the capital Reykjavik, has been erupting for a week.
The huge ash cloud that it pumped out earlier in the eruption spread over most of Europe and aviation authorities grounded traffic for days due to fears of ash getting into plane engines and causing crashes. The ban has mostly been lifted.
For locals, ash was set to continue to fall in areas close to the volcano. "The amount of ash that is being produced is much less, but it is more polluted," added Sigurdur Gislason of the Institute of Earth Sciences.
He said the main concern about the ash was high levels of fluoride, which could poison livestock.
PUZZLED
Professor Pall Einarsson, also of the Institute of Earth Sciences, said the eruption was not losing force, though its explosivity, which had pushed up the plume of ash, had fallen.
"The plume at its highest was 9 km. It hasn't been going over 3 km now for several days," he told Reuters. He saw no sign of the eruption ending as the tremors from it were high.
"If the tremor was going down at the same time as the plume I would say we understand this.
Now they are not going together. There is something going on that we don't understand. I don't like it particularly," he said.
On the other hand, he also said lava might be forming under the glacier, which would eventually flow down the glacier. This would not be particularly harmful, he added.
He said the Katla volcano, which last had a major eruption in 1918, was being closely monitored.
Katla is under a much larger glacier which is next to the current eruption and he said history showed that it often followed its next door neighbor in eruption.
"We don't see any signs at the moment that Katla has been re-awakened by this activity, but of course we still have to keep this possibility in mind," he said.
But the potential for damage was greater if Katla did blow.
"Eyjafjallajokull is a rather mild volcano, it is not very fierce. Katla, on the other hand, is a rather fierce volcano, it is highly active and it's dangerous," he said.