Gulf Dealing With New Oil Spill Fear -- Hurricane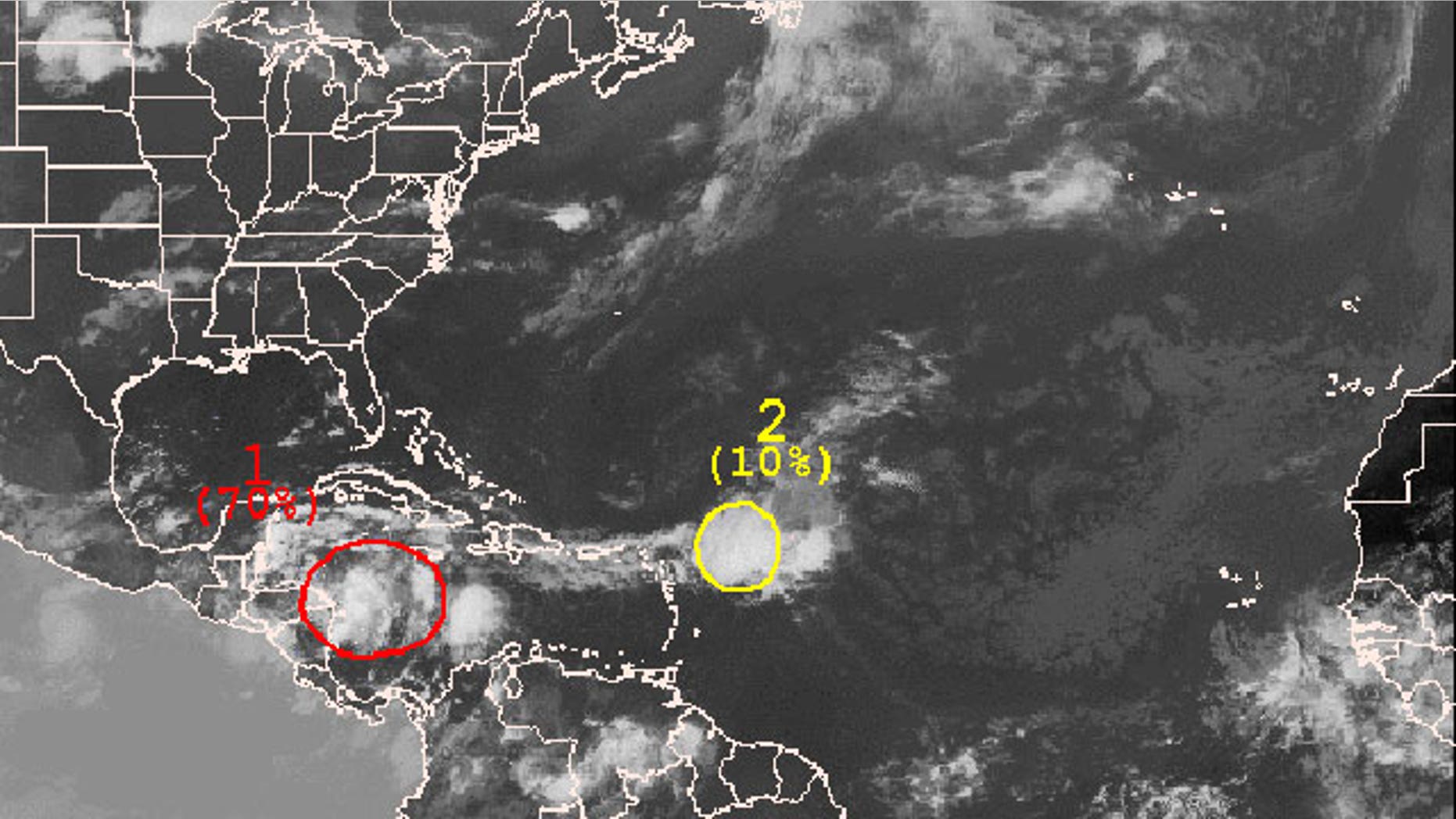 The first hurricane of what experts fear will be a very severe season may be brewing in the Gulf of Mexico, and anxious workers struggling to cap the leaking oil well are watching and worrying.
The National Hurricane Center (NHC) warned Friday morning of not one but two weather formations in the Gulf of Mexico, both with the potential to swell into more serious weather systems. Responders in the Gulf of Mexico are eyeing the storm system closely, to see whether it turns towards the Gulf and interferes with ability to mop up spilled oil and cap the leaking well.
"We're watching the storm very, very closely," former Coast Guard commander and national incident commander Thad Allen told Fox News.
There is a 70 percent chance that the low-pressure area centered off the coast of Honduras could become a tropical cyclone during the next 48 hours, warned the NHC, indicating winds as fast as 73 mph. Any faster and the storm could officially become the first Gulf hurricane of the season -- and will be named Alex.
Meanwhile, a smaller weather formation just East of the Northern Leeward Islands is also being eyed. NHC describes it as "a large but disorganized area of cloudiness and showers ... associated with a tropical wave interacting with an upper level trough."
An Air Force reconnaissance plane will fly through the larger disturbance Friday to determine whether it has formed a cyclone. Should the cyclone turn into a hurricane, Allen's team is prepared to react.
"We've done considerable planning, not only with BP but with the state and local governments and FEMA as well."
He explained that his group would take down operations 120 hours in advance of gale force winds, in the event of a hurricane. "That trips a series of events where we try and move the equipment and people into safe shelter.  And we're watching the storm -- if it hits those thresholds, that's what we'll do."
Joe Bastardi, Accuweather's chief hurricane expert, told FoxNews.com that the storm probably won't rage through the Gulf of Mexico, though it could become a hurricane. Instead it will move towards Belize, making landfall there by Sunday. By Monday it could reach Mexico, making landfall Tuesday somewhere between Tampico, Mexico, and Corpus Christi, Texas, he predicts.
But regardless of the strength of this first storm,  Bastardi worries that these storms are indicative of the severity of the season ahead. And raging storms will undoubtedly hamper efforts to clean up the massive Gulf oil spill.
"This is a warning shot that they should have got those oil tankers in there to suck up the oil," he told FoxNews.com. "The area is an increasingly bubbling pot, one getting set to boil over," he warned.
Bastardi believes we'll see as many as 21 hurricanes in the Gulf area, which means "you may see a naming orgy this season," he predicted. Hurricane season for the western Atlantic and the Gulf of Mexico begins June 1 and lasts through Nov. 30. That's when about 90 percent of the storms make themselves present.
The National Oceanic and Atmospheric Agency (NOAA) has predicted an active season, with as many as 23 named tropical storms. An estimated 8 to 14 of those storms could strengthen into hurricanes, and of those storms, 3 to 7 could become major hurricanes, NOAA said.
Scientists agree that the sprawling oil slick in the Gulf isn't likely to affect the formation of storms. Hurricanes have a far greater footprint than that of the oil slick at present, and if this scale continues, the anticipated impact of oil on hurricanes will be minimal.
But the real worry is that a hurricane might turn the millions of gallons of floating crude into a crashing black surf. A NOAA factsheet on the topic leaves many questions open. "The high winds may distribute oil over a wider area, but it is difficult to model exactly where the oil may be transported," it notes, and also points out that "movement of oil would depend greatly on the track of the hurricane."