Glitch Delays Solar Plane's Historic Night Flight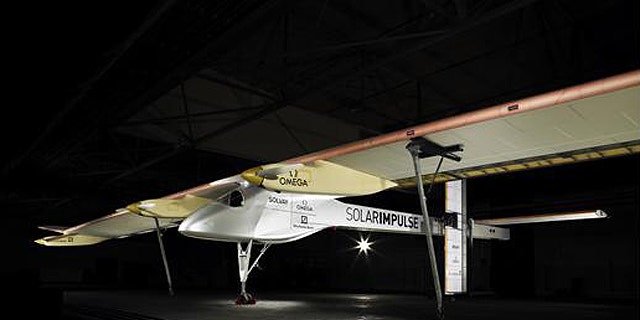 NEWYou can now listen to Fox News articles!
A technical glitch grounded a pioneering bid to fly a solar-powered plane through the night Thursday, leaving the Solar Impulse crew with just weeks to find perfect weather for the flight.
"We are under stress and we hope everything will work," said Bertrand Piccard, the venture's founder and previously the first balloonist to circumnavigate the globe.
Solar Impulse aborted plans for the historic 25-hour flight just an hour before pilot Andre Borschberg was due to take off from a military airbase in western Switzerland, after a key transmitter broke down.
"It's a big disappointment for us," the Swiss adventurer explained, as gloomy-faced team members looked on.
"Up to now I have to say in seven years we had no setbacks, everything went very well," he added. "A few days ago we were discussing until when everything will go very well; well, the answer is, it was yesterday evening."
Attempts to repair the problem were dashed when a part rushed in from Germany overnight proved to be incompatible with the custom-made aircraft, members of the 70-strong multinational team of pilots and engineers said.
But it could be solved by next week, they added.
The single seater clad with solar panels, which weighs little more than a saloon car but bears the wingspan of an Airbus A340 airliner, has completed 10 test flights since it first hopped along a runway seven months ago.
It has stayed aloft for up to 14 hours in daylight, with the most recent test flight just days ago.
Piccard said he did not know when they would be able to make the next round-the-clock bid, which also depends on absolutely clear and stable weather conditions, as well as long summer days and short nights.
"I hope it will be as soon as possible because the window to make the flight will end by the end of July, beginning of August," said the Swiss explorer.
Mission control coordinator Brian Jones, who accomplished the first circumnavigation of the globe in the Orbiter balloon with Piccard, told AFP: "The window of opportunity is the amount of sunlight we have."
The plane is designed to store enough energy in its batteries while it is aloft in daytime, in order to last the night. Beyond August, Solar Impulse would have to wait until next year for another attempt.
The historic bid is being monitored by the international aeronautical federation (FIA), which oversees official flying records.
"The testing of this little box of electrics, as small as my mobile phone, has not gone well, I regret to report," said Jones.
"There is always a bright side of course and at least now I can go and find some breakfast," he quipped on his Solar Impulse blog.
Piccard and his crew had warned of possible setbacks as they try to break new ground for solar energy and aviation.
The night flight is a crucial step on the venture's bid for the aviator's dream of perpetual flight, and to demonstrate the broader value of solar technology.
The experience will also influence the development of a bigger version of the aircraft that is designed to fly across continents and around the world in 2013 or 2014.
The team counts a former astronaut and a retired NASA chief test pilot in its ranks, to guide Borschberg gently to altitudes of up to 27,900 feet (8,500 meters) over Switzerland and eastern France at speeds of about 44mph (70 kph).
"We're constantly pushing the envelope in technology, we're constantly inventing things," Jones explained.
"Everything is very controlled here, we won't go until we know it will all work. This is just a phase in a very long project," the British balloonist added.