Behind the Scenes at World's First Spaceport in New Mexico Desert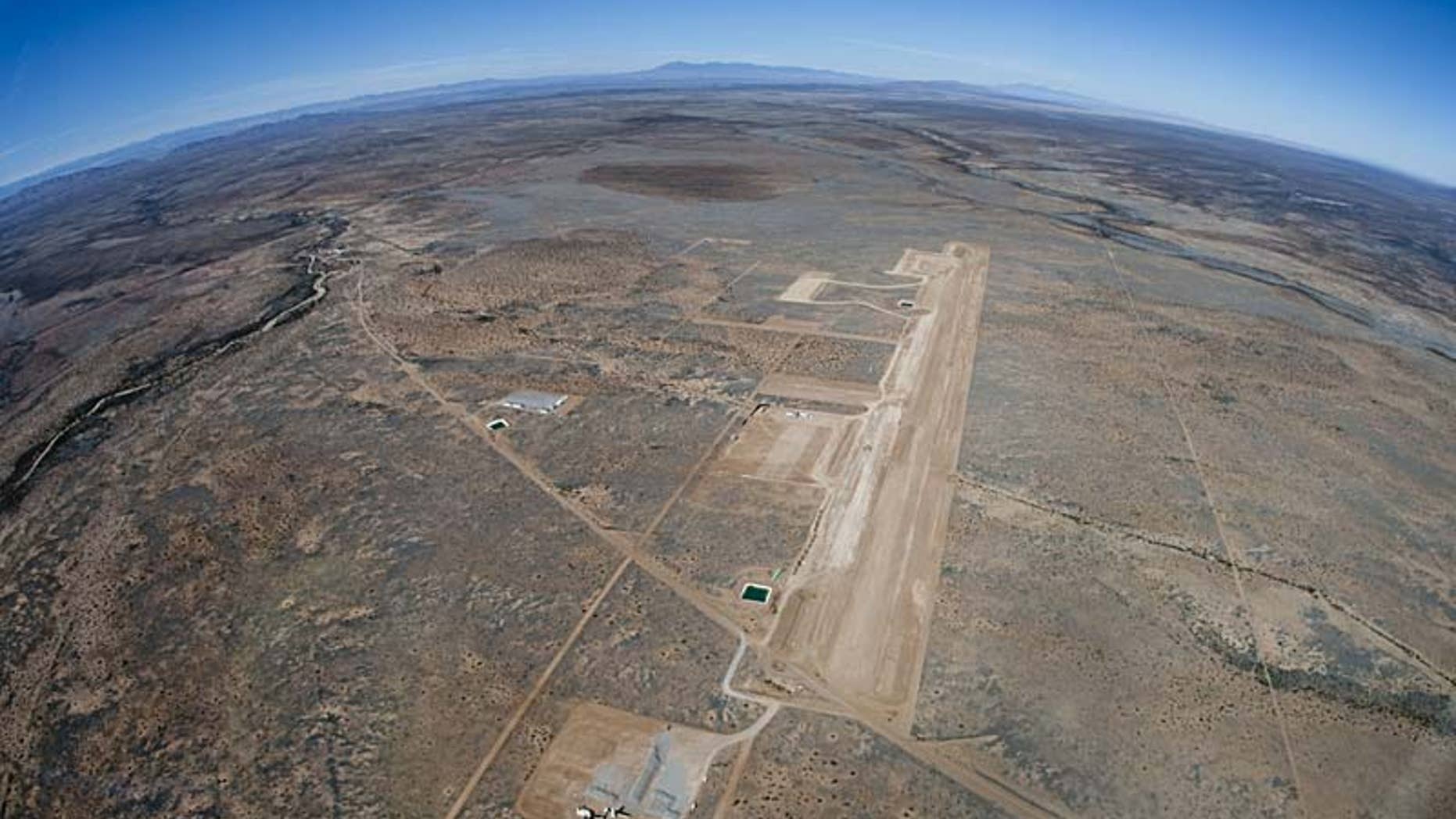 Upham, New Mexico – Boarding soon at Gate 22a: the Venus express?
In the deserts of the western United States, space tourism is becoming a reality as construction progresses on Spaceport America -- the world's first purpose-built commercial space travel facility, 45 miles north of Las Cruces, N.M.
Today, concrete and rebar litter the ground here as crews build walls and windows, roads and runways. They've been toiling for a year and a half and will continue until 2013, when a glowing, round disk standing testimony to the future will be unveiled in the desert -- at least according to artists' imaginations of the facility.
Right now it looks like any old construction site, with men in hard hats and prosaic dump trucks carting rubble in and out. In 2013, things will be different.
"You'll experience weightlessness, they'll actually go near space so you'll see the curvature of the Earth," Chris Anderson, executive director of the New Mexico Spaceport Authority, told FoxNews.com.
When the facility is finished, a mere $200,000 will let you take a voyage at least partway to the stars: Virgin Galactic will be the first carrier to transport space-curious passengers from Spaceport America on its sub-orbital missions.
The facility is more than 100,000 square feet and includes the terminal hangar and a public viewing gallery for inquisitive visitors not wishing to launch -- it looks out on a desert plain that will someday be filled with spacecraft, some shaped like traditional rockets, others space shuttle-like planes, wingless round disks or whatever spaceship designers of the future come up with.
Anderson said the flat desert location 4,600 feet above sea level is ideal for space travel.
"[It's] perfect because that means you need less fuel and you get more pay load when you launch," he told FoxNews.com. Plus the predictable weather will assure on-time takeoffs.
"We don't have tornadoes, we don't have hurricanes, we don't have earthquakes."
"So year-round, it's pretty good launch weather for us," Anderson added.
Plus White Sands Missile Range, a military testing site, is nearby, meaning the site lives among 7,500 square miles of restricted airspace.
The spaceport includes a vertical launch pad and a 10,000-foot long runway for horizontal liftoffs. So far there have been12 vertical launches on site. No passengers have been included in the flights yet.
The Spaceport Authority hopes that will change. It envisions dozens of vehicles launching. Indeed, Spaceport America is a state-owned facility and will operate like any ordinary airport. The $209 million project is funded by state and county tax dollars, and will someday collect tax and fees from travelers.
Space-goers will travel in Virgin Galactic's SpaceShipTwo, shuttled by WhiteKnightTwo via a horizontal launch to an altitude of 350,000 feet; the entire trip will take 2.5 hours.
NASA isn't directly involved with Spaceport America or any of the carriers lifting from the facility, but the agency is funding some research to push commercial space travel, Anderson said.
"It's a very nice relationship, I think, from a technological perspective," Anderson added.
The development of Spaceport America is bringing positive economic growth to the area.
Anderson said the project has added 800 construction jobs and they predict hiring up to 200 people over the next couple of years. With tourists, it's also going to create a demand for more restaurants and hotels nearby.
More than 400 people have already signed up and left deposits with Virgin Galactic, Anderson told FoxNews.com.
"It's blazing a new trail into space," said Spaceport America media spokesman David Wilson.
He said this is going to be a valuable way to learn more about efficient space travel.
"I think what we'll see in 15, 20 years is a different way or different ways to get to space, at lower costs, and how we travel great distances."
Wilson also added that he doesn't expect the high ticket prices to last forever.
Anderson said they hope the program gets children excited about math and science. They have already hosted education launches where students could attach experiments to rockets and study its reactions to space travel.
"It's really encouraging to talk them because many of them said, 'you know, we never liked math or science before.' But a couple of them said, 'I think I will become an engineer.'"
More than 800 students came to test their experiments earlier this year. Some built electronics, others were curious to see what would happen to green chili in space.
The construction of a modern space center unexpectedly turned into an archeological dig.
Anderson said they have uncovered 23 archeological sites dating back 10,000 years. Some of the findings include old tools and pieces of pottery.
"It really goes from the old frontier to the new frontier," said Anderson.