Archaeologists discover child graves at ancient site in Egypt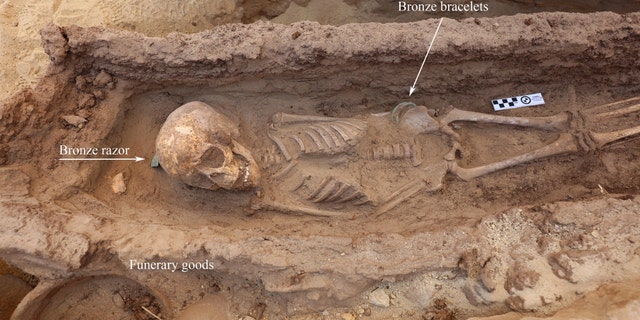 Archaeologists have uncovered the graves of four children at an ancient site in Egypt.
A Swedish-Egyptian team working at the Gebel el Silsila site uncovered four child burials dating back to the Thutmosid period more than 3,000 years ago. The discoveries, which were announced recently, were made earlier this year.
In a Facebook post, Dr. Mostafa Waziri, secretary general of Egypt's Supreme Council of Antiquities explained that the remains of a child aged between two and three years old was found in a rock-hewn grave at the site. The mummy, he explained, still retains its linen wrapping and is surrounded by "some organic material" from the remains of a wooden coffin.
TROVE OF STATUES DEPICTING LIONESS GODDESS DISCOVERED IN EGYPT
The remains of a child aged between six and nine years old were also found inside a wooden coffin, while another grave contained the remains of a child aged between five and eight. Both children were buried with "funerary furniture," according to Waziri, including amulets and a set of pottery.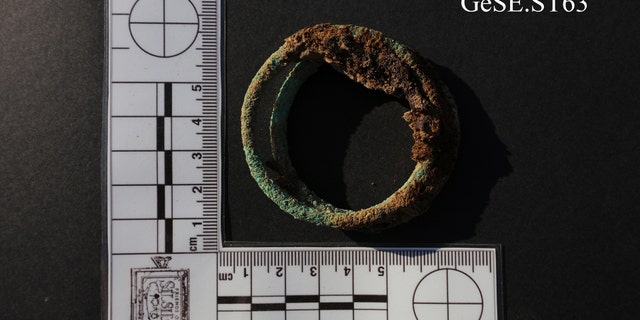 The archaeologists will conduct more research on the burials, Waziri wrote.
"The fourth burial is for a child between the ages of five and eight years too, and it is not clear exactly the cause of his death," he added.
Archaeologists are particularly intrigued by the graves containing funerary items, known as ST63 and ST64. "The child burials ST63-64 are the first of their kind found at Gebel el Silsila, in the fact that both were preserved with complete funerary goods," explained Dr. Maria Nilsson and John Ward, director and assistant director, respectively of the Gebel el Silsila project. "It allows an insight into both material culture as well as funerary customs and religious beliefs, but even more so provides us with socio-political information and the social status of those entombed."
ANCIENT ROMAN SHIPWRECKS, STUNNING ARTIFACTS, DISCOVERED NEAR EGYPTIAN PORT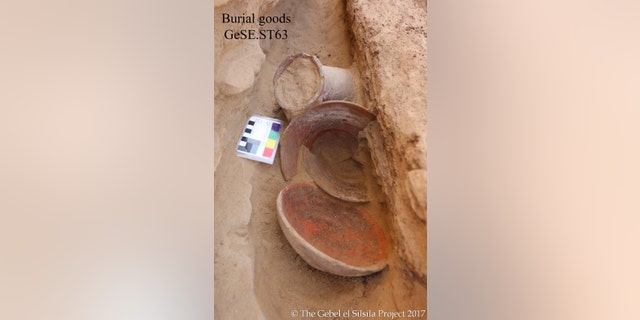 Nilson and Ward, who both work in the Department of Archaeology and Ancient History at Lund University in Sweden, said that the graves let archaeologists study completely preserved burials. While this can provide insight into the general health of those buried, it can also shed light on other aspects of their lives. At Gebel el Silsila, there's "a strong indication of the existence and activity of complete families on site, supporting the team's previous hypothesis of a well-functioning society on site in contrast with only quarry activities," explained Nilsson and Ward.
The discovery also brings the archaeologists closer to finding the ancient village of Kheny, as Gebel el Silsila was known in ancient times.
Since they began excavating the site in 2015, the Swedish-led team has found a total of 69 tombs at Gebel el Silsila, almost 30 of which have been excavated. With the exception of two infant burials from an earlier excavation and the four graves found this year, archaeologists found that all the excavated tombs were plundered in antiquity.
TOMB OF KING TUT'S WIFE DISCOVERED? EXPERTS EXCITED BY FIND IN EGYPT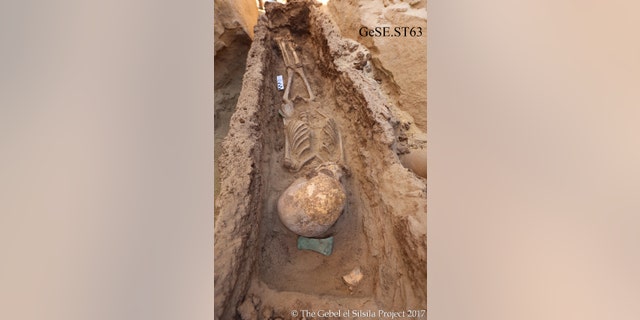 Live Science reports that the Thutmosid period ran from the start of Pharoah Thutmose II's reign in about 1493 B.C. to the end of Amenhotep II's reign in about 1401 B.C.
The finds are just the latest fascinating archaeological finds in Egypt, which include the recent discovery of a trove of black granite statues depicting the lioness goddess Sekhmet.
Last month, archaeologists also announced the discovery of three Roman-era shipwrecks and stunning ancient artifacts on the Mediterranean seafloor off the coast of Alexandria.
ANCIENT WORKOUT: ARCHAEOLOGISTS IN EGYPT DISCOVER 2,300-YEAR-OLD GYMNASIUM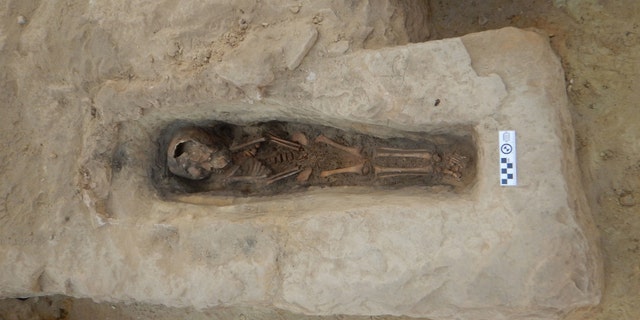 Experts also recently unearthed an ancient gymnasium that dates back to the third century B.C. A joint team of German and Egyptian archaeologists made the discovery at Watfa in Fayoum province, about 50 miles southwest of Cairo.
Earlier this month, scientists also announced that they had discovered a mysterious chamber inside Egypt's Great Pyramid of Giza.
In September, archaeologists announced the discovery of an ancient temple belonging to King Ramses II. In August, experts revealed that they had unearthed three tombs from an ancient "great cemetery" in Egypt's Nile Valley. A month earlier, archaeologists said that a tomb that may have belonged to the wife of King Tutankhamun had been discovered in Egypt's Valley of the Kings.
DESERT DISCOVERY: LOST TEMPLE OF RAMSES II UNCOVERED BY ARCHAEOLOGISTS
In June, archaeologists from Yale and the Royal Museum of Art and History in Belgium announced the discovery of the earliest-known 'billboard-sized' hieroglyphs in the ancient city of Elkab.
Other finds include a 3,000-year-old royal tomb in the Luxor area and the tomb of an ancient gold worker on Sai Island in northern Sudan.
Egypt recently reopened an ancient library packed with historic manuscripts at St. Catherine's monastery in Sinai. The library had been closed as part of a three-year renovation project, according to media reports.
Follow James Rogers on Twitter @jamesjrogers