Pyramid discovery: Scientists use cosmic rays to find mysterious chamber inside ancient edifice
NEWYou can now listen to Fox News articles!
Scientists have harnessed sophisticated scanning technology to discover a mysterious chamber inside Egypt's Great Pyramid of Giza.
The discovery, which was revealed in the journal Nature, has been described as the first discovery of a major new space within the pyramid since the 19th century.
An international team of researchers used cosmic-ray imaging to find a 30-meter (98.4 foot) "void" within the Great Pyramid, which is also known as Khufu's Pyramid for its builder, a 4th Dynasty pharaoh who reigned from 2509 to 2483 B.C.
TOMB OF KING TUT'S WIFE DISCOVERED? EXPERTS EXCITED BY FIND IN EGYPT
Cosmic ray imaging records the behavior of subatomic particles called muons that penetrate the rock similar to X-rays, only much deeper.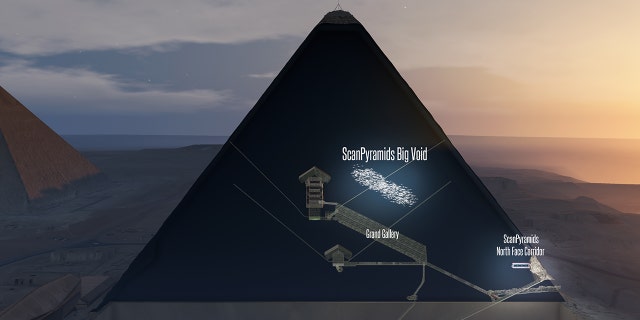 The muon scan harnesses special plates that are planted inside and around the pyramid to collect data on the particles, which rain down from the earth's atmosphere. The particles pass through empty spaces but can be absorbed or deflected by harder surfaces, enabling scientists to study their trajectories and discern what is stone and what is not. Several plates were used to triangulate the void discovered in the Great Pyramid.
The technology was also used to analyze the Fukushima nuclear reactor after it was damaged by an earthquake and tsunami in 2011.
DESERT DISCOVERY: LOST TEMPLE OF RAMSES II UNCOVERED BY ARCHAEOLOGISTS
Scientists involved in the pyramid scanning called the find a "breakthrough" that highlighted the usefulness of modern particle physics in archaeology.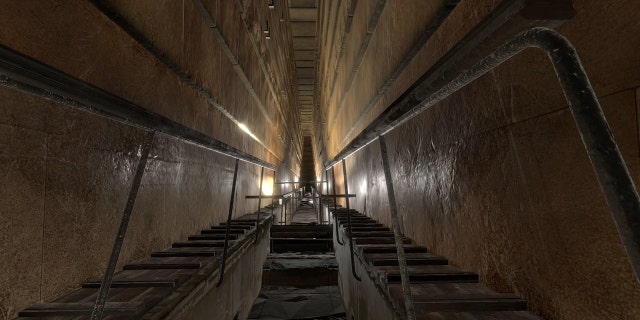 "This is a premier," said Mehdi Tayoubi, a co-founder of the ScanPyramids project and president of the Heritage Innovation Preservation Institute. "It could be composed of one or several structures... maybe it could be another Grand Gallery. It could be a chamber, it could be a lot of things."
"It was hidden, I think, since the construction of the pyramid," he added.
ARCHAEOLOGISTS DISCOVER TOMBS FROM ANCIENT 'GREAT CEMETERY' IN EGYPT'S NILE VALLEY
Intriguingly, the newly discovered space does not appear to be connected to any known internal passages. Egyptologists, however, say there is unlikely to be any treasure within the hidden space.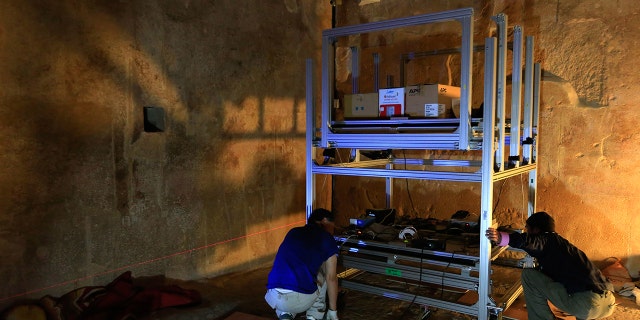 The pyramid's 'void' is the latest ancient Egyptian discovery to thrill experts. Last month, for example, archaeologists announced the discovery of an ancient temple belonging to King Ramses II. In August experts revealed that they had unearthed three tombs from an ancient "great cemetery" in Egypt's Nile Valley. A month earlier, archaeologists said that a tomb that may have belonged to the wife of King Tutankhamun had been discovered in Egypt's Valley of the Kings.
In June, archaeologists from Yale and the Royal Museum of Art and History in Belgium announced the discovery of the earliest-known 'billboard-sized' hieroglyphs in the ancient city of Elkab.
YALE ARCHAEOLOGISTS MAKE AMAZING ANCIENT EGYPTIAN 'BILLBOARD' DISCOVERY
Other finds include a 3,000-year-old royal tomb in the Luxor area and the tomb of an ancient gold worker on Sai Island in northern Sudan.
The Associated Press contributed to this article.
Follow James Rogers on Twitter @jamesjrogers