Ancient workout: Archaeologists in Egypt discover 2,300-year-old gymnasium
Archaeologists in Egypt have unearthed an ancient gymnasium that dates back to the third century B.C.
The site is the first ever gym found in Egypt dating back to the ancient Hellenistic, or Greek, period. A joint team of German and Egyptian archaeologists made the discovery at Watfa in Fayoum province, about 50 miles southwest of Cairo.
Watfa is the site of the ancient village Philoteris, founded by King Ptolemy II in the 3rd century B.C and named after his second sister Philotera, according to a Facebook post by Egypt's Antiquities Ministry.
PYRAMID DISCOVERY: SCIENTISTS USE COSMIC RAYS TO FIND MYSTERIOUS CHAMBER INSIDE ANCIENT EDIFICE
Dr. Ayman Ashmawi, Head of the Ancient Egyptian Antiquities Sector, explains that the gymnasium has a large hall for meetings that was once adorned with statues, as well as a dining hall and a courtyard. Beside the gymnasium is a 200-meter-long racetrack. Gardens also surrounded the building in what has been described as an ideal layout for a center of Greek learning.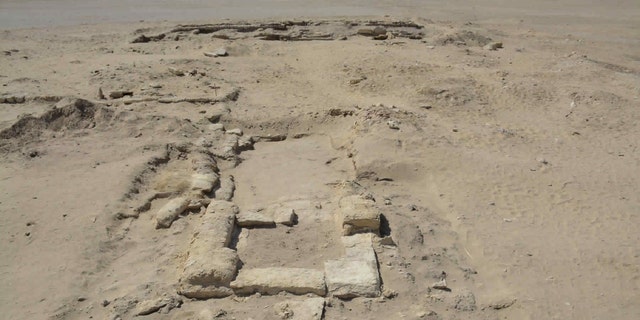 Ancient Greek gyms were private organizations frequented by the rich, according to Dr. Cornelia Römer, who led the mission from the German Archaeological Institute (DAI). Young men of the Greek-speaking upper class in Egypt would undergo sports training at the facilities, as well as learning to read and write. The gyms were also used for discussions of philosophy.
Römer says the discovery clearly shows the impact of Greek life in Egypt, not only in Alexandria, but also in the countryside.
TOMB OF KING TUT'S WIFE DISCOVERED? EXPERTS EXCITED BY FIND IN EGYPT
The gymnasium discovery is just the latest fascinating archaeological find in Egypt. Last week, for example, scientists announced that they had discovered a mysterious chamber inside Egypt's Great Pyramid of Giza.
In September, archaeologists announced the discovery of an ancient temple belonging to King Ramses II. In August, experts revealed that they had unearthed three tombs from an ancient "great cemetery" in Egypt's Nile Valley. A month earlier, archaeologists said that a tomb that may have belonged to the wife of King Tutankhamun had been discovered in Egypt's Valley of the Kings.
In June, archaeologists from Yale and the Royal Museum of Art and History in Belgium announced the discovery of the earliest-known 'billboard-sized' hieroglyphs in the ancient city of Elkab.
DESERT DISCOVERY: LOST TEMPLE OF RAMSES II UNCOVERED BY ARCHAEOLOGISTS
Other finds include a 3,000-year-old royal tomb in the Luxor area and the tomb of an ancient gold worker on Sai Island in northern Sudan.
The Associated Press contributed to this article.
Follow James Rogers on Twitter @jamesjrogers