Zell Miller, former Georgia governor and US senator, remembered as 'true statesman,' 'visionary' by colleagues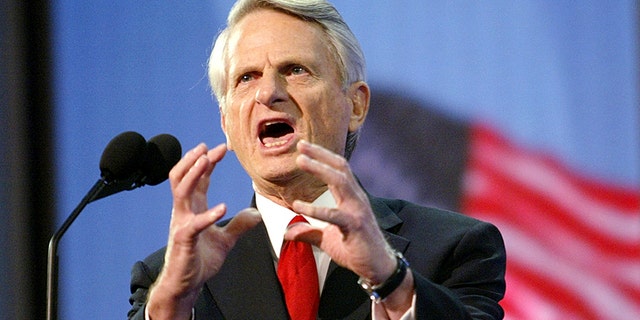 NEWYou can now listen to Fox News articles!
Zell Miller, the former Georgia governor and U.S. senator, is being remembered as a "true statesmen" and a "visionary" for his unique HOPE Scholarship program, among other achievements, by those who knew him. He died Friday at the age of 86.
Miller's grandson, Bryan Miller, confirmed in a statement that his grandfather "passed away peacefully surrounded by his family."
"The people of Georgia have lost one of our state's finest public servants," he added.
Miller died after being treated for Parkinson's disease, according to the statement.
A life-long Democrat, Miller served as Georgia's governor in the 1990s and later in the U.S Senate from 2000 to 2005. Miller famously created the HOPE program, lottery-funded scholarships, during his two terms as governor.
Miller, who served in the Marine Corps in the early 1950s, was also the keynote speaker at the Democratic National Convention in 1992 and again, as a sitting U.S. senator and Democrat, at the 2004 Republican National Convention.
Read on for a look at reactions to Miller's death.
Vice President Mike Pence, who spoke at an event in Georgia on Friday, said that the difference Zell "made in the life of this great state and the life of this Nation will impact this country for generations to come."
"It is with a heavy heart that Sandra and I offer Shirley our deepest condolences on the passing of her devoted husband, Zell. Georgia has lost a favorite son and a true statesman, and I've lost a dear friend," Gov. Nathan Deal, R-Ga., said in a tweet.
In a series of following tweets, Deal added that "Zell's legacy is unequaled and his accomplishments in public service are innumerable" later writing that "the mark Zell made in his private life—as a dutiful son, a loving husband, & a proud father & grandfather—are the ones of which I'm sure he was most proud."
Teresa Tomlinson, mayor of Columbus, Georgia, said in a tweet she was "greatly saddened" to hear of Miller's passing.
Rep. Drew Ferguson, R-Ga., said in a tweet that Miller's "leadership has helped generations of young Georgians build a future for themselves and our state."
"Georgia and our nation have lost a true statesman," Rep. Karen Handel, R-Ga., said. "He was a person of principle whom I admired greatly," she added.
Rep. Barry Loudermilk, R-Ga., said Miller "served our state and nation with integrity."
"Zell Miller touched the lives of many as a teacher, Marine, public servant, and friend. Throughout his career, Zell was a strong advocate for the value of a public education and made it his mission to ensure Georgia students had the opportunity to pursue a college degree," Sen. David Perdue, R-Ga., tweeted.
"With the passing of Zell Miller, Georgia has lost its finest public servant, and I have lost a great friend. I do not know of anyone who impacted the lives of Georgians more than Zell," Sen. Jonny Isakson, R-Ga., said in a statement emailed to Fox News.
"I do not know of anyone who impacted the lives of Georgians more than Zell."
"His Marine Corps values of patriotism and loyalty guided his career in service to his state and his country. Zell and Shirley will always be Georgia's first family. I treasure their friendship. Dianne and I hold the Miller family in our prayers," he added.
Georgia's Lt. Governor, Casey Cagle, said in a statement that one of the "great honors of my time in public service was serving under Governor Zell Miller."
Additionally, the Georgia Senate Press Office announced that Cagle and Sen. John Wilkinson, R-Ga., requested a moment of silence in memory of Miller.
Rep. David Scott, D-Ga., said that Miller's contributions to the Peach State are "legendary."