With Univision Snub, GOP Candidates Seek Other Venues for Reaching Latinos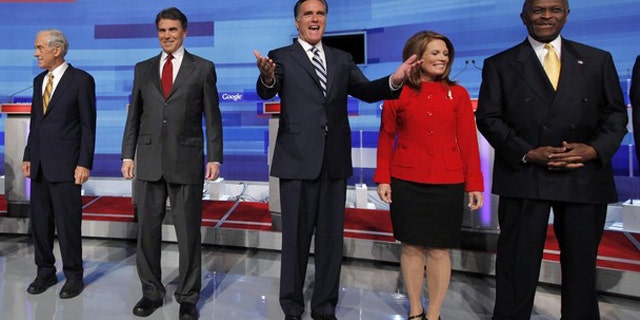 NEWYou can now listen to Fox News articles!
The growing number of Republican presidential candidates threatening to sit out an upcoming Univision debate signals the party may not deem the country's largest Spanish-language network as essential to reaching Hispanic voters.
But that population is still considered critical to GOP success in 2012 -- and the flap underscores how important it is for Republicans to build up their outreach to the Latino electorate over the next year.
Analysts say Republicans will need to make an impression on Latino voters one way or another. They urged the candidates to broaden their outreach, instead of relying on one-shot debates to make an impact -- and making amends with Univision couldn't hurt either.
"You don't want to cut off your nose to spite your face," said Larry Sabato, director of the University of Virginia's Center for Politics.
So far, at least six presidential candidates have threatened to boycott the Univision debate after the network allegedly tried to strong-arm Republican Sen. Marco Rubio by offering to soften or kill a negative story about his brother-in-law in exchange for an interview with Rubio. Univision denies the allegation.
Former House Speaker Newt Gingrich and businessman Herman Cain are the latest to join in. Texas Gov. Rick Perry, former Massachusetts Gov. Mitt Romney, former Utah Gov. Jon Huntsman and Minnesota Rep. Michele Bachmann also say they won't attend unless Univision "resolves" the situation.
But a Republican effort to connect with Latino voters outside the debate stage has at least begun. Last month, the newly formed Hispanic Leadership Network held a two-day conference in New Mexico aimed at ramping up efforts to engage Latino voters on "center-right" issues.
Ana Puig, a Tea Party activist of Latin descent in Pennsylvania, said Republicans are starting to launch similar efforts on the local level, including in her area.
"It's not that difficult to reach them," she said.
Univision is also not the only televised venue for GOP candidates to reach Spanish speakers in America. There's also Telemundo and Azteca America. Perry's campaign, in announcing the candidate might sit out the debate over its treatment of Rubio, noted that a separate NBC-Telemundo debate in January would offer "ample opportunity" for Perry to reach a Spanish-speaking audience.
"There are many venues for candidates to go to to reach the Hispanic community," said Jennifer Korn, executive director of the Hispanic Leadership Network.
Aside from other Spanish-language TV channels, Korn pointed to widely popular Spanish radio stations and, of course, English-language TV channels. And, she said, her group's conferences and events could provide a platform in the future for GOP candidates.
But Univision and its audience can't be discounted.
Based in Florida, Univision is available in 95 percent of Hispanic homes in America.
Nielsen ratings from September showed the average prime-time viewership for Univision was about 3.8 million. Telemundo viewership was about 1 million. Azteca America's was 200,000.
"Univision News is the leading news source for the U.S. Hispanic community," a Univision spokesperson said in a statement. "According to Nielsen, more than 80 percent of Univision news viewers do not watch news on any other network. ... Hispanic Americans rely on Univision for information about the political process and access to all candidates and issues."
Sabato said it would be in "everybody's interest" for Univision and the GOP candidates to sort this dispute out.
"There are always other ways ... to reach voters, but you don't want to rule out a major network," he said.
He said Republicans are doing more to reach out to Hispanic voters but questioned whether it would be enough.
By Sabato's estimate, the Republican nominee will need at least 40 percent of the Hispanic vote in 2012 to win the presidential election. The estimate is based on the assumption that black voters will support President Obama by wide margins -- despite frustration over the state of the economy. It's also about the percentage former President George W. Bush won in the 2004 election.
That level of Hispanic support dropped about 10 points for the 2008 GOP nominee, Arizona Sen. John McCain, who lost.
While Hispanics represent the fastest-growing demographic population in the U.S., they don't vote in jaw-dropping numbers. While making up 16 percent of the population, they made up just 9 percent of all voters in 2008.
But Sabato predicted that percentage would rise and said the population simply can't be ignored.
Miami Democratic strategist Freddy Balsera told Fox News Latino the dispute over Univision just goes to show how much Republicans have to learn about Latino outreach.
"Univision is the number one source for news and information for Latinos in the U.S. In my view, ignoring Univision shows how little certain Republicans understand how to communicate and connect with Latinos," Balsera said.
Puig, who is Brazilian and speaks both Spanish and Portuguese, also said Univision is an important platform for reaching Hispanic voters. "I watch it," she said.
But she said that while Republicans would have to work harder to reach Hispanic markets by going around networks like Univision, it can be done.
"We need to send a loud and clear message to Univision that we don't appreciate their tactics," she said.
Democrats have assailed GOP efforts to connect with Hispanic voters, noting their tough talk on the campaign trail about illegal immigration. Perry, for instance, has spent the last couple weeks being hammered by opponents for his support of a policy offering in-state tuition rates to the children of illegal immigrants.
But polls suggest Hispanics are not thrilled with Obama. A Gallup poll last month showed Obama's approval among Hispanics at 48 percent, down from a high of 82 percent. That survey was based on polling conducted throughout August, of nearly 1,200 Hispanics. The margin of error was 4 percentage points.
The Gingrich campaign, in its statement on the Univision dispute, stressed the importance of the Latino community. The campaign opened the door for the network to smooth over the controversy.
"We trust that Univision will take the time necessary to conduct a thorough internal investigation into this matter and if it is true at any level, apologize to Senator Rubio so that the scheduled debate can continue," spokesman Joe DeSantis said.
Univision denies the allegations, which first surfaced in the Miami Herald.
"At no point in time did anyone from Univision offer to kill or soften the story regarding Senator Rubio's brother-in-law in exchange for appearing on any Univision news program. Any statement to the contrary is patently absurd," Univision Vice President Arya Towfighi wrote in a letter to local Florida Republicans who initially complained.