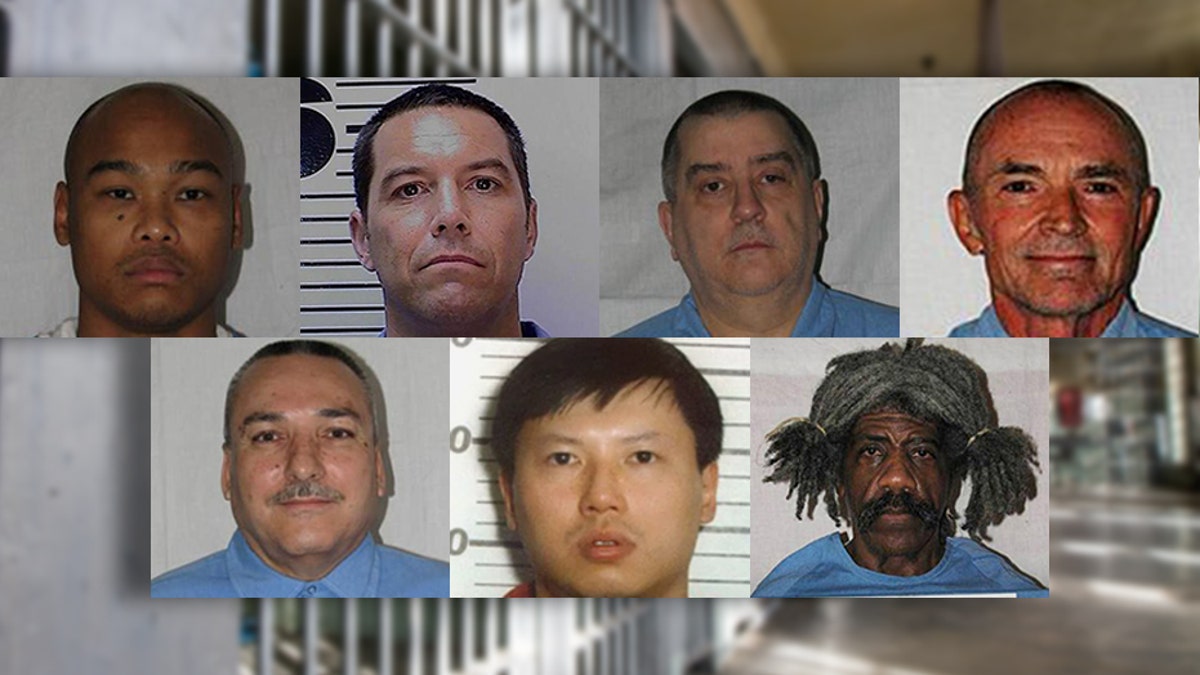 Robert Boyd Rhoades kidnapped eight-year-old Michael Lyons while he was walking home from school in 1996, stabbed him up to 80 times with a fishing knife and kept him alive for nearly 10 agonizing hours before dumping his body in the Feather River, just up the street from the child's home.
The 'Grim Sleeper' killed nine women and a teenage girl over the course of 22 years, targeting drug addicts and hookers and tossing their naked bodies along roads or in the trash.
And the 'Trailside Killer' preyed on hikers along trails in state parks near San Francisco, telling cops that he reveled in making his victims beg in vain for their lives, before shooting them in the head, execution-style.
These are just some of the 744 inmates currently on California's Death Row.
CALIFORNIA INMATE RELEASED AFTER 25 YEARS ON DEATH ROW
But as Jerry Brown's tenure as governor of California draws to a close in January, capital punishment supporters have raised the specter that he could commute many, if not all, of the sentences.
On March 28, California's Supreme Court issued an administrative order making it possible for Brown to commute the sentences or grant clemency.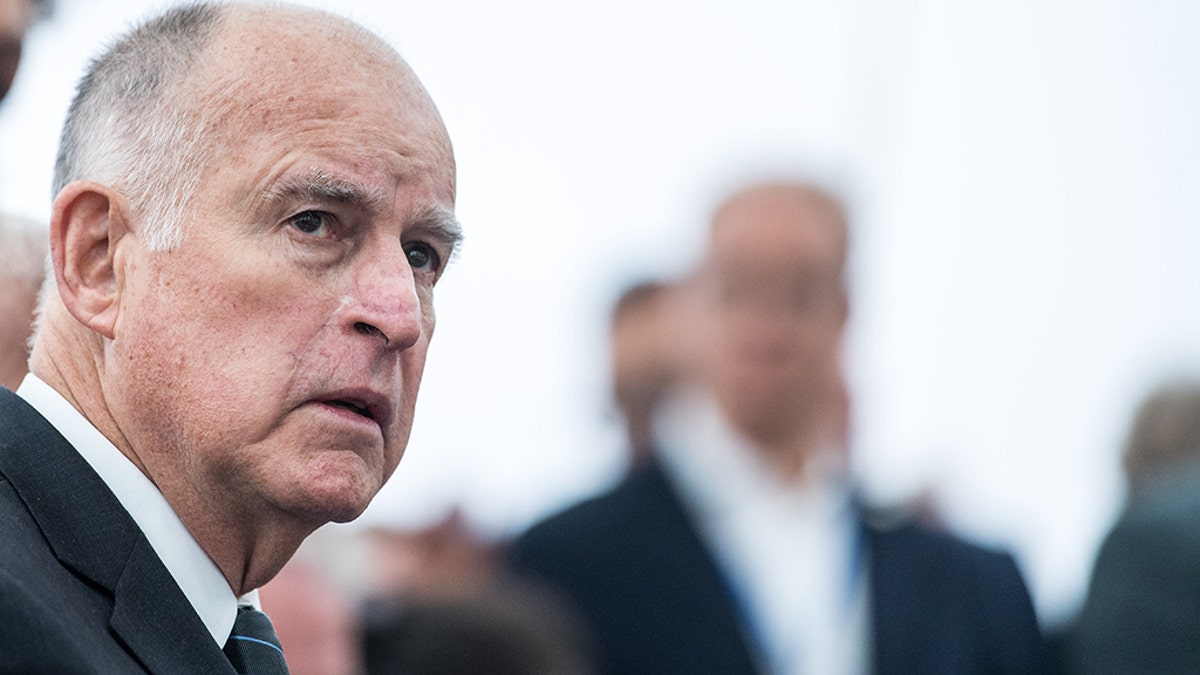 Michele Hanisee, president of the Association of Deputy District Attorneys in Los Angeles County, told the Orange County Register earlier this week that this removes any impediment Brown may have faced. Before that, a governor had to get the approval of the majority of the state Supreme Court in the case of an inmate with two or more felony convictions.
"They basically have green-lighted the governor to grant clemency to anyone…and said they won't interfere," she said.
California has the largest death row population in the country, but only 13 have been executed since capital punishment was reintroduced to the state in 1978, with the last one occurring in 2006. Appeals that drag out for many years are common. Last year, there were 400 death penalty appeals pending.
CALIFORNIA SUPREME COURT BACKS PLAN TO SPEED DEATH PENALTY CASES
Despite its liberal reputation, more than half of California's residents have expressed support for the death penalty, striking down referenda calling for it to end.
Brown, a former Jesuit seminarian who as a young man demonstrated against capital punishment, made his opposition to it clear during his political campaigns, but also said he'd respect the law regarding it while serving as attorney general and governor.
Asked if the governor was considering commuting death sentences, a spokesperson for Brown told Fox News: "A request for commutation is a serious matter, and every applicant is carefully and diligently vetted. The Governor issued commutations earlier this month… California inmates can petition to have their sentence reduced or eliminated by applying for a commutation of sentence.
"To be clear, no individuals on death row have received commutations."
INSIDE SCOTT PETERSON'S LIFE ON CALIFORNIA'S DEATH ROW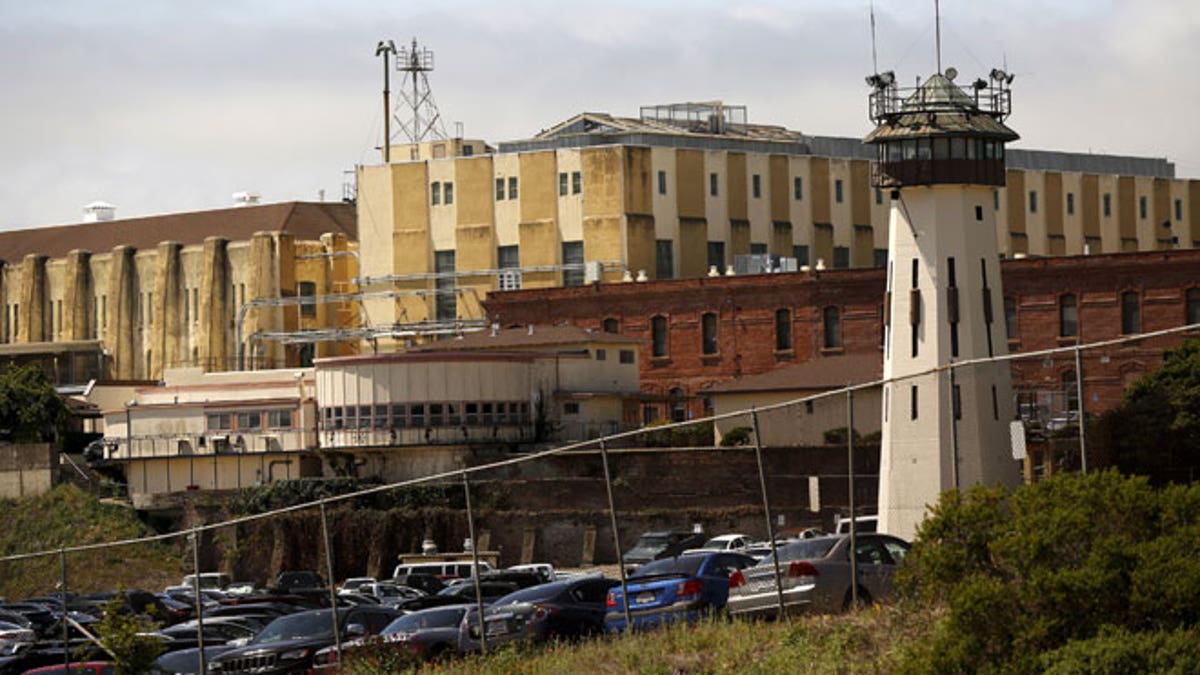 Many families of victims of California's death row inmates have been outspoken about capital punishment, with some supporting it and others opposing.
Beth Webb, whose sister and some friends died in a 2011 shooting at a hair salon, said at a 2016 press conference: "Neither me nor my mom will find closure in the death of another human being."
Michael Lyons' mother, Sandra Friend, told the Los Angeles Times in 2016: "From the first inflicted wound to Michael, it was 10 hours to the last one.
"For a grown man to inflict that kind of painful torture on a child – he got the right sentence. He got the only sentence that would bring any justice."
Kent Scheidegger, an attorney who argued for Proposition 66 – a measure to speed up executions – said that anything is possible as far as Brown and California politics, but he believed the governor would not commute death sentences.
"Despite his personal opinion, he said he'd enforce the death penalty," said Scheidegger, who is legal director of the Criminal Justice Legal Foundation in California.
Scheidegger expressed concern about the state high court's order appearing to give Brown more sway over commuting death sentences, telling Fox News: "That's worrisome."
Since executions rarely have been carried out in California and elsewhere, some have called the death penalty symbolic, and pointless.
Scheidegger said he disagrees.
"It's important because there are some crimes for which anything less is simply not justice."
Some of California's more notorious death row inmates are:
--Scott Peterson, who murdered his pregnant wife, Laci. Prosecutors said Peterson began plotting his wife's murder after he began an affair with a woman named Amber Frey, who testified against him.
--Robert Boyd Rhoades, who kidnapped eight-year-old Michael Lyons while he walked home from school. Lyons' body was found the day after in a river near where he lived. Rhoades was on parole, and had been convicted on child molestation charges, when he kidnapped Lyons.
--Charles Ng, who along with an accomplice carried out a string of murders in 1984 and 1985, including torture and grisly killings of six men, three women and two babies. They killed the man for their cars and to steal from them. They turned the women into sex slaves and videotaped some of their crimes.
--Lonnie "Grim Sleeper" Franklin was convicted of killing nine women and a teenage girl from 1985 to 2007. Detectives believed he may have killed up to 25 people. He targeted women who were young and vulnerable. They were drug addicts or prostitutes. He dumped their naked bodies along roads or in the trash.
--David "Trailside Killer" Carpenter, who preyed on hikers. He killed seven people, raping some. Detectives said that he engaged in "putting the victims at some point in a position of pleading for their lives."
--Run P. Chhoun, the suspected leader of the San Bernardino-based Tiny Rascals gang, was found guilty of murdering Nghiep Thich Le, 48, and his father, Hung Dieu Le, 73, during a home invasion robbery in Sacramento; and Miguel Vargas Avina, of Pomona. Authorities said Avina was killed because Chhoun and his accomplice Sam Pan mistakenly thought he was a rival gang member.
-- Richard Farley, a former employee of ESL Incorporated in Sunnyvale, stalked co-worker Laura Black for four years starting in 1984, sending her around 200 letters over the period. Black obtained a temporary restraining order against him on February 2, 1988, with a court date for February 17, 1988, to make it permanent. On February 16, he shot and killed seven people at ESL, and injured four more including Black.
--Randy Kraft, known as the 'Scorecard Killer', murdered at the very least 16 young men over a period of 11 years beginning in 1972. He is also believed to have committed the rape and murder of up to 51 other boys and young men. Many victims had been enlisted in the U.S. Marine Corps. He would typically ply them with alcohol and tranquilizers, before torturing, binding and sexually abusing them, before killing them usually by strangulation, asphyxiation or bludgeoning. He obtained his nickname after investigators discovered a coded list of 61 printed terms and phrases believed to refer to each of his victims.
--Ramon Salcido murdered seven people, including his wife and two of his daughters, aged four and 22-months in 1989 after a night of drinking and taking cocaine. His three-year-old daughter, Carmina, survived, even though she was slashed across the throat, and was left lying in a field beside the bodies of her sisters.
--Marcus Wesson, the patriarch of a cult-like clan, was sentenced to death 2005 for killing nine of his children, many of whom were born of incest and sexual abuse. He was also found guilty of sexually abusing the daughters and nieces who grew up in his house.
The Associated Press contributed to this report.