White House spars with Koch brother, says 'chose to squeal' to reporter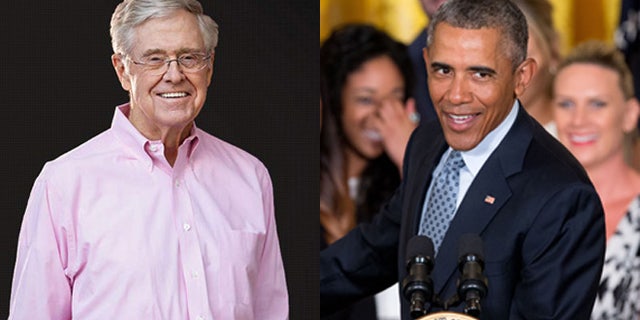 NEWYou can now listen to Fox News articles!
The White House clashed anew with the Koch brothers on Wednesday, as spokesman Josh Earnest griped that conservative businessman Charles Koch "chose to squeal" to a reporter after President Obama criticized the brothers for opposing clean energy programs.
"When the president decides that we'll take on a challenge that Washington has represented for too long, the special interests, including millionaires and billionaires who have benefited, start to squeal," said Earnest, the White House press secretary. "In this case, one billionaire chose to squeal to a Politico reporter."
Obama said Monday at an energy summit in Las Vegas that the country has a "problem" in that "massive lobbying efforts backed by fossil fuel interests, or conservative think tanks, or the Koch brothers" are pushing for new laws to roll back renewable-energy standards or prevent new clean-energy businesses from succeeding.
Charles Koch told Politico on Tuesday that he was "flabbergasted" by the attack and suggested it was for Senate Minority Leader Harry Reid, a Nevada Democrat and Koch brothers critic who attended the event with Obama.
"It's beneath the president, the dignity of the president, to be doing that," Koch told Politico. "I was really dumbfounded. ... We expect that with Harry Reid, but I didn't expect that from the president."
Charles and brother David Koch, leaders of the Koch Industries conglomerate, have spent millions of dollars in previous elections and plan to spend millions more in 2016.
Reid has in the past called the brothers "shadowy billionaires" with enough money and political power to influence their own interests, which include energy, refining, chemicals, biofuels, electronic components and commodity trading. The brothers are a frequent target of Democrats and liberal groups during campaign season.
Charles Koch told Politico that he opposes government subsidies for all types of energies -- from renewables to fossil fuel. Koch also said such opposition doesn't mean he wants renewable energy to fail.
"Any business that's economical, that can succeed in the marketplace, any form of energy, we're all for," he said. "As a matter of fact, we're investing in quite a number of them, ourselves."
Earnest said he didn't know whether to describe Koch's comments as "remarkably rich or utterly predictable."
He also suggested that Koch Industries doesn't oppose tax benefits that help the oil and gas industry.
"This is why the president ran for this office," Earnest said. "For too long, we saw the oil and gas industry exert pressure on politicians in [Washington]. It affected the ability of the federal government to make smart decisions."