White House Rolls Out Red Carpet Ahead of Netanyahu Visit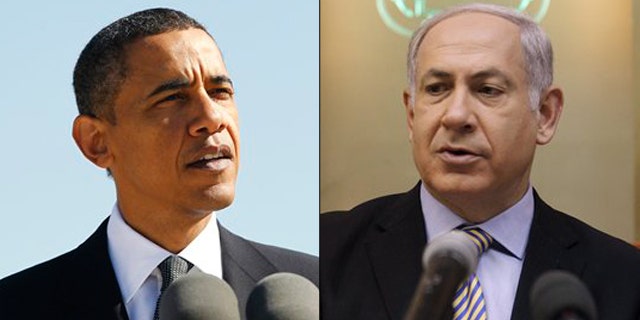 The White House is rolling out the red carpet ahead of Israeli Prime Minister Benjamin Netanyahu's Tuesday visit to Washington as President Obama tries to smooth over tensions and move forward on Israeli-Palestinian peace talks.
The prime minister is expected to get a very different welcome than the one he received back in March.
This time, he'll stay at the official White House guest residence, the Blair House, as opposed to a hotel. The two leaders will also hold a photo op -- unlike last time, when no pictures were released and no formal statement was issued after a pair of closed-door meetings at the White House. That meeting, which yielded no agreement, came after Israel announced new apartments in disputed east Jerusalem in the middle of Vice President Biden's visit and triggered a stand-off with the White House.
The Obama administration is looking to move past that when Netanyahu arrives. Though the deadly Israeli raid on a Gaza-bound aid flotilla in May drew fresh attention to Israel's blockade policy, even that issue has been sidelined. The White House meeting Tuesday is expected to focus on how to move to direct peace talks with the Palestinians, which Netanyahu has been calling for.
"The only way to successfully complete a negotiation as complicated as this is to have the two parties, Israel and the Palestinians, sit opposite one another and directly negotiate these complex issues together," Netanyahu said.
Palestinian President Mahmoud Abbas says he will only begin direct talks if the issue of borders for a future Palestinian state is settled. In exchange, he's willing to discuss a way to address Israel's security concerns.
Analysts say the White House appears to believe the red carpet treatment will lead to better results.
"Perhaps the president was not as aware that he needs to maintain the semblance of good relations with Israel and the Israeli prime minister, especially if he wants Israeli public opinion to participate in moving the peace process forward," said Chemi Shalev, political analyst for the Israeli newspaper Yisrael Hayom. "I think there is a bit of a second thought, and they are trying to put a best face forward and start a new stage in the relationship."
Israel did make a significant change to its blockade policy ahead of the meeting. The country on Monday ended restrictions on consumer goods into the Gaza Strip. Asked whether Netanyahu might go further and extend a 10-month construction ban on Jewish homes in the West Bank -- land Palestinians want for a future state -- a senior Israeli official said, "No, the government's position has not changed."
The ban is set to expire Sept. 26. Failure to reach a mutual understanding on the issue could lead to worsening relations between the White House and Israel.
The Israeli official told Fox News that during the meeting, Netanyahu will also ask for more sanctions on Iran beyond those recently passed by the United Nations and United States.
Fox News' Reena Ninan contributed to this report.