White House hopefuls slam DC politics in undercard GOP debate
GOP White House hopefuls attacked current Washington politics - including members in their own party - at the third undercard Republican debate Wednesday in Colorado.
"Nothing seems to change in D.C.," Louisiana Gov. Bobby Jindal said, adding that he'd support shrinking the government economy and growing the American economy.
Jindal was among the four GOP White House hopefuls who squared off against one another on taxes, job growth and the budget.
The candidates - Jindal, former Pennsylvania Sen. Rick Santorum, South Carolina Sen. Lindsey Graham and former New York Gov. George Pataki - battled it out at the University of Colorado in Boulder in hopes of garnering enough buzz to catapult them to next month's main stage debate.
Wednesday's debate gave the four undercard candidates more time to tout their business background and job creation experiences.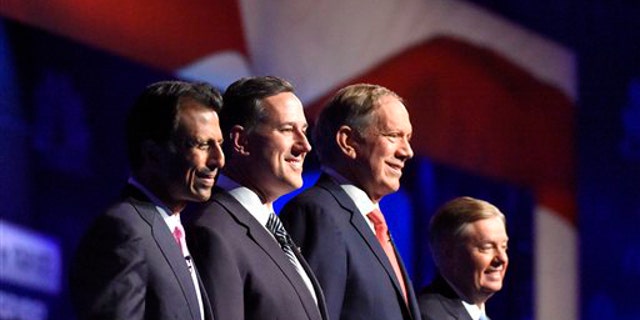 Santorum also seized on the opportunity to criticize Washington Republicans for not making enough economic strides during the years President Obama has been in the White House. Earlier on NPR, Santorum went after Texas Sen. Ted Cruz, who is participating in the primetime debate, for talking a big game but delivering very little.
The candidates also spoke out against the two-year bipartisan budget bill the House passed earlier Wednesday.
The deal, crafted by outgoing House Speaker John Boehner ends stop-gap fixes over domestic spending and federal borrowing. The deal provides an extra $80 billion to be divided between the Pentagon and domestic agencies over the next two years. Without the deal, the federal government would have been forced into a partial government shutdown next month.
Graham, unlike most of his Republican counterparts, supported the deal.
The candidates also touted their tax plans. Jindal said he supported a 2 percent federal income tax while Pataki argued he had a better plan than Jindal because he had the political chops to get it passed in Congress.
Graham also broke from the party over climate change.
"I think I'm trying to solve problems that somebody better solve," he said. "I just want a solution that would be good for the economy that doesn't destroy."
On immigration, Santorum blasted Graham for supporting immigration reform. Graham responded, "I want to make sure companies don't leave America because they can't find a worker."
Candidates also took jabs at Democratic frontrunners Hillary Clinton and Vermont Sen. Bernie Sanders.
"I'm tired of losing - good God, look at what we're running against," Graham said. He also joked about Sanders saying he "went to the Soviet Union on his honeymoon and I don't think he ever came back."
Leading up to Wednesday's debate, there had been uncertainty whether Jindal would attend. He had threatened to boycott the debate over the qualifying criteria for candidates, which shut him out of the 8 p.m. primetime debate. Jindal's staff argued the National Republican Committee should consider early primary state polling data to determine who would make it into the primetime debate. If the NRC used that data, Jindal would most likely have made the cut.
Graham also isn't a fan of the NRC debate rule.
"I think it sucks," he said Tuesday. "With all due respect, I know there are a lot of us running but I don't think I'm an undercard candidate when it comes to national security. I think I've got something to offer."