Western Woes: White House Mixes Up Colorado & Wyoming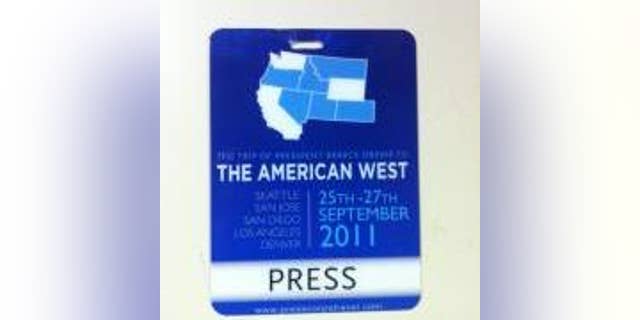 NEWYou can now listen to Fox News articles!
WASHINGTON -- The whole point of President Obama's three-day swing through the West was to make sure the region knows it's important in 2012, though the White House may have ended up offending a few folks in Colorado.
The administration gave reporters a fancy blue credential with a map of the United States marked, "THE TRIP OF PRESIDENT BARACK OBAMA TO THE AMERICAN WEST" that had special colors trying to highlight the three states he was visiting: California, Colorado, and Washington state.
But there was a snafu because the credential instead highlighted Wyoming -- instead of Colorado. While the two states do look remarkably similar on a map, it's not the type of mishap you want when trying to send the signal that Colorado's nine electoral votes are very important to you.
"If the White House can't even find Colorado on the map, how in the world does Barack Obama expect to address the issues of the economy, unemployment that are facing Colorado voters?" Ryan Call, chairman of the Colorado Republican Party, asked in a telephone interview.
But Laura Chapin, a Democratic strategist based in Colorado, told Fox News that it's much ado about nothing. She was at Tuesday's event that drew a few thousand people to Lincoln High School in a Hispanic area of Denver and said the energy from the crowd told her Obama is likely to stay in good graces in the state he beat Sen. John McCain (R-Ariz.) by nine points in 2008.
"I know they might get their square states confused, but there are more people than cows here," Chapin said with a laugh, not able to pass up a poke at neighboring Wyoming in a telephone interview. "And judging from the crowd yesterday I think the president's chances are better here."
We thought it was only fair to call the Wyoming Democratic party for a response and the office is so small that the executive director, Bill Luckett, answered the phone himself.
Luckett told Fox he takes no offense at the White House mistake -- or the Coloradoan's good-natured barb.
"She may be right, there may be more people than cows in Colorado," said Luckett. "And I think the president will carry Colorado. We're not sure about Wyoming yet, so she may have a point on that as well."
Actually it's pretty safe to say the eventual Republican nominee will pretty much have a lock on Wyoming's whopping three electoral votes. McCain beat Obama by -- wait for it -- 32 points.