Virginia governors' race remains tight, closely watched as window into midterm, 2016 contests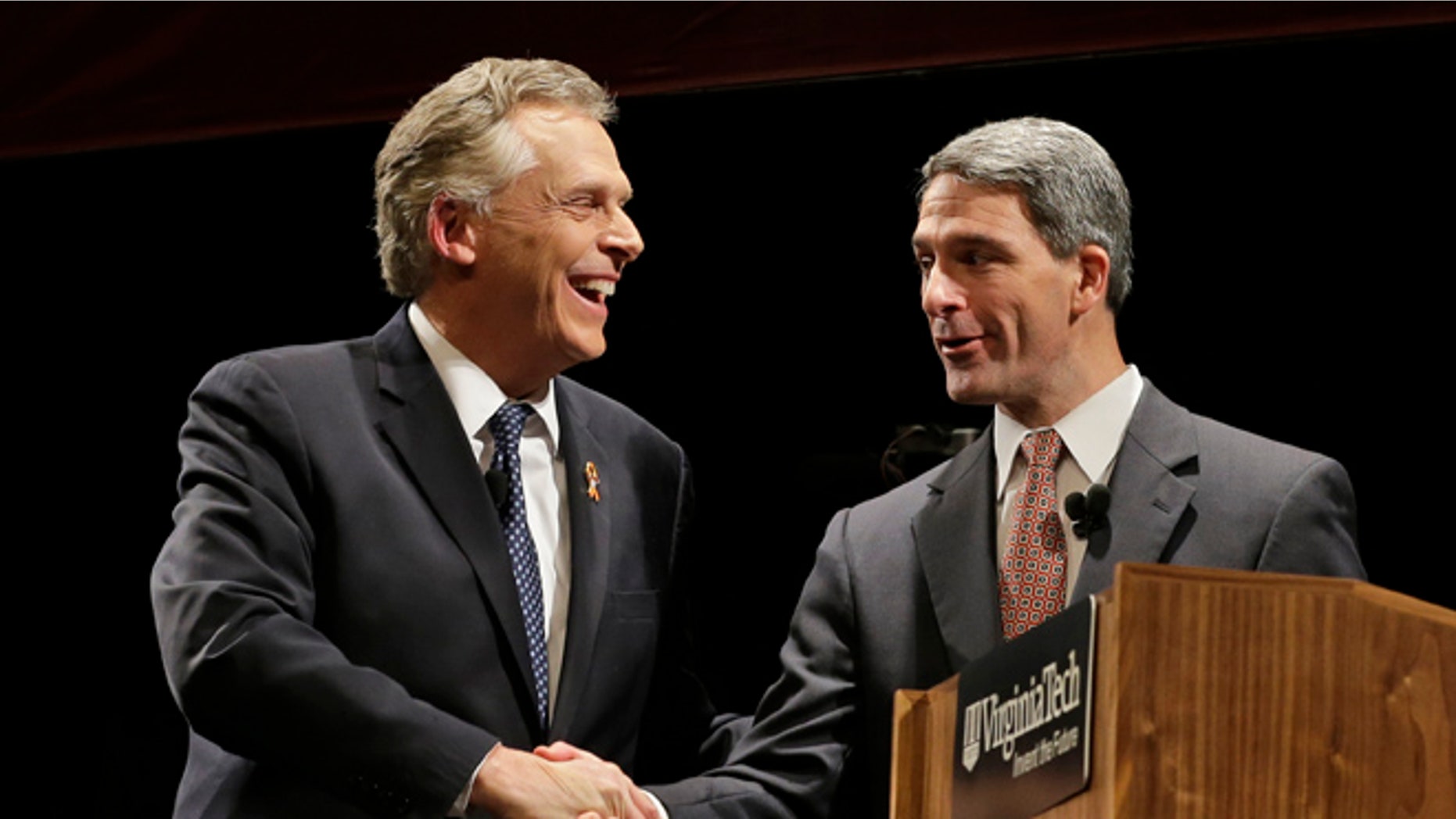 Virginia voters are going to the polls Tuesday to elect a new governor in a race that has readily fulfilled its billing as the marquee 2013 contest -- smashing fundraising records and providing a window into next year's congressional races and beyond.
The top candidates -- a quintessential Democratic insider and a Tea Party-backed Republican -- have engaged in an old-school political brawl that has include go-rounds on such issues as ObamaCare, gun control and women's rights, while attracted more than $43 million in campaign donations.
Democratic nominee Terry McAuliffe leads GOP nominee Ken Cuccinelli by roughly nine percentage points in the once-reliable Republican state that voted for President Obama in 2012 and 2008 -- marking the first time since 1964 that a Democratic presidential nominee had won the state.
Virginia's evolving status as a swing state is largely the result of the changing demographics of Northern Virginia, across the Potomac River from the nation's capital and home to a gowning number of immigrants and liberals who largely vote Democrat.
Political analysts and strategists are closely watching the race in hopes of gleaning insight about next year's midterms and the 2016 White House Race.
"Nationally, the implications will be obvious," says Larry Sabato, director of the University of Virginia's Center for Politics. "If Republicans continue to nominate hard-right candidates, they will probably continue to lose a state once thought to be part of their Electoral College base."
He also argues that a McAuliffe win "guarantees" close friend Hillary Clinton "a Southern base of operations" should she run for president in three years.
In the race's closing weeks, McAuliffe, a former Democratic National Committee chairman and prolific Clinton fundraiser, brought in the former first lady and her husband, former President Bill Clinton, to help close a contest in which he has held a small lead since mid-summer.
Meanwhile, Cuccinelli, the state's attorney general, has brought in his own heavy hitters, including Tea Party-favorite Kentucky GOP Sen. Rand Paul, and has gotten major financial support from such powerful and deep-pocketed groups as the National Rifle Association and the Republican Governors Association, which has given $4 million.
Not everybody agrees that the race results will be a bellwether.
David Heller, a Democratic campaign strategist and president of Main Street Communications, thinks the race is too awash in money and political stardom to serve as a model for upcoming ones. And he doesn't think the takeaway for Republicans, should Cuccinelli lose, will be that strong conservative candidates are unelectable.
"Show me a Tea Party guy worried about losing a primary," he said. "Over and over again, we've seen Tea Party candidates who challenge the establishment and either win or come really close. I don't think Republicans will say Cuccinelli losing means we have to have a more moderate candidate next time."
The wild card in the race is Libertarian candidate Robert Sarvis, who has attracted voters dissatisfied with both candidates. Though Sarvis has attracted just 9 or 10 percent of the vote, political analysts think he will cut into Cuccinelli's totals by 2 or 3 percentage points.
Whoever wins the race has already eclipses previous fundraising for a Virginia gubernatorial race – with Cuccinelli having raised $16.8 million to McAuliffe's $26.3 million, according to a report late last week from the Virginia Public Access Project.
The nonprofit group also reports that roughly 70 percent of that money has come from outside the state, marking the first time in which Virginia gubernatorial candidates have raise more than half of their money outside the state.
McAuliffe has gotten money from some of the country's most wealthy liberals including  Hollywood moguls Steven Spielberg and Jeffrey Katzenberg, who each gave $5,000, and President Clinton who gave $100,000.
Moreover, the 56-year-old businessman has also gotten major support from Planned Parenthood, which has helped him with women voters, including those who believe Cuccinelli is anti-abortion.
His campaign platform has been based in large part of such progressive ideals as the environment and gun control. However, Democrats have also  tried to connect Cuccinelli to the recent federal government shutdown, his views on global warming and a donor scandal involving Republican Gov. Bob McDonnell, despite an ethic probe clearing Cuccinelli.
Meanwhile, Republicans have tried to tie McAuliffe's interest in a struggling, electric-car company to a federal investigation purportedly about visas for investors and his Clinton-era fundraising scheme to rent out the Lincoln Bedroom in the White House.