Venezuela Front And Center During Biden's Trip To Chile And Dominican Republic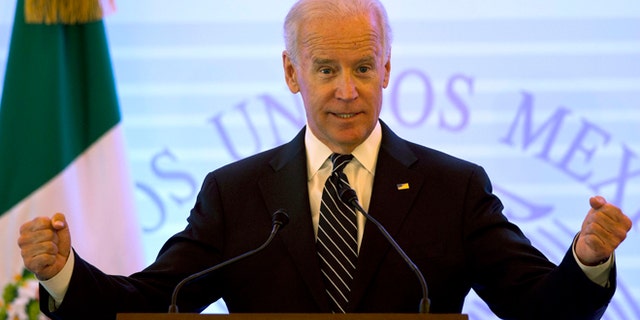 The ongoing political crisis in Venezuela will be a major talking point as Vice President Joe Biden embarks next week for stops in Chile and the Dominican Republic, White House administration officials said Friday.
Arriving in Santiago for the inauguration of President-elect Michelle Bachelet on Sunday, Biden will use much of his brief visit in Chile to meet with the country's new president and other regional leaders – Mexican President Enrique Peña Nieto and Colombian President Juan Manuel Santos will both be in attendance – to discuss what the international community can do in terms of resolving the unrest in Venezuela.
"Venezuela will be at or near the top of all the meetings," one senior administration official said during a conference call. "The entire region needs to be concerned for Venezuela, especially with the arrest of people voicing their concerns with the government."
As violence continues to plague Caracas and other parts of Venezuela, public perception is that the United States has put the situation on the back burner as it deals with the escalating tensions in Crimea. On Thursday, a Venezuelan National Guardsmen and a civilian were killed after a group of men on motorcycles rode into an east Caracas neighborhood to remove a street barricade erected by anti-government protesters.
The White House's quiet public response to the crisis has been juxtaposed with some member of Congress who have vehemently condemned the actions taken by the government of Venezuelan leader Nicolás Maduro.
"I'm not arguing that the U.S. should intervene militarily," said Florida Sen. Marco Rubio. "I think the President should pronounce himself very clearly that he condemns, in the strongest possible terms, what Nicolás Maduro and their government is doing to the people of Venezuela."
Besides attending the inauguration of Bachelet and discussing the Venezuelan situation, Biden will meet with Chilean officials to discuss trade issues and Chile's role as a non-permanent member of the United Nations' Security Council before he flies to the Dominican Republic for meetings with President Danilo Medina.
In the Dominican Republic, the main talking point will be the country's constitutional court's move last fall to revoke the citizenship of people of Haitian descent even if they were born in the Dominican Republic.
"This is something that is important to not just the United States but others in the international community," a senior administration official said.
Vice President Biden has recently become a prominent figure in White House dealings with Latin America.
He made an official state visit to Mexico last September, where he met with Enrique Peña Nieto and other top officials at the presidential palace to discuss trade and security issues, and in May of last year he travelled to Colombia, Trinidad & Tobago and Brazil, where the Vice President visited a favela in Rio de Janeiro and met with President Dilma Rousseff.
Follow us on twitter.com/foxnewslatino
Like us at facebook.com/foxnewslatino