Vending Industry Concerned About Requirement to Label Calories on Snack Food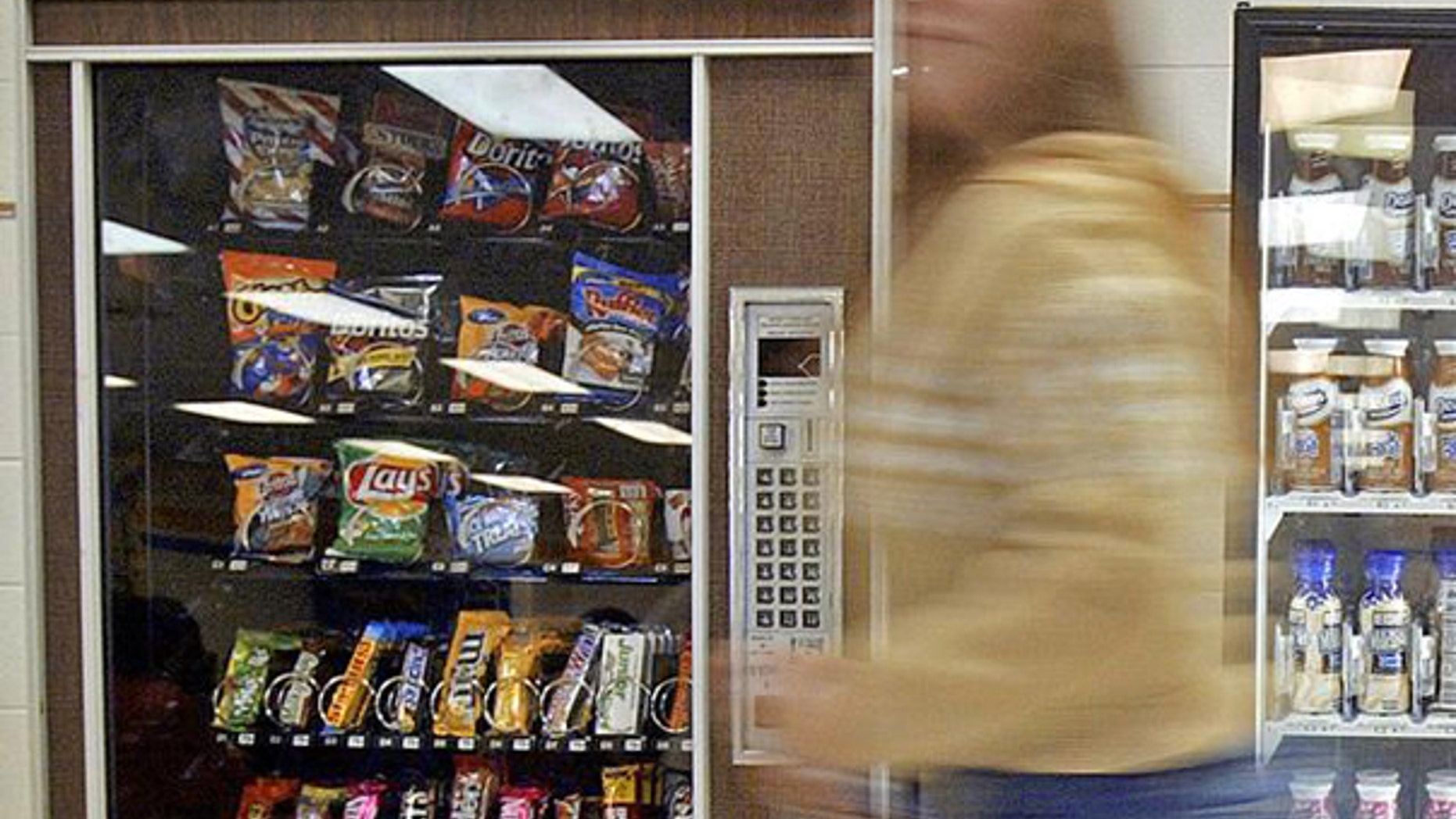 Twinkies are not a health food.
In case that comes as news to you, the point will be hammered home, thanks to a provision in health care reform legislation that requires snack food purveyors to post nutritional information on vending machines.
The measure will require almost all vending machines in the country to display the caloric content of products so that munchies-driven consumers can see what they will do to their waistlines before they purchase the snacks.
The requirement is touted as a way to cut down on obesity. But critics say it's an absurd encroachment, and the snack food industry claims it will cost millions of dollars to implement.
"It's a pretty substantial economic hit," said Ned Monroe, senior vice president for government affairs with the National Automatic Merchandising Association. His group estimates that complying with the bill will cost the vending industry $56.4 million in the first year alone, at a time when revenue is already falling.
The requirement, which is included in a section on nutrition labeling standards for restaurants in the House-passed health care reform bill, applies to businesses that own or operate 20 or more machines. Monroe said that would probably affect most of the machines in the country -- 6 to 7 million. He said his group is not opposing the provision outright, but is working with lawmakers to bring down the cost to the industry and preserve some "flexibility."
There are a lot of unanswered questions surrounding the blanket requirement.
The language in the bill merely states that the "vending machine operator shall provide a sign in close proximity to each article of food or the selection button that includes a clear and conspicuous statement disclosing the number of calories contained in the article."
The industry wants to make sure, for instance, that in most cases vendors can provide a stock menu of caloric content for a broad array of products on the outside of the machines, as opposed to having to individually label the treats -- and in turn constantly change those labels whenever the selection changes. Vendors also fear they'll be fined or punished if they accidentally mislabel a product.
But aside from the cost concerns, some question whether it's even appropriate for the federal government to require an additional layer of nutritional information, when that information -- while out of sight -- is usually already on the individual packaging.
"When people buy a snack or refreshment from a vending machine, it's typically not the first time they've purchased the snack, so there is some realization of the calories that might be in that item," Monroe said.
William Jacobson, an associate professor at Cornell Law School who publishes the Legal Insurrection blog, said the requirement falsely assumes people are trekking to snack machines for a health fix.
"It just seems like one of those ideas which has been applied at a level that makes it almost farcical," he said. "It just seems somewhat absurd to me."
The requirement derives in part from separate legislation authored by Sen. Tom Harkin, D-Iowa, and Rep. Rosa DeLauro, D-Conn., aimed at setting national standards for nutritional information as a way to cut down on diet-related problems like heart disease and diabetes.
In a written statement to FoxNews.com, DeLauro said the provisions in the health care bill would provide an "incremental step toward combating increasing obesity rates, which costs our health system over $140 billion a year," and are backed by the National Restaurant Association and many public health groups.
"Numerous scientific studies link eating out -- which can mean a meal at a restaurant or buying a bag of chips from a vending machine -- to obesity, increased caloric intake, and chronic disease," she said. "This is a fundamental public health issue and I am proud that the health care reform bill" includes the provisions.
Monroe said "all indications" are that the Senate will include similar language. But he warned of other unintended consequences.
For instance, he said local governments would probably end up having to shell out additional taxpayer money to update vending machines that they own. Plus the law would have to be enforced.
But Monroe said vending machines are already subject to other regulations and that local inspectors could probably take on the job of checking for nutritional information if the law is passed.