US deploys F-22s to base near Iran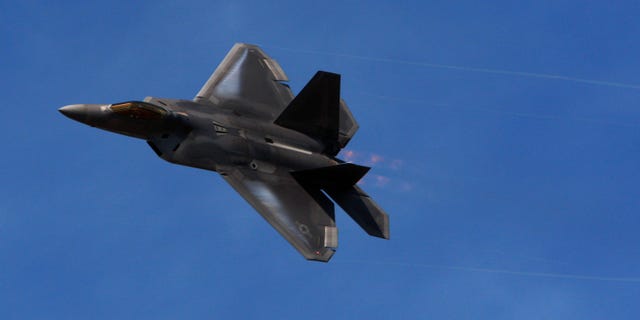 The U.S. military has deployed several F-22s, the nation's most advanced fighter jets, to an allied base less than 200 miles from Iran.
The Air Force strongly denies this deployment is meant as a show of force against Iran or that it is in some way related to a potential strike on Iran's nuclear facilities. Rather, it says this is all part of a routine deployment and "security cooperation with regional partners."
The Air Force won't say how many jets were sent or exactly where they are stationed, but privately, U.S. officials have told Fox News the jets are in hangars at the United Arab Emirates' Al Dafra Air Base, a fact first reported by Aviation Week.
The F-22 has not yet seen combat. The jets were not used in Iraq, Afghanistan or Libya. They are stealth, and they specialize in air-to-air combat, but can also strike air-to-ground if needed. As one Air Force official put it, "this is America's premier fighter jet. It has no rival."
The next round for Iran nuclear negotiations, which many consider to be the country's last diplomatic opportunity, takes place on May 23 in Baghdad.
"The United States Air Force has deployed F-22s to Southwest Asia. Such deployments strengthen military-to-military relationships, promote sovereign and regional security, improve combined tactical air operations, and enhance interoperability of forces, equipment and procedures," Lt.Col. John Dorrian, Air Force public affairs, said in a written statement.