US ambassador hints Russia is spying on him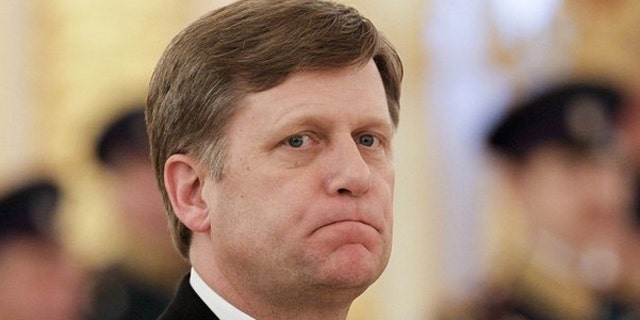 U.S. Ambassador to Russia Michael McFaul suggested Thursday that the Russian government is spying on him.
"Everywhere I go (Russian television station) NTV is there," he tweeted. "Wonder who gives them my calendar? They wouldn't tell me. Wonder what the laws are here for such things?"
The unusual tweets come just days after President Obama met with Russian President Dmitry Medvedev in South Korea.
A State Department spokesman, peppered with questions about a string of similar tweets from the ambassador, said he was "not aware" that the U.S. government has raised these concerns formally with Moscow. But the administration did not admonish McFaul, either, as the ambassador used one of the world's largest social media platforms to openly hint he was being watched by forces inside the United States' former Cold War foe.
"I respect (the) press' right to go anywhere and ask any question. But do they have a right to read my email and listen to my phone?" McFaul also posted on his Twitter feed Thursday. "When I asked these 'reporters' how they knew my schedule, I got no answer. Heard the same silence when they met me after meeting w/ Chubais."
Reporters from the Kremlin-friendly station reportedly met him after a meeting with activist Lev Ponomaryov.
Anatoly Chubais is a Russian businessman and was a key member of Boris Yeltsin's administration.
State Department spokesman Mark Toner told reporters he read McFaul's tweets and thinks "he was simply asking a rhetorical question commenting on the fact that wherever he goes in Moscow he's finding a … large media presence -- some of it hostile.
"And he's wondering how they're getting word about his schedule," Toner said.
Toner also said he doesn't think McFaul was directing his accusations at the journalists or the media.
"I think he's asking the question about how details of his personal schedule are getting out to the media," he said.
An NTV spokeswoman told the Wall Street Journal that the station learned of the diplomat's plans through a network of "agencies and private citizens."
'There is nothing surprising about it," spokeswoman Maria Bezborodova said. "We are everywhere."
McFaul's concerns about eavesdropping follow Obama's recent trip in South Korea for a Nuclear Security summit in which a private conversation between him and Medvedev was caught on a live microphone. The president said he would have "more flexibility" after the 2012 elections to deal with such complex issues as missile defense. He also said incoming President Vladimir Putin needs to give him some "space" when he takes office in May.
Obama downplayed the incident, saying negotiating arms reductions amid election-year politics would be difficult.
Though Republicans criticized Obama for the exchange, White House Press Secretary Jay Carney reminded them that "I'm pretty sure the Cold War ended when some of the folks in this room were still in elementary school."
"Any suggestion that Russia is America's No. 1 geopolitical foe represents a unique understanding of recent history," Carney said sarcastically during the daily White House briefing, in response to a comment presidential candidate Mitt Romney had made about Russia.
McFaul had tweeted his concerns about Russian media just a few hours earlier.
Obama appointed McFaul in January to the post of U.S.-Russia ambassador after McFaul served several years as the president's special adviser on Russian affairs.
McFaul, a Stanford University political science professor, was part of the White House foreign policy team that developed the "reset in relations" phrase regarding Washington-Moscow affairs.