Union mob protests at Scott Walker's parents' house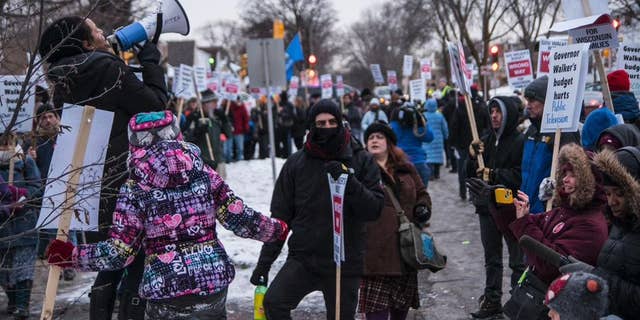 That unions hate Wisconsin Gov. Scott Walker is well known. They campaigned against him in 2010 and 2014 and led a recall election against him in 2012. They lost all three times.
But their anger has not subsided. And with Walker eyeing a possible 2016 bid for the White House, union leadership's anger has only grown.
After storming the Wisconsin State House and countless events featuring Governor Walker, the angry mob of union protesters employed a new tactic — protesting outside the home of the governor's parents.
On President's Day, union protesters stormed the sleepy neighborhood where Pat and Llewellyn Walker live, waving signs and yelling anti-Walker chants.
[Watch Gov. Scott Walker respond to the protests, on Fox News' "The Kelly File" at 9 p.m. ET on Tuesday.]
The scene was documented on social media.
The Wisconsin GOP did not pull any punches.
Governor Walker's two sons were none too pleased, nor were they intimidated.
[h/t Twitchy]