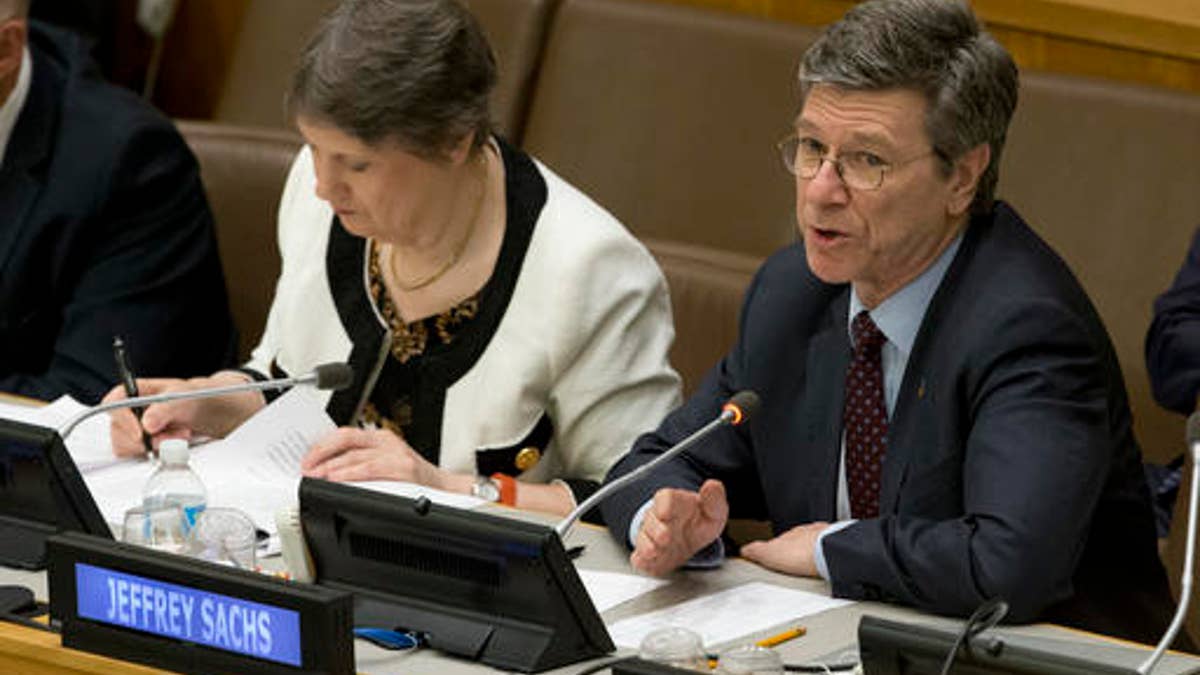 World-renowned economist Jeffrey Sachs, who plays a high-powered role as special adviser to United Nations Secretary General Ban Ki-moon and director of a number of U.N.-sponsored enterprises, abruptly resigned last week from one of his other part-time jobs: foreign policy adviser for Democratic presidential candidate Bernie Sanders.
The move, according to a press spokesman for Columbia University's Earth Institute, of which Sachs is founding director, was to avoid "conflict of interest" with his U.N. role as Ban's top adviser on the recently approved Sustainable Development Goals -- a socialist/progressive plan for reshaping the world economy.
Whether cutting ties with Sanders is enough to insulate Sachs -- and the U.N. -- from the consequences of vitriolic attacks he has been steadily launching against Democratic front-runner Hillary Clinton, is still an open question.
Before he suddenly stepped down, Sachs had slammed Clinton for at least two months in print and on U.S. television as "unfit to be President," "the candidate of the military-industrial complex," "the candidate of Wall Street," and sundry other epithets.
He also charged Clinton with "heavy responsibility for Syria's 'bloodbath,' deep involvement in 'CIA-led regime change' around the world, said her record as Secretary of State "is among the most militaristic, and disastrous, of modern U.S. history," and called her "a danger to global peace."
Sachs also has criticized former President Bill Clinton, blaming him for "a quarter century of financial bubbles, low taxes on the rich, falling public investments, and the off-shoring of jobs." At the same time, he extolled Sanders for "winning a new generation of voters" for offering up the opposite of the derided Clinton economic recipes.
Some of the juiciest diatribes are headlined on his own website, then linked to outside publications where they appeared. The website also offers a waterfall of paens to his attainments and reputation, studded with U.N. titles and U.N.-sponsored roles.
While the pace of Sachs' criticisms has increased in the past few months, as far back as late May 2015, during a televised segment on MSNBC, he called the Clintons "the ultimate schmoozers," and said "we see how, frankly, in utter pursuit of money they are all the time."
"Clinton's role in Syria has been to help instigate and prolong the Syrian bloodbath, not to bring it to a close."
He added, "Now where is a candidate, maybe it is Bernie Sanders; but somebody can stand up and make this point."
Sachs' press spokesman refused to answer questions from Fox News as to how long exactly he had served as a Sanders adviser, a role that was dramatically highlighted on April 16, when he appeared with the presidential candidate at the Vatican, and attended the brief meeting of Sanders and his wife with Pope Francis I.
Sachs self-identifies as a Sanders adviser in various published articles and TV appearances for at least two months before that -- many of them containing his most heated anti-Clinton attacks.
The U.N. itself did not answer a number of questions from Fox News before this article was published, concerning Sachs' resignation from the advisory position, whether Secretary General Ban or his office had ever expressed concern about any conflict of interest, and the U.N.'s position on political statements by Ban's special advisers.
A statement from Secretary General Ban's spokesman, Stephane Dujarric, said only that Sachs "has told us that, so as to avoid any perception of a conflict of interest, he has notified the Sanders campaign that he will no longer be an adviser to them and has requested that he no longer be identified as such."

Ultimately, the attacks themselves may be the issue, rather than Sachs' relatively bland stated role of Sanders policy adviser. They have carried him well into the zone of taking a hyper-partisan stand in a domestic political campaign -- something that international officials bearing U.N. titles are assiduously supposed to avoid.
Sachs has always been a peculiar hybrid among U.N. officials. He carries imposing titles, and heads institutions that are launched with U.N. approval and advance U.N. goals, and which also give him a high-profile in the U.N. system and great amounts of international sway and cachet. But he is not a paid U.N. employee, which apparently allows him to escape U.N. strictures and protocol.
His global intellectual status nonetheless owes considerably to his expansive U.N. ties.
Sachs first won elevated status at the U.N. from Ban Ki-moon's predecessor, Kofi Annan, as special advisory on the U.N.'s Millennium Development Goals (MDGs), a simpler and much less ambitious predecessor to the Sustainable Development goals (SDGs) adopted this year. He still holds that position on U.N. protocol lists that assign him Under Secretary General rank, the U.N.'s third-highest designation.
CLICK HERE FOR THE PROTOCOL LIST
On the secretary general's website, Sachs is dubbed the special adviser on the new SDGs, even though his appointment date is still listed as 2002.
To complicate things further, in mid-January, he was officially named as one of 17 distinguished SDG "advocates" operating under Ban's auspices to promote the agenda of the goals, and bring "new stakeholders" into their achievement -- which might include those with deep pockets to finance them.
Along with his cheerleading and engagement roles with the SDGs, Sachs is founder and head of a U.N.-sponsored academic network launched by Ban Ki-moon personally in 2012 to help formulate the sprawling and amorphous goals, and now to offer advice on how to implement them.
Known as the U.N. Sustainable Development Solutions Network (UNSDSN), it currently involves at least 350 academic institutions in 80 countries, and has launched a score of national and sub-national networks.
Sachs is not only the director of the network, he is a top-ranked member of its leadership council, its executive committee, its advisory Assembly, and its secretariat.
He also is a founder and key figure in the U.N.-sponsored Millennium Project, a mammoth effort to lift parts of Africa out of poverty that has been criticized by some experts as an expensive failure, and that has carried its own baggage as a possible conflict of interest.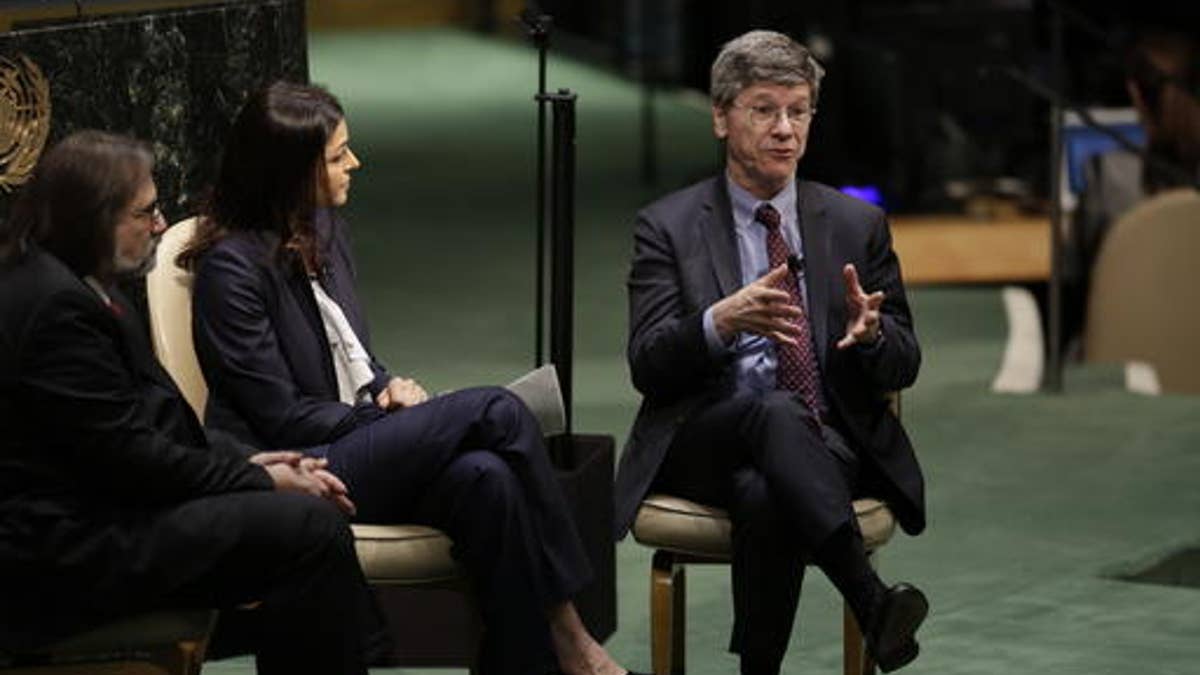 Alongside his U.N.-supported international profile, a penchant for ultra-leftist viewpoints and heavy slams at the U.S. political establishment are nothing new for Sachs.
He has taken President Barack Obama to task for similar alleged capitulations to capitalism, although without the buzz-saw edge he has honed against the Clintons.
Sachs' acid criticisms of the U.S. and its economic and military-diplomatic dominance are standard fare among developing nations at the U.N. where Sachs has long held sway as an institutional proponent of global taxes and steep increases in development aid from rich nations.
In fact, radical postures have been par for the course for years with Sachs, who, in October 2011, joined the tent-city demonstrators of Occupy Wall Street to denounce capitalism and, among other things, Fox News.
In 2012, Sachs put himself forward without much visible support as a populist candidate for World Bank president, promising to lead the institution "into a new era of problem-solving."
The Obama administration had other notions, which involved supporting another unorthodox candidate, the current incumbent Jim Yong Kim, a physician and anthropologist, for the job.
Sachs' critical eruptions seem to have increased after that.
The big question the U.N. may have to answer is whether his partisan positions are in violation of their own rules about how U.N. officials are supposed to behave.
According to Regulation 1.2 (f) of the most updated version of the U.N.'s staff rules and regulations -- very, very close to the top of the list -- is the stricture that international civil servants "shall not engage in any activity that is incompatible with the proper discharge of their duties with the United Nations."
The rule goes on to warn that "they shall avoid any action, and, in particular, any kind of public pronouncement that may adversely reflect on their status, or on the integrity, independence and impartiality that are required by that status."
Sub-section (h) of the same regulation says that U.N. officials "shall ensure that their participation in any political activity is consistent with, and does not reflect adversely upon, the independence and impartiality required by their status as international civil servants."
Even higher up in the regulations comes an oath that U.N. officials are supposed to adhere to, which includes a vow to "regulate my conduct with the interests of the United Nations only in view."
It's hard to see how deeply personalized attacks on someone who may well become the next President of the United States -- an office that has the determining hand, among many other things, in deciding what money and support the U.N. will get from its most important member -- measure up to any of those responsibilities.
George Russell is editor-at-large of Fox News and can be found on Twitter: @GeorgeRussell or on Facebook.com/GeorgeRussell