Ugly early: Paul's entry sets off first round of attacks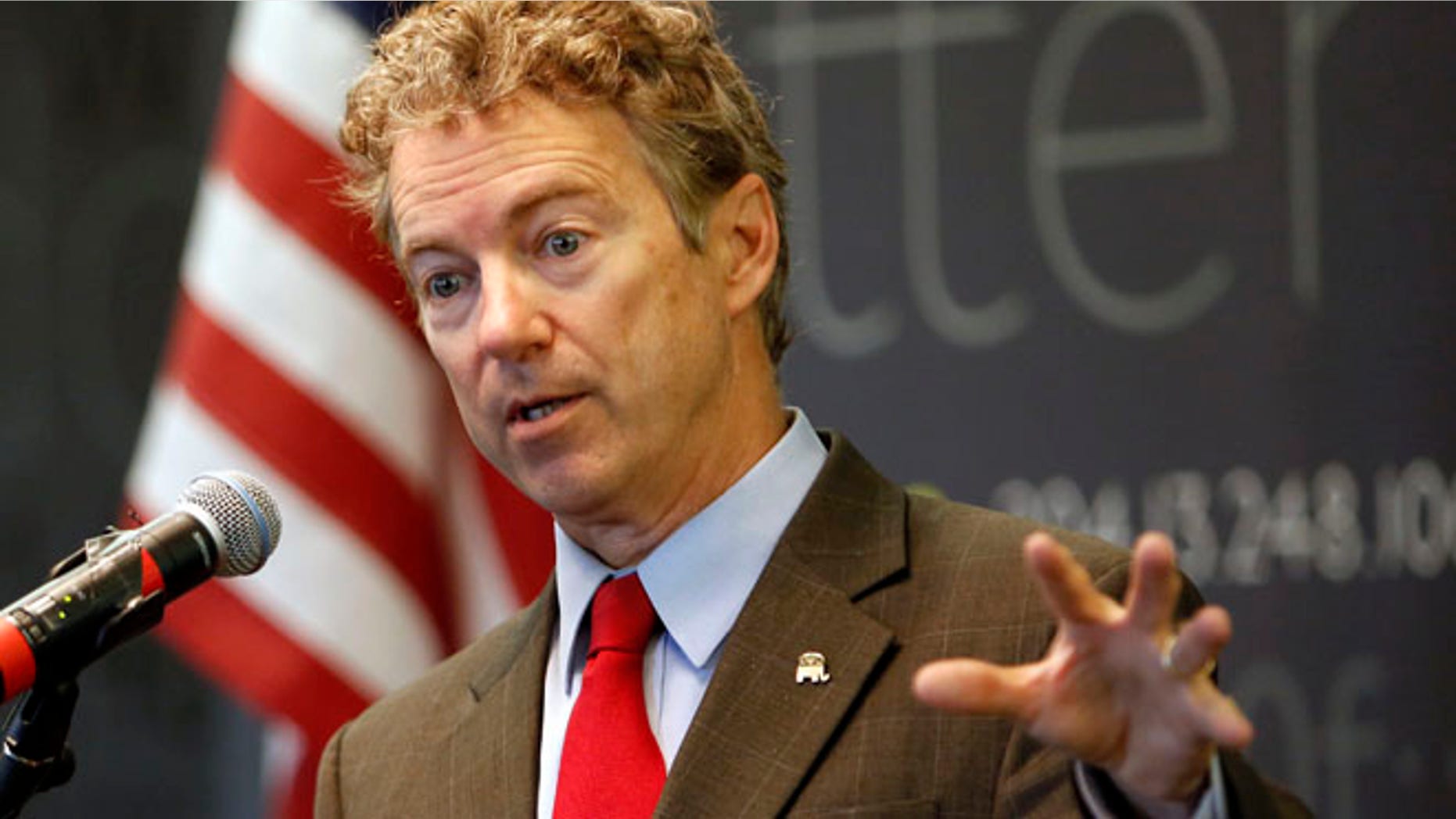 **Want FOX News First in your inbox every day? Sign up here.**
Buzz Cut:
• Ugly early: Paul's entry sets off first round of attacks
• Jeb biding his time
• Ex-intel boss says 'very high' likelihood Hillary's server hacked
• Schumer fights Obama on Iran plan
• An old-fashioned broil-meets-grill story
UGLY EARLY: PAUL'S ENTRY SETS OFF FIRST ROUND OF ATTACKS
There is a whole subculture in the Republican establishment devoted to hating Rand Paul, and this is the day its adherents have been waiting for. As Paul gets ready to kick off his official campaign in Louisville today, the effort to kill it intensifies. Paul has moderated his stances, recently calling for a 16 percent raise in Pentagon spending, but that has done nothing to cool the antipathy from the most hawkish members of his party who deem Paul an isolationist. When presidential hopeful Sen. Lindsey Graham, R-S.C., suggested Sunday that presumptive Democratic nominee Hillary Clinton might be preferable to Paul, he was speaking aloud what many in the GOP establishment have long said in private. It's a sign of Paul's clout that he would be taken so seriously despite consistently trailing the frontrunners. But if he allows his foes to define him as the peacenik Republican, Paul is done for.

["They felt the same way about [Jon Huntsman]." – an unidentified Republican operative talking to Eliana Johnson about resentment within the party about favorable establishment media coverage for Rand Paul.]

Nuclear option - How serious is the GOP establishment about smothering Paul's bid? The Foundation for a Security and Prosperous America, a new outside group led by GOP insider Rick Reed is dumping $1 million on an ad campaign slamming Paul for past statements about Iran. The 30-second ad, scheduled to begin Wednesday in Iowa, New Hampshire, South Carolina, and Nevada, accuses Paul of supporting negotiations with Iran and not supporting sanctions against the Islamic regime. The Kentucky senator is heard on the ad saying, "You know, it's ridiculous to think, they are a threat to our national security."  A narrator concludes the ad stating, "Tell Rand Paul to stop siding with [President Obama], because even one Iranian bomb would be a disaster."

[In keeping with his ant-Washington message, Paul has dropped "Senator" from his Twitter handle simply opting for @randpaul while identifying himself as "Dr. Paul."]

Unappetizing appetizer - The anti-Paul spot is just the start of what promises to be the single-nastiest Republican nominating process in memory. Paul will doubtless be responding to the swipe with his own large and well-funded campaign network. Similar attacks, funded by the ever growing universe of independent groups and super PACs, will be good news only for Clinton (and the consultants and media buyers who are producing them). While 2012 saw plenty of toxic dumping, the size of the field, the depth of the resources and the proliferation of outside groups means that long before the candidates hit the debate stage in August, they – or their supporters – will have been besmirching each other for months.

[The other Dr. Paul - Bloomberg:"Former Texas Representative Ron Paul will attend Tuesday's expected launch of Kentucky Senator Rand Paul's presidential bid."]

Tight, tight, tight - A new national poll by New Jersey's Monmouth University found the 2016 Republican field wide open. Poll results, released Tuesday, put former Florida Gov. Jeb Bush in the lead with 13 percent, followed by Texas Sen. Ted Cruz and Wisconsin Gov. Scott Walker, both at 11 percent. Former Arkansas Gov. Mike Huckabee drew 9 percent, Ben Carson and Donald Trump were at 7 percent. Kentucky Sen. Rand Paul polled at 6 percent. The poll found a three-way tie between New Jersey Gov. Chris Christie, Florida Sen. Marco Rubio and former Texas Gov. Rick Perry at 5 percent.

[Arizona Republic: "Veteran U.S. Sen. John McCain will announce [today] that he will seek a sixth term in 2016. McCain, R-Ariz., plans to officially declare his bid for re-election during a speech before the Arizona Chamber of Commerce and Industry at the Arizona Biltmore resort in central Phoenix.]

JEB BIDING HIS TIME
David Drucker got a look at Jeb Bush's schedule for the weeks to come and concluded that the establishment frontrunner won't be making his candidacy official for some time: "As competitors for the Republican presidential nomination accelerate their campaigns, the former two-term Florida governor appears content to slow-walk toward an expected 2016 bid. … Bush remains focused on raising money for his political action committee and super PAC, both called Right to Rise. The Floridian is scheduled through at least May 25 to headline several fundraisers for these two organizations, created late last year as a precursor to Bush's running for president. … According to a list of events obtained by the Washington Examiner, upcoming Bush events are set for: Chicago (twice); Boston; Nashville; Vero Beach, Fla.; an unnamed city in Ohio; Portland, Ore; New York (twice); Seattle and Puerto Rico."

[Bush heads to Colorado today for a breakfast with veterans in Colorado Springs and later to Denver for an "energy event."]

CHRISTIE READIES N.H. CAMPAIGN SWING
AP: "New Jersey Gov. Chris Christie is taking his signature town hall events on the road. The potential Republican presidential contender will be kicking off what his team has dubbed a 'Tell it like it is' town hall tour in Londonderry, New Hampshire on April 15. A spokeswoman for his political action committee says a second town hall will he held on April 17. He'll also hold events in Manchester and Newmarket and speak at a New Hampshire GOP-organized summit in Nashua. The trip will be Christie's first extended swing through the early voting state that is seen a place where his blunt style could play well with voters."
WITH YOUR SECOND CUP OF COFFEE
For physicians monitoring how cancer patients react to chemotherapy, the process of arriving at a prognosis is often tedious, costly and invasive. Science Daily looks at how sound-waves are providing an easier and more affordable way to examine cancerous cells. "Acoustic-based separations are potentially important because they are non-invasive and do not alter or damage cells… If two sound sources are placed opposite each other and each emits the same wavelength of sound, there will be a location where the opposing sounds cancel each other. Because sound waves have pressure, they can push very small objects, so a cell or nanoparticle will move with the sound wave until it reaches the location where there is no longer lateral movement, in this case, into the fluid stream that moves the separated cells along."

Got a TIP from the RIGHT or LEFT? Email FoxNewsFirst@FOXNEWS.COM

POLL CHECK
Real Clear Politics Averages
Obama Job Approval: Approve – 45.6 percent//Disapprove – 49.9 percent
Direction of Country: Right Direction – 30.5 percent//Wrong Track – 60.8 percent

EX-INTEL BOSS SAYS 'VERY HIGH' LIKELIHOOD HILLARY'S SERVER HACKED
The former director of the Defense Intelligence Agency says Democratic frontrunner Hillary Clinton's use of a private e-mail server put national security at risk. Appearing on "The Kelly File" Monday Michael Flynn told host Megyn Kelly said the likelihood was "very high" that Clinton's server may have been hacked by "China, Russia, Iran, potentially the North Koreans and other countries who may be quote/unquote our allies."  Watch the full interview here

Hillary's $2 billion plan to 'connect with real people' - Fox News: "After what aides expect to be an initial announcement on social media, [Hillary Clinton] reportedly will do some relatively small campaign events in key early states like Iowa and New Hampshire. Clinton's approach in 2016 will illustrate that as a presidential candidate 'she fights for every vote and takes nothing for granted,' a Democratic official said.  … The 2016 plan is to have Clinton try to 'connect with real people' better than she did eight years ago, according to a Democratic official with knowledge of the announcement plans and strategy."

Biden to court deep pocketed gay donors - Bloomberg: "On April 30th, some of the biggest [gay rights] philanthropists… will gather in Dallas for 'OutGiving,' an annual conference organized by Tim Gill, the founder of Quark and an important behind-the-scenes figure in the gay rights movement, who over the last decade has worked to organize the political strategy for a large group of wealthy gay donors…On May 2, Biden will be a keynote speaker (per the Vice President's office, reporters will have an opportunity to cover his remarks)."

SOUND OFF: READERS RESPOND TO 2016 POWER INDEX
"I have voted Republican my whole life, but find Rand Paul to be quite refreshing with his positions. The fact that he has Libertarian views makes for an excellent balance for those of us who want government to stay out of our way and be greatly reduced…Very tired of the press painting him as if he would not defend the U.S. if need be. He is one of the most thoughtful and balanced Statesman. He will be a force to be reckoned with in the debates, because he thinks beyond talking points. Rand Paul is not a polarizing figure. He appeals to people across both parties, as well as independents." –Barbara Hayes

"I am hoping the ranking in the field will change with the formal announcements of Lindsey Graham, Marco Rubio, and long-shot announcement John Bolton for the GOP nomination. I am a Graham supporter, and think he would be a good wartime president…I do think we will be involved in one or more wars, especially against ISIS… Graham is my first choice among likely contenders. Marco Rubio would be my second, and John Bolton, although a very long shot, would be my third."­­—Jim Gau, Hancock, Mich.

"Scott Walker has been high on my radar for quite a while; however the more I hear about Ted Cruz, the more I feel he is the one to carry the torch for conservative Republicans." – Jean Witte, Santa Claus, Ind.

SCHUMER FIGHTS OBAMA ON IRAN PLAN
The Hill: "New York Sen. Charles Schumer, the next in line to become Senate Democratic leader, is demanding that Congress review and approve any nuclear deal struck with Iran.  Schumer, who will replace Senate Democratic Leader Harry Reid (Nev.) at the end of next year, says President Obama must submit the deal to Congress despite the administration's reluctance to do so. 'This is a very serious issue that deserves careful consideration and I expect to have a classified briefing in the near future. I strongly believe Congress should have the right to disapprove any agreement and I support the [Sen. Bob Corker, R-Tenn.,] bill which would allow that to occur,' he said in a statement."

Obama says deal only delays Iran nuke - Fox News: "President Obama admitted Tuesday…that his nuclear agreement with Iran only delays Tehran from eventually acquiring a weapon, which could come immediately after Year 13 of the agreement…in an interview with NPR News…"

But… -  Obama's timeframe seemed to contradict a press briefing from Energy Secretary Ernest Moniz, tapped by the president to sell the deal. Moniz called the tentative nuclear deal with Tehran a "forever agreement" that would block all pathways to a nuclear weapon and set up tough international inspections with no end date.

Obama: It's a good deal, no matter what - "I would argue that this deal is the right thing to do for the United States, for our allies in the region and for world peace regardless of the nature of the Iranian regime….[T]his is a good deal if you think Iran's open to change.  It's also a good deal if you think that Iran is implacably opposed to the United States and the West and our values." – President Obama in an interview with NPR.

STEYER TO TRY AGAIN IN 2016
The Hill: "Billionaire liberal activist Tom Steyer hopes to shame GOP presidential candidates over their climate change skepticism in the 2016 campaign. He is also seeking to tie Republicans to his arch foes: Charles and David Koch, the billionaire brothers who spent more than $100 million in the 2014 midterms behind GOP candidates opposed to environmental regulations…The initial effort, launched Monday with a video, is being dubbed the 'Hot Seat.' It's the first NextGen campaign to feature its dual priorities of highlighting GOP candidates' climate skepticism and their links to the Kochs."

DECISION DAY: RAHM'S RUNOFF
Chicago voters head to the polls today as Chicago's Democratic Mayor Rahm Emanuel is expected to turn back a challenge from Cook County Commissioner Jesus "Chuy" Garcia. The Atlantic examines why the left is having a difficult time toppling President Obama's former chief of staff.

AN OLD-FASHIONED BROIL-MEETS-GRILL STORY
An Illinois couple has gone from being the butt of viral jokes to having their special day paid for. Joel Burger and Ashley King are set to get married July 17. The pair has been known as "Burger-King" since elementary school. Accordingly, when they announced their engagement earlier this spring it was with a picture taken next to the BK restaurant logo in Springfield. After some help from the local paper, the couple was put in touch with the King himself. During a Skype call Monday, the two were informed the fast food chain planned to pick up the full tab for their nuptials this summer.

AND NOW, A WORD FROM CHARLES…
"The situation has changed. The fruits of [President Obama's] isolationism are now being shown experienced. The beheading of Americans, the collapse of Yemen, giving away everything on the deal with Iran. The country is seeing that that kind of retreat yields really terrible results and I think the problem that [Sen. Rand Paul, R-Ky.] has is that his association with this non-interventionism is now a problem and he has to tack back, which again undermines his other strength which is his authenticity." –Charles Krauthammer on "Special Report with Bret Baier" Watch here.

Chris Stirewalt is digital politics editor for Fox News.  Want FOX News First in your inbox every day? Sign up here.