US will try to speed humanitarian aid to North Korea amid stalled nuclear talks, envoy says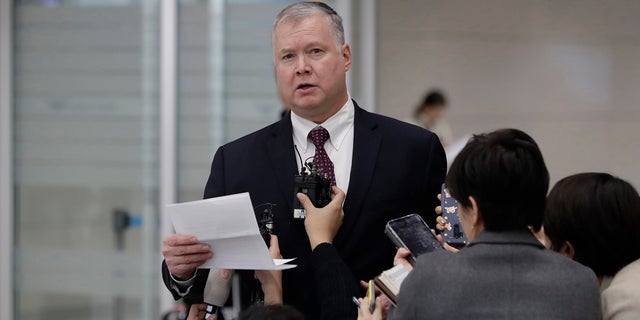 The United States will try to expedite humanitarian aid to North Korea, a U.S. envoy said Wednesday as the two countries struggle to jumpstart stalled talks over Pyongyang ending its nuclear program.
Stephen Biegun, the U.S. special representative for North Korea, made the announcement when he arrived in Seoul, South Korea, for a four-day round of talks with South Korean officials, Reuters reported.
"I'll be sitting down with American aid groups early in the new year to discuss how we can better ensure the delivery of appropriate assistance, particularly through the course of the coming winter," Biegun told reporters in Seoul.
He said the U.S. would work with the United Nations in reviewing how it grants sanction exemptions for aid.
U.S. humanitarian aid to North Korea has largely been halted this year as Washington has doubled down on sanctions, despite warnings of a potential food crisis, aid groups say.
NORTH KOREA AGAIN LASHES OUT AT US OVER SANCTIONS, THREATENS TO 'BLOCK THE PATH TO DENUCLEARIZATION' FOREVER
International sanctions against North Korea's over its nuclear weapons and missile programs technically do not cover humanitarian activities. Over the summer, the United Nations adopted a U.S. proposal to streamline approval for aid shipments.
Talks between the U.S. and North Korea have been stalled for months following the historic June summit in Singapore between North Korean leader Kim Jong Un and U.S. President Donald Trump. Plans for a second meeting early next year are in the works, according to U.S. officials.
North Korea recently accused the U.S. of "blocking the path to denuclearization" forever by strengthening sanctions amid the stalemate.
However, relief groups say a number of factors, including U.N. sanctions that have resulted in the curtail of banking and shipping transactions with Pyongyang and a travel ban for U.S. citizens to the country, have shut down their operations inside North Korea.
SEOUL: NORTH KOREA DESTROYS 10 GUARD POSTS TO LOWER TENSIONS
"[Trump] avails himself of every possible occasion to state his willingness to improve DPRK-U.S. relations," a statement from the North Korean Ministry of Foreign Affairs read, using the abbreviation of the country's official name -- the Democratic People's Republic of Korea. "[The U.S. State Department is] bent on bringing the DPRK-U.S. relations back to the status of last year which was marked by exchanges of fire."
On Wednesday, Biegun acknowledged the travel ban, which requires America aid groups to obtain special permission from the State Department to travel to North Korea, "may have impacted the delivery of humanitarian assistance".
He said U.S. officials will review how they grant permission for the purposes of facilitating the delivery of aid."
Part of the reason for the review, Biegun said, was the expulsion of Bruce Byron Lowrance from North Korea. Lowrance, an American citizen, had illegally entered North Korea from China on Oct. 16 and was released In November.
The state-run Korean Central News Agency said Lowrance told investigators he under the "manipulation" of the CIA when he was detained.
His release gave American officials "greater confidence about the safety and security of Americans traveling" to North Korea, Biegun said.