U.S. House Of Representatives Approves Funds For Referendum On Puerto Rico's Status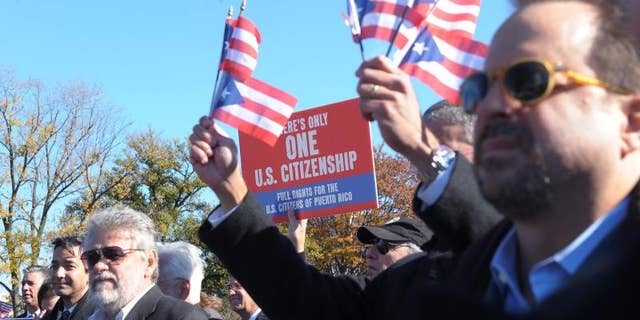 Puerto Rico (EFE) – The U.S. House of Representatives approved a budgetary line item to provide funding for a referendum to be supervised by Washington on Puerto Rico's status as a U.S. territory. The action was considered historic by pro-statehood activists.
Puerto Rico's representative in Washington and Pedro Pierluisi, head of the New Progressive Party (PNP in its Spanish initials), told Efe on Thursday that this is "an unprecedented act."
Pierluisi, whose party is in favor of making Puerto Rico the 51st state, said that late Wednesday evening the House approved the allocation of $2.5 million to organize the referendum.
The funding has no deadline or time limit and is subject to the requirement that the funds also be used to inform and educate the Puerto Rican public about the different options among which they will be allowed to choose.
It is expected that the Senate will approve the budget bill sometime later this week.
The referendum will consult Puerto Ricans about their opinions on the island's relationship with Washington and will be conditional upon the U.S. Justice Department giving its approval, so that it can be guaranteed that the phrasing of the questions adheres to the Constitution.
Pierluisi made clear in an interview with Efe that if the current Puerto Rican government does not take advantage of the funding allocation to hold the referendum, his party will do so if and when it comes to power.
Gov. Alejandro García Padilla, who is the leader of the Popular Democratic Party (PPD), Puerto Rico's other main party, favors maintaining the island's status as an unincorporated territory of the United States.
The U.S. invaded Puerto Rico during the Spanish-American War.
Island residents were granted U.S. citizenship in 1917 but they cannot vote in presidential elections, although Puerto Ricans living in the continental United States can.
Since 1952, the island has been a commonwealth of the U.S., an unincorporated territory with broad internal autonomy.
Fifty-four percent of Puerto Rican voters supported a change in status in a non-binding referendum coinciding with the November 2012 gubernatorial election.
The ballot consisted of two questions.
Sixty-one percent of those who answered the second question favored statehood over the other two choices: enhanced commonwealth status - the PPD's proposal - or independence.
But more than 460,000 Puerto Ricans who voted on the first status question did not respond to the second question.
Pierluisi is of the opinion that the only possible options for Puerto Rico's future status are U.S. statehood or independence.
Follow us on twitter.com/foxnewslatino
Like us at facebook.com/foxnewslatino