Twitter-verse Reacts to Hugo Chavez Win in Venezuela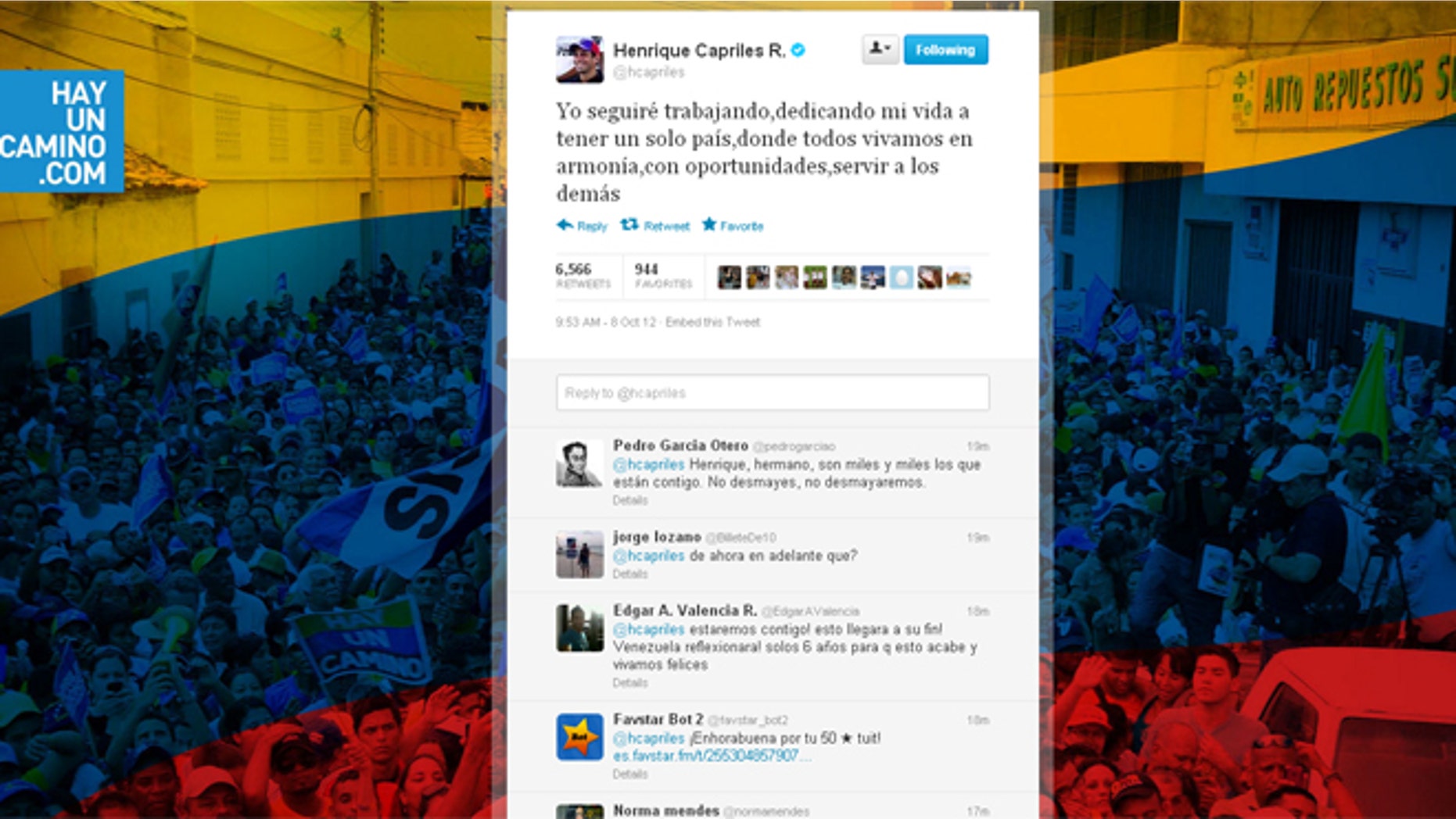 Venezuelan President Hugo Chavez won his third re-election campaign on Sunday against challenger Henrique Capriles - and that set the Twitterverse on fire.
President Hugo Chavez tweets: Thank you to my beloved people!!!Viva Venezuela!!!! Viva Bolívar!!!!!
Opposition challenger Henrique Capriles: I will continue to work,dedicating my life to having one country,where all of us live in harmony, with opportunities, serve others
Parody account for late Venezuelan military and political leader, Simon Bolivar: An ignorant people is an instrument blind to its' own destruction.
The First Latina to Serve in U.S. Congress, and chair of the House Foreign Affairs Committee, Rep. Illeana Ros-Lehtinen (R-FLA): #Venezuela: Chavez, Castro, Morales, Correa, Ortega + all LatinAmerica thugs cheat, steal and lie everyday so election day is no diff!
Jorge Lanata (journalist): For those who ask: there was no fraud. What there was, is a ordinary citizen, competing against a nation.
President of Argentina Cristina Fernandez: Your victory is also ours. It is South America's and the Caribbean's as well. Strength Hugo! Stength Venezuela! Strength Mercosur and Unasur!
Daughter of the President of Cuba Raul Castro, Mariela Castro Espin: The entire world observed a transparent electoral process, rigurous,orderly, and democratic. There is no room for doubt.
Maria Corina Machado, a founder, former vice president, and former president of the Venezuelan volunteer civil organization Súmate: Today we did not accomplish our goal. We share a deep pain but our conviction to fight on remains intact
Mariana Atencio (journalist): From Chavez's government we must now demand that he keep campaign promises, strengthen instutituions, civil liberties, end violence
Actor Wilmer Valderrama tweets photo with his dad: Our people of #Venezuela, we ask that tomorrow, on Sunday...You vote for the future of our country. A father and son #venecos
Dayana Mendoza, Celebrity Apprentice 2012 Contestant and Miss Universe 2008: Retweets fans @Leddz and @rierak: "Oh my god, @Dayanamendoza in front of me. She came really early to vote." @Dayanamendoza replies: hahaha how funny. kisses.
Follow us on twitter.com/foxnewslatino
Like us at facebook.com/foxnewslatino