Trump's parting words to adviser Gary Cohn: 'He may be a globalist, but I still like him'
President Trump said Thursday he "still likes" his soon-to-be-ex-economic adviser Gary Cohn, predicting that he'll return to the administration.
Cohn, who announced his resignation as White House chief economic adviser on Tuesday, attended his final Cabinet meeting Thursday at the White House, where Trump gave him some parting words.
"This is Gary Cohn's last meeting in the Cabinet. He's been terrific," Trump said Thursday. "He may be a globalist, but I still like him."
Laughter broke out amongst Cabinet officials, while Trump reiterated Cohn's "globalist" stance.
"In his own way, he's a nationalist because he loves our country," Trump said, welcoming applause.
"He's gonna go out and make another couple of hundred million, and you might come back," Trump said. "We'll be here for another seven years, and I have a feeling you may be back."
Trump added: "Though he's not quite as strong on those tariffs as we wanted him."
Cohn, who served as Trump's chief economic adviser since the beginning of the administration, opposed the administration's planned tariffs on imports of steel and aluminum, first announced March 1, and reportedly tried to get the president to change his course.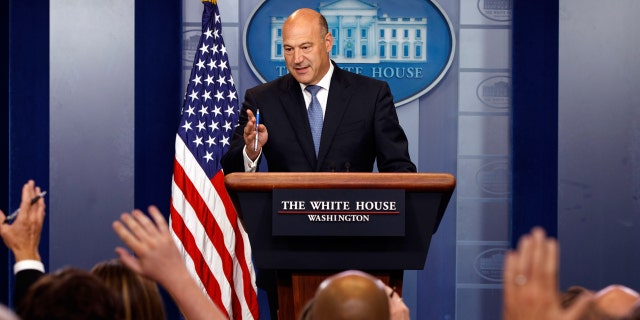 Hours before Cohn's resignation was announced Tuesday, Trump set a "line in the sand" asking Cohn if he would support the tariffs—and Cohn did not answer, a White House official and an outside adviser to the president told Fox News.
Cohn had been discussing with the president his transition out of the White House for several weeks.
"It has been an honor to serve my country and enact pro-growth economic policies to benefit the American people, in particular the passage of historic tax reform," Cohn said in a statement to Fox News. "I am grateful to the president for giving me this opportunity and wish him and the administration great success in the future."
White House officials told Fox News Cohn's departure date is to be determined, but it's expected to be a few weeks from now. Trump tweeted Tuesday night that he "will be making a decision soon on the appointment of new Chief Economic Adviser. Many people wanting the job—will choose wisely!"
Cohn's White House departure comes just one week after White House Communications Director Hope Hicks resigned from her post, after serving for several months.
Trump said during the Cabinet meeting that he was "sticking with" a 10 percent tariff on aluminum and 25 percent on steel, but that he will "have a right to go up or down" depending on the country.
Trump is expected to make an announcement Thursday on the administration's stance on the potential tariffs on aluminum and steel.
Fox News' John Roberts contributed to this report.