Trump tweets 'covfefe,' causes Twitter frenzy
The investigation into alleged Russian meddling in the 2016 presidential election took a backseat Wednesday morning to a more pressing mystery: Who or what is "covfefe"?
President Trump tweeted the word just after midnight as part of a since-deleted message ostensibly decrying the media's coverage of his administration.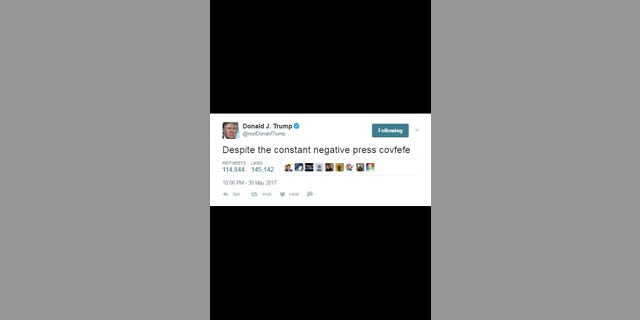 "Despite the constant negative press covfefe," Trump wrote in a tweet that received more than 100,000 retweets and 100,000 likes before being deleted.
But what appeared to be a simple typo – albeit one that took until 5:30 a.m. to be detected and removed – became the No. 1 Twitter trend and an instant meme for the night owls of social media.
Comedian Jimmy Kimmel lamented: "What makes me saddest is that I know I'll never write anything funnier than #covfefe."
The Kentucky Fried Chicken customer service account for the United Kingdom and Ireland reacted in shock.
"I can't believe it. The final secret ingredient has at last been revealed…A sprinkle of #Covfefe," @KFC_UKI wrote.
Trump's critics, including Rosie O'Donnell, used the opportunity to poke fun at his blunder.
Merriam-Webster also jabbed Trump.
Meanwhile, Twitter accounts belonging to midieval warrior and wizard wannabes such as "Covfefe the Strong" and "the Wizard Covfefe" suddenly emerged, claiming Trump had summoned them with the three syllable nonsense word.
"I HAVE BEEN SUMMONED," wrote @CovfefeS.
"No, you fool! It is I who have been summoned! By the Great Orb of T'kketh!" @CovfefeW wrote, referencing a second meme: the recent picture taken by Trump and several Arab leaders around a glowing globe at the Saudi Arabia counter-terror center.
Even Trump joined in on the joke later Wednesday morning: "Who can figure out the true meaning of 'covfefe'??? Enjoy!"