Trump to Nevada Hispanics: 'I'm going to help millions of Latinos trapped in poverty'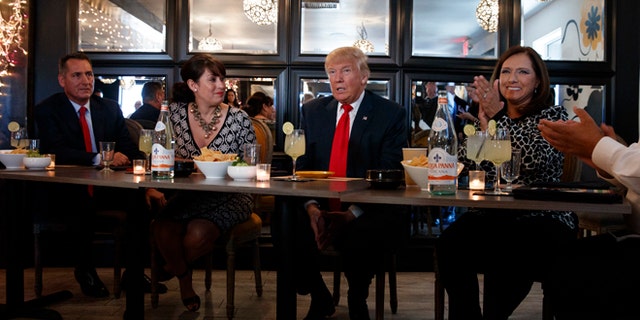 Campaigning in the battleground state of Nevada on Wednesday, Republican presidential nominee Donald Trump told a group of Hispanic business leaders that bankers won't approve loans to people in the Latino and African-American communities because they are being run by government regulators.
Trump met with a number of Latino business owners early in the afternoon at a Las Vegas Mexican restaurant called El Sombrero.
Finance, rather than immigration, was the topic that seems to have been most discussed.
In talking about the Hispanic community's lack of access to credit, Trump told the crowd he was going to get things back on track.
"The banks are absolutely being run by the regulators, and then you have these bankers who are paid $35 million a year, and they're not really the boss, he said, according to a video posted to Twitter by Bloomberg News's Jennifer Jacobs.
The candidate added, "The bosses are the regulators, and the banks won't loan money to people in the Latino community [or] the African-American community."
Trump listened as one of the attendees told him, "There are many Latino business owners … who are very excited about having a president who knows about wealth creation, who understands about creating jobs."
During the meeting, he also called the Federal Reserve "a political organization," suggesting that Fed chief Janet Yellin was keeping interest rates low for fear of the impact on Wall Street.
Despite the bullish stock market, Trump warned, "It's a bubble, and it could end in a day. They don't want to raise interest rates, and [Yellin] knows she's supposed to be raising them."
Nevada's population is about 28 percent Latino, and recent polls show Trump in a virtual deadlock there with Democratic rival Hillary Clinton.
Later on Wednesday, Trump headed to Reno, where he addressed a crowd at a rally at the convention center there.
"We're also going to fix our inner cities and help Latino Americans and African-Americans — it's time," Trump said in Reno, according to Breitbart News,.
"Forty-five percent of African American children under the age of 6 live in total poverty," He went on. "The Democrats like Hillary Clinton have run the inner cities for 50, 60, 70 — even 100 years uninterrupted. They produced only more joblessness, failing schools and horrible, horrible crime."
He vowed, "I'm also going to fight to help millions of Latinos trapped in poverty."