Trump tells everybody 'be cool' as trade tensions escalate
President Trump looked to soothe fears from jittery Republicans over his trade policy Wednesday, saying that negotiations are going well and urging people to "be cool" ahead of his talks with European Commission President Jean-Claude Juncker.
Trump will meet with Juncker in Washington D.C., where the escalating trade war with the E.U. over tariffs will be front and center.
The E.U. slapped retaliatory tariffs on the U.S. last month in response to Trump's tariffs on steel and aluminum. More could follow if Trump goes through with his plan to impose tariffs on automobiles.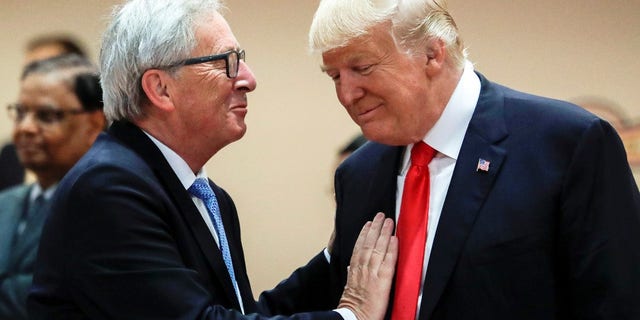 But Trump said that negotiations are going well.

"When you have people snipping at your heels during a negotiation, it will only take longer to make a deal, and the deal will never be as good as it could have been with unity. Negotiations are going really well, be cool," he tweeted. "The end result will be worth it!"
He also took a shot at "weak" politicians who oppose the use of tariffs to counter those from other nations.

"I wonder, what can they be thinking? Are we just going to continue and let our farmers and country get ripped off? Lost $817 Billion on Trade last year. No weakness!"
House Speaker Paul Ryan, R-Wis., said that lawmakers are making the case to Trump that tariffs are "not the way to go."
Nerves are likely to be frayed further by the Trump administration's announcement Tuesday that it will grant up to $12 billion in aid to farmers hurt by retaliatory tariffs. Sen. Ben Sasse, R-Neb., said that the plan would spend billions on "gold crutches."
TRUMP ANNOUNCES EMERGENCY AID FOR FARMERS HURT BY TRADE WAR, SAYS THEY'LL WIN IN THE END

"America's farmers don't want to be paid to lose — they want to win by feeding the world," he said. "This administration's tariffs and bailouts aren't going to make America great again, they're just going to make it 1929 again."
Trump has long said he would prefer no tariffs, and is only slapping them on goods in response to "unfair" existing tariffs on U.S. goods. On Tuesday, he tweeted that he wants to ask the E.U. to "drop all Tariffs, Barriers and Subsidies" but he knows that the E.U. won't go along with it.

While Trump is under pressure from his own party, Juncker is also fighting battles at home in Europe. Most notably, his office has been forced to deny accusations that that former Luxembourg prime minister was drunk at the recent NATO summit after video emerged of his stumbling and being propped up by world leaders.

Commissioner spokesman Margaritis Schinas told Sky News that the accusation was "insulting" and that Juncker instead was suffering from a "very particularly painful attack of sciatica accompanied by cramps."

Fox News' Andrew O'Reilly and Brooke Singman contributed to this report.