Trump to speak at Dallas CPAC event in July
Event will be one of Trump's most high-profile public appearances since leaving White House
EXCLUSIVE: Former President Donald Trump will speak at the Conservative Political Action Conference (CPAC) event in Dallas in July, Fox News has learned, in what will be one of his most high-profile public appearances since leaving the White House.
Trump gave a biting speech at the CPAC event in Orlando, Florida in February, tearing into the Biden administration and "establishment" Republicans as he teased his continued involvement in GOP politics.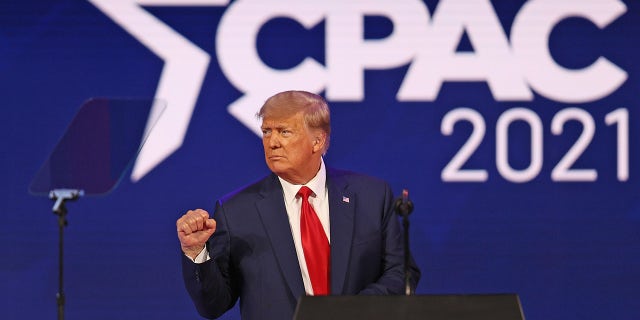 POMPEO RETURN TRIP TO IOWA SPARKING MORE 2024 SPECULATION
"CPAC's theme for 2021 is America UnCanceled," American Conservative Union Chairman Matt Schlapp said in a statement about Trump speaking at the CPAC event in Dallas. "We're honored that he'll join us in Dallas and remind us that freedom means never being silenced."
The Dallas event will run from July 9 to July 11.
"A corrupt alliance of Jim-Crow-shouting elected officials dead-set on cutting out voter ID, Silicon Valley censorship czars, woke school boards and corporate CEOs, and a legacy media operation on life support are working together to silence and cancel the voices and votes of conservatives," Schlapp also said regarding the theme of the event.
Trump remains highly popular in the Republican Party and handily won the CPAC presidential straw poll at the group's event in February.
The former president has signaled that he plans to get involved in several 2022 Republican primaries, and he continues to loom large over the 2024 presidential race, with most expecting that he will win the nomination if he decides to run. Most Republicans have concluded that their best path for future electoral success involves embracing Trump, even as he continues to push false claims that the 2020 presidential election was stolen.
CLICK HERE TO GET THE FOX NEWS APP
The July CPAC speech, along with "upcoming rallies" that Trump teased in a statement last month, will be closely watched to see if they shed more light on the former president's thinking regarding a potential 2024 presidential run.
CPAC in February saw a litany of heavyweight Republican speakers, including Sens. Rick Scott, R-Fla., Tom Cotton, R-Ark., Ted Cruz, R-Texas, former Secretary of State Mike Pompeo and several others.
It is likely that other high-profile individuals will be added to the speakers list for the Dallas event in the coming weeks.
Fox Nation is a sponsor of CPAC.