Trump slams Obama over not crossing 'red line' in Syria with 'Animal Assad'
President Trump slammed former President Barack Obama on Sunday for not crossing his stated "red line" with Syria, amid reports of a suspected chemical attack that left at least 40 dead near the capital, while also warning Russia and Iran there will be a "big price to pay" for backing the Assad regime.
Trump made the comments on Twitter in the wake of the alleged attack in the town of Douma amid a resumed offensive by Syrian government forces.
"Many dead, including women and children, in mindless CHEMICAL attack in Syria. Area of atrocity is in lockdown and encircled by Syrian Army, making it completely inaccessible to outside world," Trump said. "President Putin, Russia and Iran are responsible for backing Animal Assad. Big price to pay. Open area immediately for medical help and verification. Another humanitarian disaster for no reason whatsoever. SICK!"
He also slammed Obama, who vowed in 2012 that such actions would cross a "red line," but later failed to enforce the promise a year later when hundreds of Syrians were killed by sarin gas. Instead, Obama brokered a multi-nation deal in which Syrian President Bashar Assad pledged to remove his chemical-weapons stockpile.
"If President Obama had crossed his stated Red Line In The Sand, the Syrian disaster would have ended long ago! Animal Assad would have been history!" the president said.
The White House also confirmed Sunday that Trump was briefed by his Chief of Staff John Kelly on the Syria attack Saturday night, and has been receiving updates when available.
While reports of the chemical attack could not be verified, first responders said they found families suffocated in their homes and shelters, with foam on their mouths.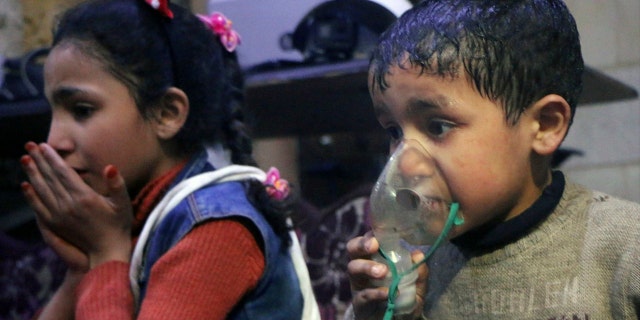 The opposition-linked Syrian Civil Defense were able to document 42 fatalities but were impeded from searching further by strong odors that gave their rescuers difficulties breathing, said Siraj Mahmoud, a spokesman for the group, which is known as the White Helmets.
The Syrian government, in a statement posted on the state-run news agency SANA, strongly denied the allegations. It said the claims were "fabrications" by the Army of Islam, calling it a "failed attempt" to impede government advances.
SYRIA POISON GAS ATTACK KILLS AT LEAST 40, ACTIVISTS AND MEDICS SAY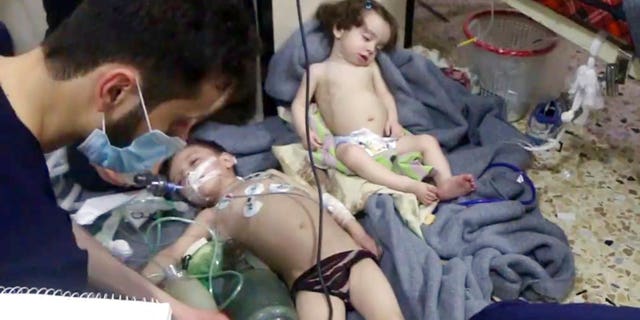 "The army, which is advancing rapidly and with determination, does not need to use any kind of chemical agents," the statement said.
U.S. State Department spokeswoman Heather Nauert said that Washington was closely following "disturbing reports" of the alleged chemical weapons attack in Douma.
"These reports, if confirmed, are horrifying and demand an immediate response by the international community," she said in a statement late Saturday.
The alleged gas attack in Douma comes almost exactly a year after a chemical attack in the northern Syrian town of Khan Sheikhoun killed dozens of people. That attack prompted the U.S. to launch several dozen Tomahawk cruise missiles at a Syrian air base. President Trump said the attack was meant to deter further Syrian use of illegal weapons.
Questions about the administration's possible response reverberated throughout Washington in the hours after the attack. Republican Sen. Lindsey Graham of South Carolina called the decision "a defining moment in his presidency."
"If he doesn't follow through and live up to that tweet, he's going to look weak in the eyes of Russia and Iran," Graham said Sunday on ABC's "This Week." ''You need to follow through with that tweet. Show a resolve that Obama never did to get this right."
White House Homeland Security Advisor Tom Bossert told ABC's "This Week" that another possible strike on Syria is "not off the table" after the latest apparent chemical attack.
Bossert said that Trump's national security team has been reviewing photos of the incident, and that it's a "serious problem."
Vice President Mike Pence said on Twitter he's "closely monitoring" the likely chemical attack.
"We condemn in the strongest possible terms the assault on innocent lives, including children. The Assad regime & its backers MUST END their barbaric behavior," Pence said. "As POTUS said, big price to pay for those responsible!"
The Syrian government and its ally, Russia, denied any involvement in the alleged gas attack. Maj. Gen. Yuri Yevtushenko was quoted by Russian news agencies on Sunday as saying Russia was prepared to send specialists to Douma to "confirm the fabricated nature" of the reports.
A chemical attack in eastern Ghouta in 2013 that was widely blamed on government forces killed hundreds of people, prompting the U.S. to threaten military action before later backing down.
Syria denies ever using chemical weapons during the seven-year civil war, and says it eliminated its chemical arsenal under a 2013 agreement brokered by the U.S. and Russia after the attack in eastern Ghouta.
Fox News' Ellison Barber, Jennifer Bowman and The Associated Press contributed to this report.