Trump reportedly tossed Starburst at Merkel during G-7 summit: 'Don't say I never give you anything'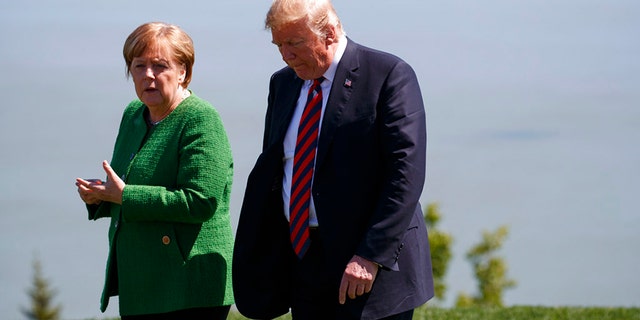 President Trump isn't known for his sweet talk -- but his sweet toss is now world-famous.
Amid tensions at the G-7 summit earlier this month, Trump reportedly tossed Starburst candies in front of embattled German Chancellor Angela Merkel and quipped: "Here Angela, don't say I never give you anything."
The "unexplainably juicy" moment at the otherwise sour meeting of world leaders in Canada was revealed by Eurasia Group President Ian Bremmer, who said the incident came during a huddle at the end of the summit when Trump was being pressed to sign a joint statement.

"Trump was sitting there with his arms crossed, clearly not liking the fact that they were ganging up on him," Bremmer told CBS News.
"He eventually agreed and said okay, he'll sign it. And at that point, he stood up, he put his hand in his pocket, his suit jacket pocket, and he took two Starburst candies out, threw them on the table and said to Merkel, 'Here, Angela, don't say I never give you anything.'"
That huddle became an online sensation after a photo emerged of an exasperated Merkel facing down a sitting Trump. The president has pushed back on the claim that it was a sign of disagreement -- and has released other pictures that show a more relaxed atmosphere.

"I have a great relationship with Angela Merkel of Germany, but the Fake News Media only shows the bad photos (implying anger) of negotiating an agreement - where I am asking for things that no other American President would ask for!" he tweeted.

Yet, Trump has had a turbulent relationship with the German chancellor -- whom in 2015 he accused of "ruining Germany" -- particularly on the subject of immigration.

On Monday, days after claiming they had a great relationship, he said that Germans are "turning against their leadership as migration is rocking the already tenuous Berlin coalition."

Trump appeared to be referring to Merkel's struggle to keep her coalition in tact after Interior Minister Horst Seehofer has pledged to implement a tough migration policy in which asylum seekers registered in other countries could be turned away at the border.
Merkel has disagreed with the policy, fearing that it could fracture the E.U., but Seehofer has threatened to carry it out anyway.

Merkel will travel to Brussels later this month to talk with E.U. partners about a common European solution and Seehofer has delayed enforcing the policy until then. But if there is no solution by July, it risks breaking up Merkel's coalition and sparking new elections, where the rise in popularity of the right-wing Alternative for Germany could spell trouble for Merkel's Christian Democrats.