Trump push to combat drug trade may mean starting with China, not Mexico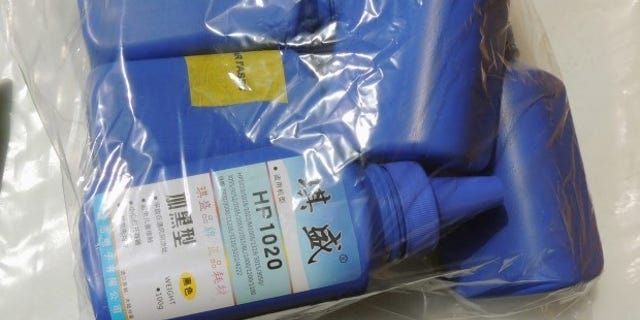 If President-elect Donald Trump wants to fulfill his campaign promise of stemming the flow of drugs coming across the United States' border with Mexico, he may want to start by looking at China.
Manufacturers and organized crime groups in the world's most populous country are responsible for the majority of fentanyl -- the synthetic opioid that is 50 times more potent than heroin -- that ends up in the U.S. and the majority of precursor chemicals used by Mexican drug cartels to make methamphetamine, according to numerous published U.S. government reports.
"The Mexican cartels are buying large quantities of fentanyl from China," Barbara Carreno, a spokesperson with the U.S. Drug Enforcement Administration (DEA), told FoxNews.com. "It's much easier to produce than waiting around to grow poppies for heroin and it's incredibly profitable.
The DEA estimates that a kilogram of fentanyl, which sells for between $2,500 and $5,000 in China, can be sold to wholesale drug dealers in the U.S. for as much as $1.5 million and that the demand for the drug due to the prescription opioid crisis in places like New England and the Midwest have kept the prices high.
What is fentanyl
Fentanyl is a synthetic opioid, 50 times more potent than heroin, that's responsible for a recent surge in overdose deaths in some parts of the country. It also has legitimate medical uses.
Doctors prescribe fentanyl for cancer patients with tolerance to other narcotics, because of the risk of abuse, overdose and addiction, the Food and Drug Administration imposes tight restrictions on fentanyl; it is classified as a Schedule II controlled substance.
The DEA issued a nationwide alert about fentanyl overdose in March 2015. More than 700 fentanyl-related overdose deaths were reported to the DEA in late 2013 and 2014. Since many coroners and state crime labs don't routinely test for fentanyl, the actual number of overdoses is probably much higher.
Trump, along with numerous other presidential hopefuls, promised while on the stump in states hard-hit by drug addiction to quickly tackle the widespread use of drugs like fentanyl and heroin. While heroin addiction has been a concern for decades, in recent years the number of users of heroin and fentanyl -- and its more potent derivatives like carfentanil -- has skyrocketed as the government clamps down on the abuse of prescription opioids like OxyContin and Percocet.
"We're going to build that wall and we're going to stop that heroin from pouring in and we're going to stop the poison of the youth," Trump said during a September campaign stop in New Hampshire.
The problem with cracking down on fentanyl and its derivatives is that while these substances may be banned in the U.S., they may not be illegal in their country of origin. China, for example, only last year added 116 synthetic drugs to its controlled substances list, but failed to include carfentanil – a drug that is 10,000 times more potent than morphine and has been researched as a chemical weapon by the U.S., U.K., Russia, Israel, China, the Czech Republic and India.
"It can kill you if just a few grains gets absorbed through the skin," Carreno said.
While Mexican cartels obtain these substances in large quantities through the murky backwaters of the Chinese black market, anybody with a credit card and Internet access can call one of the numerous companies in China's freewheeling pharmaceutical industry that manufactures fentanyl and its more potent cousins.
Earlier this year, The Associated Press found at least 12 Chinese businesses that said they would export carfentanil to the United States, Canada, the United Kingdom, France, Germany, Belgium and Australia for as little as $2,750 a kilogram.
Besides synthetic opioids, Chinese companies are also producing massive amounts of the precursor chemicals used to make methamphetamine.
As the methamphetamine industry evolved over the last decade or so from small, homegrown operations in the U.S. to the super-labs run by Mexican cartels, cooks and producers of the drug have begun to rely more and more on China for their ingredients. Mexico now supplies 90 percent of the methamphetamine found in the U.S., and 80 percent of precursor chemicals used in Mexican meth come from China, according to a study by the U.S.-China Economic and Security Review Commission.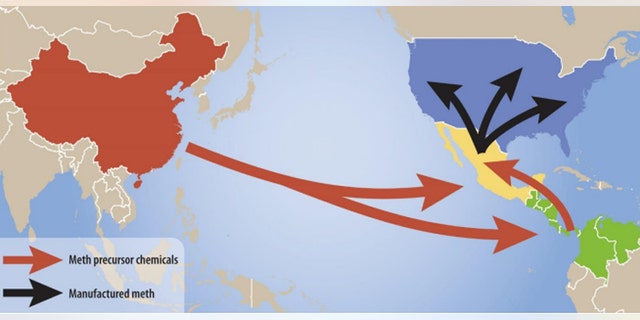 "China is the major source for precursor chemicals going to Mexico," David Shirk, a global fellow at the Washington, D.C.-based Woodrow Wilson International Center for Scholars, told FoxNews.com. "The problem is finding who the connection is between organized crime groups in China and organized crime groups in Mexico."
Shirk added that law enforcement and drug war experts generally have a good picture of the major players in Mexican organized crime, but the Chinese underworld is less well mapped and it is more difficult to pin down the major players in the drug trade there.
Despite U.S. efforts to crackdown on both the fentanyl and methamphetamine trades, U.S. government officials acknowledge that much of the onus lies with the Chinese. Chinese state officials take allegations of drug-related corruption seriously, launching investigations when deemed appropriate, but a U.S. State Department report found that drug-related corruption among local and lower-level government officials continues to be a concern.
When he takes office in January, Trump has a few things working in his favor in respect to combatting the drug trade.
One is the continued fracturing of some of Mexico's largest and most powerful drug cartels. The Sinaloa Cartel, for example, was seen for years as an impenetrable drug organization until cracks began to appear in its armor following the re-arrest earlier this year of its leader, Joaquín "El Chapo" Guzmán, and the power struggle that ensued.
"When the violence goes up, business always goes down," Shirk said.
Another factor that will help Trump's war on drugs is U.S. anti-drug officials claim that their work in collusion with their Chinese counterparts is already helping greatly. Six months after China added a slew of synthetic drugs to its controlled substances list, monthly seizures in the U.S. of acetylfentanyl -- a weak variant of fentanyl -- were down 60 percent, the DEA reported.
"We're continuing to work with the Chinese to see if they might control more of these substances," Carreno said. "When they put controls on these substances it makes a huge difference."