Trump on Puerto Rico's debt: 'We're going to have to wipe that out'
President Trump told Fox News Tuesday that "you can say goodbye" to Puerto Rico's debt as the island struggles to recover from the devastation left by Hurricane Maria.
Trump spoke to Fox News' Geraldo Rivera in an interview that aired exclusively on "Hannity" Tuesday evening. The president spend the day touring the damage left by Maria, the strongest hurricane to hit Puerto Rico in nearly a century.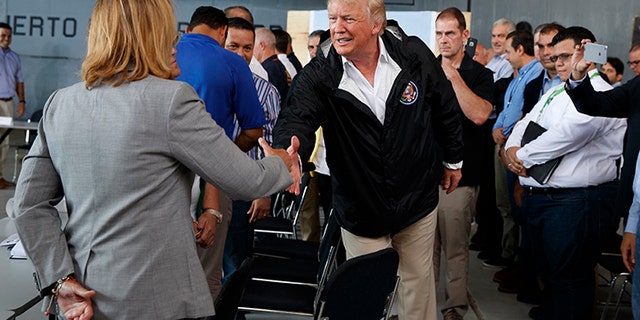 "They owe a lot of money to your friends on Wall Street and we're going to have to wipe that out," Trump told Rivera. "You can say goodbye to that."
Puerto Rico was facing a $74 billion public debt load prior to Maria and was struggling to recover from a decade-long recession that has caused hundreds of thousands of residents to leave for the U.S. mainland.
Trump also defended his administration's response to the storm, saying "we may have done our best work here, but it hasn't been appreciated."
"We've done a fantastic job," the president told Rivera. "This was a very tough one. You know, I say we got an A+ in Texas [and] we got an A+ in Florida [after Hurricane Harvey and Hurricane Irma]."
But actually, if you see over the last couple of days, now people are really seeing what we've done," Trump added. "The runways are open, the ships are pouring in and a lot of things are happening, so it's great."