Trump Jr. suggests media hypocrisy in coverage of Clinton remark on Holder, Booker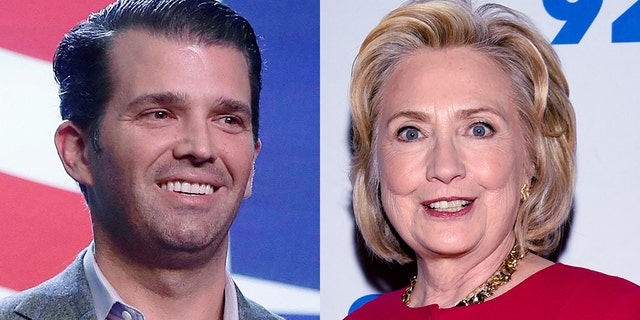 Donald Trump Jr. criticized media outlets Tuesday over their coverage of a quip by former Secretary of State Hillary Clinton that Sen. Cory Booker and former Attorney General Eric Holder "look alike."
"Imagine [President Trump] said the exact same thing in the exact same way," the president's eldest son posted on Twitter. "What would the media response be? Hysteria? Outrage? It would likely be beyond all that.
"Because I'm hearing crickets right now after Hillary said it," Trump Jr. added. "Wonder why."
HILLARY CLINTON JOKES 'THEY ALL LOOK ALIKE' AFTER INTERVIEWER MIXES UP BOOKER, HOLDER
Clinton made the remark during an interview on Friday after her questioner asked her what she thought of recent remarks by Holder that stated: "When [Republicans] go low, we kick them." However, Recode's Kara Swisher thought that Booker had made the remark.
"Yeah, I know they all look alike," said Clinton to laughter and applause from the audience.
During the same interview, Clinton admitted that she would "like to be president," but declined to say that she would make a third White House bid in 2020.