Trump heads for G7 battle with Canada, Euro leaders over 'unfair' trade deals
President Trump is headed to Quebec for what is expected to be a tense and confrontational G-7 summit with western allies to fight against what he calls "unfair" trade practices.
"I am heading for Canada and the G-7 for talks that will mostly center on the long time unfair trade practiced against the United States. From there I go to Singapore and talks with North Korea on Denuclearization. Won't be talking about the Russian Witch Hunt Hoax for a while!" Trump tweeted Friday morning.
Earlier Friday, the president blasted Canada over a high tariff on U.S. dairy imports.
"Canada charges the U.S. a 270% tariff on Dairy Products! They didn't tell you that, did they? Not fair to our farmers!" Trump tweeted.
Leaders of Canada and Western European nations are bracing for battle as well, and for days have been sparring with the U.S. over new U.S. tariffs on steel and aluminum imports. French President Emmanuel Macron and Canadian Prime Minister Justin Trudeau already signaled they will use the event to oppose the tariffs.
At a joint press conference on Thursday, Macron stressed: "A trade war doesn't spare anyone. It will start first of all to hurt U.S. workers." Trudeau said: "We are going to defend our industries and our workers."
Macron also tweeted: "The American President may not mind being isolated, but neither do we mind signing a 6 country agreement if need be. Because these 6 countries represent values, they represent an economic market which has the weight of history behind it and which is now a true international force."
Trump on Thursday night was ready with a retort.
"Please tell Prime Minister Trudeau and President Macron that they are charging the U.S. massive tariffs and create non-monetary barriers. The EU trade surplus with the U.S. is $151 Billion, and Canada keeps our farmers and others out. Look forward to seeing them tomorrow," Trump tweeted Thursday night.
He added: "Prime Minister Trudeau is being so indignant, bringing up the relationship that the U.S. and Canada had over the many years and all sorts of other things…but he doesn't bring up the fact that they charge us up to 300% on dairy—hurting our Farmers, killing our Agriculture!"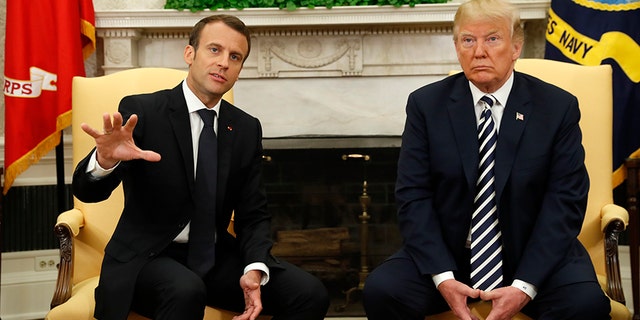 The new tariffs— 25 percent on imported steel, 10 percent on aluminum from Canada, Mexico and the European Union — threaten to drive up prices for American consumers and companies and heighten uncertainty for businesses and investors around the globe.
The U.S. allies had been exempted, but Trump ended that temporary relief this month, seeking to pressure other countries to cut new trade agreements with the U.S.
Last month, Trump and Trudeau reportedly had a confrontational phone call over the tariffs, with Trudeau questioning how Trump could justify tariffs on steel and aluminum as a national security issue. CNN reported the conversation, noting that the president reportedly responded: "Didn't you guy burn down the White House?" referring to the War of 1812. It is unclear if Trump was joking.
The White House was set on fire by British forces in 1814 during the War of 1812 with the United States. The U.S. attempted to invade British colonies, in territory that is today Canada.
Both Trudeau and Macron have vowed to confront Trump over tariffs and climate change.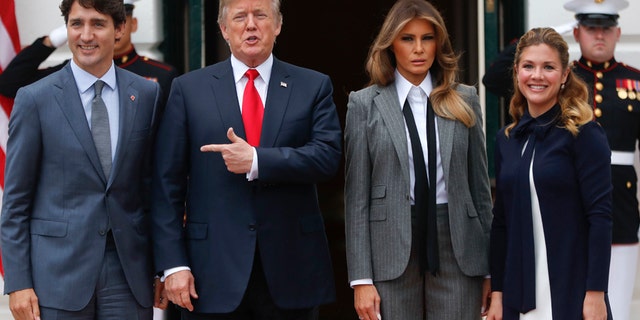 But the president went further Thursday night, blasting Western European allies on unfair trade practices.
"Why isn't the European Union and Canada informing the public that for years they have used massive Trade Tariffs and non-monetary Trade Barriers against the U.S. Totally unfair to our farmers, workers & companies. Take down your tariffs & barriers or we will more than match you!" Trump tweeted.
Meanwhile, Trump is expected to cut his trip to Quebec short to fly directly to Singapore for the highly anticipated summit with North Korean dictator Kim Jong Un.
White House Press Secretary Sarah Sanders said Thursday evening that Trump would leave the G-7 summit mid-morning Saturday. A White House aide will reportedly represent the U.S. for the remainder of the summit.
"Looking forward to straightening out unfair Trade Deals with the G-7 countries. If it doesn't happen, we come out even better!" Trump tweeted Friday.
The president also took a shot at Democrats -- like Senate Minority Leader Chuck Schumer, D-N.Y., House Minority Leader Nancy Pelosi, D-Calif., and even former President Barack Obama.
"Obama, Schumer and Pelosi did NOTHING about North Korea, and now weak on Crime, High Tax Schumer is telling me what to do at the Summit the Dems could never set up. Schumer failed with North Korea and Iran, we don't need his advice!" Trump tweeted.
The Associated Press contributed to this report.